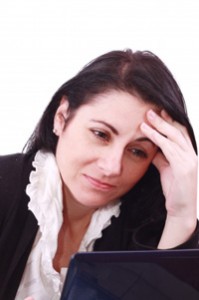 The illusion is vaporized. One way or another, you have discovered that your partner, family member, friend or colleague is a sociopath. Maybe you unearthed one lie too many. Or maybe the mask slipped and the person unceremoniously dumped you. However it happened, you've learned that he or she has been lying to you all along.
And now you're obsessed.
You want to know the truth. You want to know where the sociopath really was, who the sociopath was really with, what happened to the money. With your new awareness of his or her lying personality, you recall multiple incidents that left you scratching your head, and now look at them in an entirely different light, trying to figure out what was really going on.
The sociopath is all you think about, morning, noon and night. You keep replaying incidents in your mind. You go back over old text messages and emails. You stalk the sociopath's Facebook, Twitter or other social media. You're desperate for answers.
And you wonder what's wrong with you.
Normal for survivors
First of all, after you've tangled with a sociopath, obsession is a normal part of the recovery process.
In her book, Legal Abuse Syndrome, Dr. Karin Huffer outlines eight steps to recovery from abuse — and believe me, deception and exploitation by a sociopath qualifies as abuse.
Step #3 is obsession. "Figuring out what happened and feeling a basis for feeling safe again preoccupies the victim's life," she writes.
This is why you are obsessed — your ability to perceive reality is critical to your sense of safety. The sociopath deceived you, so what you thought was reality turned out to be a shimmering mirage. Therefore, your sense of safety was shattered, and you want it back. You want to know what was real and what was fake.
No Contact
So obsession is a normal reaction to your experience — at least you know that you're not crazy. Still, it's unhealthy. Why? Because obsession interferes with No Contact.
No Contact means you cut the sociopath out of your life. You do not see this person, talk to them, exchange text messages or emails, or visit their Facebook page. When you go No Contact, the fog starts to lift and your mind starts to clear.
The goal of No Contact is to get to the point where you don't even think about the sociopath anymore. Well, if you're obsessing, you're thinking about the person, which is a form of being in contact.
What to do about obsession
On the one hand, obsession is normal. On the other hand, it interferes with your recovery. So what do you do?
You manage your obsession. Typically that means you set limitations on the time that you will allow yourself to think about the sociopath. Maybe you will permit yourself an hour a day in the beginning, with the goal of reducing the time as you move forward.
And what do you do for the remaining hours in the day when you want to obsess? You distract yourself. You find something else to occupy your time and your mind.
Maybe you'll watch movies on Netflix. Maybe you'll read an entire series of crime thrillers. One Lovefraud reader said that she worked on jigsaw puzzles. Physical activity of any kind is also a good idea. Create a new focus for your attention.
If you find yourself drifting off into obsession, pull yourself back and refocus.
You also might want to consider EFT Tapping. This is a form of acupressure that breaks the connection between a memory and the emotional charge of the memory. Tapping on your experience with the sociopath will help decondition your brain to the obsessive responses.
For more information, see Lovefraud's webinar on EFT Tapping.
Obsession is a phase
The bottom line, therefore, is that obsession is a normal phase that you go through after you discover you've been betrayed by a sociopath. Instinctively, you are trying to figure out the truth, so that you can recover your sense of safety.
But the time comes when obsession interferes with your recovery. By managing the time that you spend obsessing, you can pass through the phase and move on with your life.