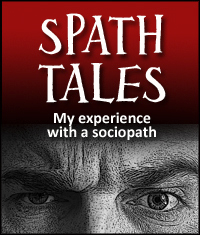 Editor's note: Lovefraud received the following email from a reader whom we'll call "Wilma18."
The sociopath was engaged to my daughter. She is a very trusting and caring person. She was living in a town that was not close to family or friends and met this sociopath on a dating website.
He lied to her from the beginning about past relationships. He came on strong and romantic. She doesn't fall for men quickly, but he was patient and after six months she was in love with him (his scam).
There were signs that something wasn't exactly right but they happened so few and far between and when she happened to mention them to friends and family, she wasn't mentioning them to the same people. So none of her family and friends had a complete picture of his fraud.
He had asked her early on if she believed in living together before marriage. She said "no". But that didn't stop him.
He was supposedly renting a room from an acquaintance in a town 30 minutes from my daughter (we'll never know for sure if that was even true) but he started leaving clothes and other items at my daughter's apartment when he spent the night. Within a couple months, he had all of his belongings in her apartment. (We didn't realize that was all of his belongings until the end.)
The town where my daughter worked was 20 minutes outside of a large city. The sociopath got a job in the city and said he was planning to move there. He took her with him when he looked at an apartment and completed paperwork. But that fell through. So he stayed with her.
He flirted with girls at his job but did not have success with any of them.
Eventually, he proposed to my daughter and she started looking for jobs in the city. She found one and he convinced her that they should just get one place since they would be married. He told her that he could not apply for the lease with her because the acquaintance that he had been living with was evicted by the landlord, and the eviction was against the acquaintance and the sociopath.
Shortly after they moved to the city, the sociopath was fired from his job. He never told my daughter and 2 weeks after he was fired, he told her he had been applying for other jobs and found one. He was unemployed and never bothered to mention it to her. And he was not paying his share of the living expenses.
They were going to counseling with the pastor in order to prepare for the marriage and making all the plans.
When he started his new job, he changed how he was operating in Facebook. He blocked my daughter and her best friend. He deactivated his account every time he wasn't on Facebook.
He also asked that he and my daughter sit down and figure out their budget. I am pretty sure he was just finding out how much money she had and it wasn't as much as he had assumed.
He started his new job pretending to be the bachelor living in an apartment by himself and immediately found a woman to begin flirting with, dating and sleeping with. He was telling my daughter that he had night shifts and that he was going on business trips. I was suspicious, but my daughter wasn't. If I had said anything to her about my suspicions, she would have been mad at me.
Less than 48 hours before their wedding was supposed to happen, the sociopath told my daughter that he still loved her and wanted to live with her, but he couldn't marry her. Up until that time, he had played the part of expectant groom, even a week before the wedding, talking about future plans for their first anniversary. So this was a bombshell. When my daughter called me in tears, I was packing up the car to go to the city for the wedding.
There is so much more detail. I made it my mission to find out who this guy really was and if he had a history of this type of behavior. He does. My daughter told him she was not living with him and to get out. She has not seen him since.
The day that their rehearsal dinner was to occur, he moved in with his next victim. She makes more money than my daughter and owns a loft in the city.