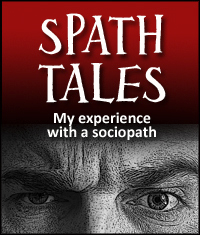 Editor's note: Lovefraud received the following story from a reader whom we'll call "EllenMarie."
I met a covert malignant narcissist on an online dating site. I had no idea such people existed.
I had lost my wonderful husband of almost 30 years to cancer 4 years previously. We'd had a terrific, healthy relationship, and I wanted another one. I have two master's degrees, one in psychiatric social work, and have always considered myself very intuitive and a good judge of character. Not this time!!
I met the narcissist on Feb 3, 2017, and was thoroughly love bombed for 5 months. He proposed after 6 weeks, and we were married on June 30, 2017. I saw no red flags. He was really a pro at keeping it together.
Exactly two weeks and two days after the wedding, on the last day of our wonderful honeymoon, he suddenly and without warning FLIPPED into a different person. He flew into a narcissistic rage over something HE had done wrong, and from that moment on, he never treated me the same again.
There's so much more to the story, of course, but even though I was devastated by what was happening, and my head was spinning, I am a strong person. Because of my previous great marriage, I knew what a good relationship was, and I knew how it feels to truly be loved.
I kicked him out after 5 months.
I found myself still missing him in spite of the HORRIBLE treatment I had endured, which I found very odd. I did some research and stumbled onto the term "narcissistic abuse." This was it, exactly!!!
I have now read 23 books on the subject! I went No Contact and filed for divorce. The divorce was a nightmare, thanks to him, but at last it was final in August 2018. Now I am trying to get him out of my head.
These are truly evil people.