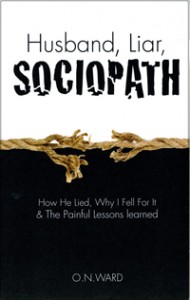 Every week, a chapter of my book, "Husband, Liar, Sociopath: How He Lied, Why I Fell For It & The Painful Lessons Learned" (available via Amazon.com, just click on the title or book cover) will be published here on Lovefraud. To read prior chapters, please see the links at the bottom of the post.
Chapter 46A: Divorcing A Sociopath—Round I
As we discussed dissolving our marriage, Paul's initial strategy was to act kind and generous. He urged me to follow his lead, and everything would be all right. I asked him if he was involved with another woman—not that it made a difference. I just wanted to know. He assured me he wasn't dating anyone and laughed at the absurdity of the idea.
A few weeks after he left, we met at a coffee shop for him to review his proposal for our divorce. Paul suggested that neither of us hire a lawyer so as to preserve our assets, which were dwindling quickly due to his financial situation at work and the fact we were now supporting two household locations. I should purchase the house from him, keep physical custody of the kids and, per the laws of the Utah, I would be required to stay in Utah with Daniel and Jessica. Paul, if he chose, would be able to relocate anywhere in the country and pay me minimal alimony and child support (not even enough to cover the current mortgage). This was more than generous, he believed, because he was currently making no money. Seeing as I had an MBA from Yale, I should be able to get a job immediately, pulling in a $100,000+ salary. Also, even though I was legally entitled to half of his portion of his company, A-M-P Consulting Solutions had no actual value aside from Paul and Anne-Marie's personal brilliance (which, by law, belonged to them alone).
"If you're a good mother and really care about the kids," he said with his hypnotic, velvety voice, "you'll get this over with quickly—for their sake. Don't get a lawyer or do anything to deplete our assets. Anyway, you'll need that money to live on until you get a job. Onna, it's the right thing to do. And you've wanted to work again for a long time. It'll be great."
Paul's gentle, lyrical voice, concerned countenance, and deep, loving eyes were like a siren's song, drawing me ever closer to my demise. "It's what's best for Daniel and Jessica. Don't you love your children? Don't you want to be a good mother? Don't put yourself and the children through a messy, painful divorce. I've heard of even very wealthy people draining all of their assets arguing over the value of a business. And we're not starting out with that much. Onna, you are over fifty now. Don't do anything stupid."
"Paul, I haven't worked full-time since Jessica was born. I've invested most of the last fifteen years of my life in the kids, their health, their future, and in you—to give you no distractions while you built your company. Finding meaningful work again now, at my age, out here—it's not going to be easy. Everyone knows that. This doesn't make any sense."
"Of course it does, Onna. I haven't hired a lawyer yet, but I've talked to several, and they all think this is beyond generous, especially with your education. Assuming you can make six-figures right away is conservative. Most judges would hold you accountable for more. In fact, the lawyers I spoke with said I was giving away way too much and that I was foolish to be so generous. But I want to do the right thing. And, Onna, we both know you had absolutely nothing to do with my success. Since you are such an ethical person, it would be wrong to claim any right to it. Someone as honest and ethical as you would never do that."
Locking me in his enchanting, seductive gaze, his voice now almost poetic, calming, soothing, Paul continued, "I've drawn up the papers. Just sign right here, and we'll be done. I'll file them. I'll take care of everything. We'll be divorced in a few weeks. Simple, painless, easy. We'll both be so much happier, and the kids, too."
"At least agree that I can leave Utah with the kids," I said. "It'll be a lot easier for me to restart a career back East."
"No. The law's clear. To take the kids out of Utah you need the other parent's agreement or a judge. Judges here almost never agree to that, and I'll fight to have the kids stay here. Even though I'll be traveling a lot, I'll make it clear that Utah is my permanent home. You'll just spend a lot of money, and you'll lose. It'll be fine. It's so beautiful here. It'll be fine."
The quiet, even quality of Paul's speech was so hypnotic that I had to shake free from the voice beckoning me to the crags, a voice trying to distract me from the absurdity of what Paul was proposing. Interestingly, a 1998 study found that, compared to male nonpsychopaths, male psychopaths speak more quietly and with less variation in emphasis between neutral and potentially emotional words. Perhaps this is some of what contributed to Paul's spellbinding vocal delivery.
"Paul, I am going to work with a lawyer," I said. "I don't want this to get adversarial or take a long time, but it's a very important decision at this point in my life."
"Onna, that's not necessary," Paul said, his face still soft, his tone gentle. "It's a great offer, really generous. If you get a lawyer and we start spending lots of money … " Paul tilted his head down, sighed, and shook his head, then looked up at me as if to say, Come on, sign the papers, Onna. You can do it. Just sign the papers.
"Yes, I'm sure," I said. "Getting a lawyer is what people do."
The sweet, reassuring smile left Paul's face. "You fucking bitch!" Paul shouted.
People in the coffee shop turned in our direction.
"You'll regret this. I'll go after the kids. I'll make sure you never see Jessica. I'll hire someone to prove you should be making six figures, and the only reason you haven't worked full-time is that you're a lazy bitch. I owe you nothing! A lawyer told me it would look bad that I've moved out. I'm moving back in tonight. Either take this deal or you'll be sorry—really sorry!"
Start from the beginning:
Go to previous chapter:
Go to the next chapter:
Notes
Identifying names, places, events, characteristics, etc. that I discuss here and in my book have been altered to protect the identity of everyone involved.