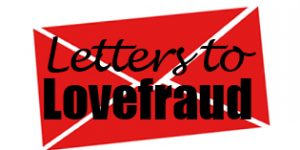 Lovefraud received the following letter from a reader whom we'll call "Shoni."
I am just starting to believe my husband of 12 yrs may be a sociopath.
I had the house, the car, the job when we met. He was new to the area going through a divorce from his Canadian wife.
He was intelligent, charming, attentive, talkative, fun. Seemingly enjoyed church and a relationship with God. Never missed a Sunday.
Now he calls himself a prophet.
He reported my stepsister to the Fraud dept of IRS hoping to collect 10% recovery fee. He said God told him to do it.
It puzzled me why he didn't have a good work ethic.
He took over my stock portfolio, belittling my stock choices. He made terrible choices, I lost a lot of money.
He chatted on line with women while I was at work. Totally denied it.
Smoked pot, sat in the jacuzzi for hours exciting himself.
We almost split several time and things would get better.
Sex with him was rarely making love. It was more like porn, which he hid from me.
We appeared as a normal couple but I often felt a lot of pain.
He doesn't have normal filters, says inappropriate things, and uses constant humor. Constantly wants us to laugh at his jokes, take his picture. A conversation feels like a take over, he gets upset if he thinks I'm interrupting him. He prides himself with being highly intelligent.
I had given him a life estate on my inherited home and 1/2 of my life insurance policy.
I think that's the only reason he tolerated my constant corrections. He would become angry when I insisted he work.
He belittled my daughter, now 26. She is confident beautiful and smart, kind. He would constantly find fault. She would catch him doing things, leaving for hours and he would say, "Don't tell your mother, it would only hurt her." Watching porn or just lying around all day.
A couple weeks ago my husband was caught planning a trip to Vegas to meet a woman from his past. He suggested I go to see my son in Oregon on my vacation coming up. He flirted and used video chat making contact everyday for a week.
He denied it was anything but trash talk, blamed my daughter and her husband, finally when he couldn't wiggle out of it because I took snap shots of the conversation he said he didn't know that was a rule not to trash talk with his friend, but now he knows so he won't do it anymore.
I have moved to the living room waiting for him to get a check after closing escrow on a house he sold. I told him he had to get a room or hotel once his check comes in.
We are in counseling but his objective is to fix me, get the counselor to tell me to forgive him. He doesn't seem sincere in his apology for hurting me.
As I see it I cannot build a financial future with this man, an intimate relationship, a trusting relationship. I feel bankrupt. My daughter does not want him in her life and I fear a lonely future if I stay with him.
We have all had good times together, his adult children and mine formed a blended family.
I hear bits and pieces about his past marriage, cheated on his wife. Didn't work last three years of marriage. Lots of fighting. His kids love him and he seemingly loves his kids, confusing.
I told him I want a minimum of 3 months separation with counseling and go from there. I also am insisting he pass the smell test with my daughter and her husband and close minister friends aware of the situation. I don't want to be manipulated or fooled by his words.
Thank you for allowing me to write to you and providing this platform.