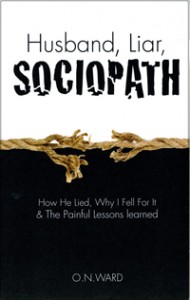 Every week, a chapter of my book, "Husband, Liar, Sociopath: How He Lied, Why I Fell For It & The Painful Lessons Learned" (available via Amazon.com, just click on the title or book cover) will be published here on Lovefraud. To read prior chapters, please see the links at the bottom of the post.
Chapter 39: Past The Point Of Rescue (Hal Ketchum)
Secretly, I hoped that Paul would just pick up and leave or be killed in a plane crash or in a car accident on one of those dark nights he came home late from a business trip or "working at the office."
I had never been able to shake my concerns that Paul had been and perhaps still was sexually involved with Anne-Marie. He always treated her like a princess. He had even paid for her half of the massive litigation expenses years earlier, told me she would pay us back, and then never asked to be reimbursed (even though I brought it up several times). He had handed her half of a now successful company on a silver platter. Once, when I'd met Anne-Marie's mother, she fawned over Paul, saying "Thank you for fulfilling every one of my daughter's dreams." I would have respected Paul for being a great mentor to Anne-Marie had it not been for concerns about the true nature of their relationship and for the fact that Paul treated me like a scullery maid. An image of Paul and Anne-Marie living happily ever after drifted into my mind. Good luck!
I felt dead inside—pathetic that I lacked the energy or will to escape from my pitiful life. But I wasn't pathetic. I had been poisoned emotionally. Sociopaths are brilliant at what they do. Disguised as Prince Charming, they are emotional vampires who rob people of their souls.
I reached out to my parents for help. Their response was that I was always welcome at their house if I needed a place to go. That was not enough. They did not understand that I did not have the confidence, self-esteem, or strength to get there on my own. Perhaps my cries for help did not resonate as being "real." Perhaps they could not comprehend how totally depleted I was, that I was flirting with serious depression. Perhaps I still looked like "me," the strong, independent woman who had excelled as an undergraduate at Harvard and a business student at Yale, who had been a fierce national squash competitor, and who was once a respected business professional. Perhaps it was too much of a disconnect to believe the words I was saying were true—that I was almost gone. Most people do not want to interfere. I get that, but there are times when they should.
Being involved with a sociopath is like being trapped in a cult. With reality elusive, fear of reprisal (emotional or physical) palpable, and your strength sapped, you need help. That doesn't make you weak; it makes you human. But no one reached out to help me. I would have to do it on my own, but I was not strong enough to do that. Not yet.
One reason victims of abusive relationships find it so challenging to leave is that in traumatic situations—whether a ten-day hostage event or a twenty-year emotionally abusive marriage—victims develop strong bonds with other people present during their trauma. As documented in the book The Betrayal Bond—Breaking Free of Exploitive Relationships by Patrick J. Carnes, although it sounds counterintuitive and even repugnant, if the main person present during the trauma is the abuser, then the victim is prone to developing a strong bond and great loyalty to the very person perpetuating his or her abuse. Consequently, it is challenging for a victim to exit an abusive relationship, because it violates the strong bond and loyalty she has developed, albeit unwittingly, with the very person she must escape. People do not choose for this to happen. They do not want it to happen. It just does. I knew Paul was the source of my pain and unhappiness, yet I felt totally loyal to him and dependent upon him. I certainly did not want to feel that way, but I did.
Start from the beginning:
Go to previous chapter:
Go to the next chapter:
Notes
Identifying names, places, events, characteristics, etc. that I discuss here and in my book have been altered to protect the identity of everyone involved.