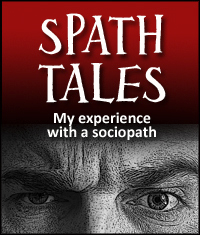 Editor's Note: This SPATH tale was submitted by the Lovefraud reader who goes by the name "Sisyphus Unchained."
He was handsome; he was charming; he had an incredible zest for life. But more importantly he was manipulative, deceitful and dangerous.
In 2007 I met a man with whom I thought I shared interests: educational/community development projects in Southern Africa. He portrayed himself as the founder of a South African-based charitable project focused on the needs of orphaned/disadvantaged youths in the townships of Johannesburg (which much later, once I investigated further, all turned out to be non-existent).
Over the course of the next four years he skillfully interspersed his requests for funding his "charitable" works with requests for assistance with personal expenses (medical, household, family emergencies, business opportunities, and more).
All told, I was "persuaded" to "help" him to the tune of over $150,000 (and that is exactly how he framed his requests: "Please help me." "I am a poor, black man struggling to make it in America." "Helping me will make you feel good about yourself."
As is typical with so many sociopaths, he used a combination of psychological, emotional, physical and financial abuse to control me, to "gaslight" me into believing that he was the only person who truly cared about me.
And while there were times when I suspected, or even knew, that he was manipulating me, I felt powerless to extricate myself from the situation, for to do so meant I had to come face-to-face with the fact that I had been conned.
No sooner would I confront him about his insensitivity, his callousness, his insatiable need for money and sex, than he would ratchet up his charm and (feigned) attentiveness and I would find myself swept back into the vortex.
Most frightening is that when I became aware of other women on whom he was perpetrating the same fraud. I tried to warn them only to be rebuffed, labeled as crazy, ostracized, and even prosecuted as his "stalker" when I made public the information I had gathered about his activities (yes, the authorities went after me for exposing this man's outrageous behavior).
My attempts to interest law enforcement in the illicit activities of this man were met with skepticism if not outright hostility: the "you got what you deserved" analysis, the "you could have said no" or "why didn't you leave" assessment, the "you're just looking for excuses" catchall.
Over the past week I have heard the very same simplistic narrative applied to the Ray Rice scandal — "it's not about what HE did, it's about what SHE did not do."
Blame the victim, again.
In an effort to come to terms with the chaos this man inflicted on my life I sought mental health counseling. My therapist confirmed what I already had figured out: I was one of the unlucky ones whose life intersected with that of a sociopath.
Just hearing those words, "It's not you, it's him" made it a bit easier to still the voices in my head, to begin to let go of the guilt and the shame that my "foolishness" had engendered.
And while I still bear the scars of those dark days and occasionally experience flashbacks, I've taken back my life and am trying to use what I learned to help others.