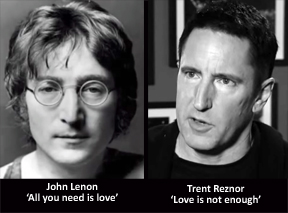 Mark Manson is an author and entrepreneur who posts on his website hundreds of articles about psychology and modern culture.
"˜Love is Not Enough' is a straightforward look at love through Mark Manson's eyes.
Manson compares John Lennon's notion that "all you need is love" with Nine Inch Nails' Trent Reznor's idea that "love is not enough." Manson sides with Reznor and warns that there are three harsh truths about love: love does not equal compatibility, love does not solve your relationship problems, and love is not always worth sacrificing yourself.
Manson summarizes that love is a wonderful experience. It's one of the greatest experiences life has to offer. And it is something everyone should aspire to feel and enjoy.
"But you need more in life than love," Manson says. "Love is great. Love is necessary. Love is beautiful. But love is not enough."
Love is not enough, by Mark Manson
Link was supplied by Mary Ann Glynn, LCSW