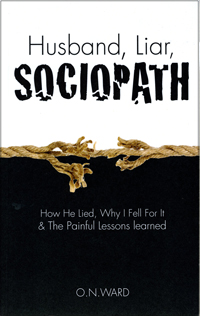 Many people equate the term "psychopath" with "criminal," especially "serial killer." Although it's true that many serial killers are likely either deranged or psychopathic, it is also true that most psychopaths never kill anyone.
In fact, there is an entire group of university researchers, led by Scott Lilienfeld, professor of psychology at Emory University, are investigating the "successful psychopath."
Scientists disagree on how to define this creature. Some consider any psychopath who stays out of jail to be successful. Others look at career or monetary success.
Read:
Is the 'successful psychopath' a myth or reality? on PsyPost.org.
Married to a successful psychopath
Even if a psychopath climbs the ladder of career success and makes a fortune, you do not want to be married to this person.
Just ask O.N. Ward, who published the story of her almost 20-year marriage to a man who made millions as a business consultant in her book, Husband, Liar, Sociopath How he lied, why I fell for it and the painful lessons learned.
No, O.N. Ward is not her real name. Even though she was divorced years ago, she is still afraid of this man.
Onna and the man she calls "Paul" met while both were enrolled in a prestigious MBA program. So yes, Onna is just as smart as he is, except for one thing: She did not know about sociopaths.
Paul turned on the charm as he pursued Onna, presenting himself as dedicated, hardworking and wanting all the same things in life that she did. They married. Then Paul began his campaign to tear her apart, piece by piece.
Slowly but steadily, Onna lost herself. In her book, she tells exactly how it happened.
Analyzing the manipulation techniques
What makes Husband, Liar, Sociopath really valuable is that as Onna tells her story, she also analyzes the strategies that her husband used to control her.
At the time that she experienced Paul's manipulations, Onna didn't realize what was going on. But now, understanding exactly what a sociopath is, she points out her husband's tactics, and explains why they worked.
For example, Onna relates that Paul put in superhuman hours at his job as a business consultant, often staying in the office until 1 a.m. and working through weekends.
After their first child was born, Paul agreed to a rare weekend off. He and Onna were going to spend Saturday together, and then go out to dinner.
But Onna was also working, and because a client made a mistake and sent her package to the wrong address, she needed to work on the Saturday that Paul had taken off. Paul was furious. He refused to watch their baby so that Onna could get her work done quickly and they could spend time together. He sat in front of the TV and sulked.
Paul made Onna feel guilty for tending to her career, when he routinely disappointed her, supposedly because he was working.
With the benefit of hindsight, Onna analyzed exactly what Paul did:
If I valued my client and my career, with a meeting scheduled Sunday morning and a package that was delayed, what option did I have but to work on Saturday? If my need was reasonable, which it was, then Paul's behavior was unreasonable. To prevent me from reaching this conclusion, Paul went on the distraction offensive. He suggested that I misrepresented how long the project would take. Not only did this distraction technique create a temporary blind spot to the real issues, it also undermined my credibility (clearly, I could not accurately estimate how long my work would take) and my integrity (perhaps I misled Paul on purpose). This kept me on the defensive, and defending myself diverted me from Paul's selfishness, arrogance, and sense of entitlement.

When I pointed out that it took me longer than expected because I had to juggle caring for Jessica and work, Paul accused me of accusing him of being the reason it took longer than expected to complete the assignment. This technique of accusing me of attacking him also put me on my heels and averted my focus from his selfish choices and behavior.
A heartbreaking but valuable story
The longer Onna stayed with Paul, the worse his behavior became. But not understanding what she was dealing with, Onna surmised that her husband's callousness was the result of all the pressure he was under at work, and resolved to do her best accommodate him.
For years she made allowances, apologized for things she didn't do, and gave in to his demands. As she did this, she felt herself falling apart.
The day finally did arrive when Onna understood what Paul really was no, he hadn't been working all those long hours. She realized she had to get out of the marriage. Even though Paul did his best to crush her, she finally did escape.
Now writing for Lovefraud
Onna has learned about destructive sociopaths the hard way. Now, she wants others to benefit from her hard-won education. Onna will be sharing more about her experiences here on Lovefraud. Her articles will begin to appear this week.
If you suspect that, despite the trappings of career and financial success, you are married to raging a sociopath, I strongly recommend Onna's book. Or, if you feel like you've been crushed by a sociopathic partner and can't figure out how it happened, you may just find the explanation in these pages.
Available on Amazon.com:
Husband, Liar, Sociopath How he lied, why I fell for it and the painful lessons learned