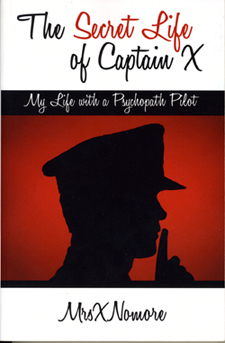 Growing up, she was taught that a woman's success in life depended on a good marriage. She pursued show business instead. But still single the age of 39, she decided it was time for a change, and left the bright lights of New York City for Arizona.
There she met a dashing airline pilot, whom she described as "funny, intelligent, committed, family-oriented, successful, caring and loving." Or, at least that's how he presented himself in the beginning.
She fell for him. Fell hard. They married. For her that was the beginning of 22 years of confusion which, she later realized, was psychological and emotional abuse, inflicted by a psychopathic husband.
She's divorced now, but her husband put a clause in their divorce decree to prevent her from discussing what happened in their marriage.
But for her own healing and as a warning to others she wrote her story without naming names. Her book is called The Secret Life of Captain X, by "MrsXNomore."
Long-term marriage
I've heard from many people mostly women, but some men as well who have been married to disordered partners for 10, 20, 30 years. How is this possible? How can someone stay in a dysfunctional relationship that long?
The Secret Life of Captain X explains how it happens.
In the course of telling her story, MrsXNomore describes the attention and affection she experienced early in the involvement, which was slowly replaced by indifference. She explains how events in her life didn't feel right, but Captain X always managed to keep her in the dark, trivialize her concerns, or blame her for making a big deal out of nothing.
MrsXNomore finally learned the shocking truth of what Captain X had been doing throughout their marriage.
And, then she learned an even more devastating truth.
I don't want to give away the story. But I can say that The Secret Life of Captain X is the first book I've read that addresses a behavior common to many, many psychopaths. It's a shocking behavior, one that leaves most of us shaking our heads, wondering how in the world they pull it off.
How it happens
The Secret Life of Captain X does a good job of explaining how someone falls into a psychopathic web, why she stays stuck there, and what is required to finally escape.
For Lovefraud readers who have endured long-term involvements with psychopaths, the book offers validation. For people who have so far been lucky enough to avoid tangling with a psychopath, it offers an important warning.