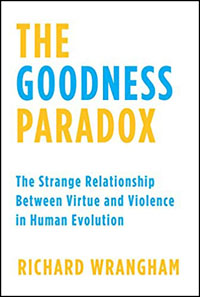 The Goodness Paradox: The strange relationship between virtue and violence in human evolution, by Richard Wrangham
Review by Donna Andersen
The central premise of this fascinating book is that humans — Homo sapiens — are domesticated primates, and this accounts for our ability to be both incredibly altruistic and incredibly brutal.
The author, Richard Wrangham, is a professor of biological anthropology at Harvard. In making his argument, he reviews thousands of years of evolution of both humans and other species. This book is a fascinating look at where we came from and how our evolution affects our behavior.
Philosophers, religious leaders and ordinary people have debated the nature of humanity, including our capacity for both good and evil, for centuries. Some believe we are essentially good, but corruptible. Others believe we are born selfish and competitive, and need to be civilized.
This book has an intriguing perspective on the discussion: Our ability to live together in societies evolved over time as our evolutionary ancestors became domesticated, and this process also lead to the dichotomy in our nature.
Human aggression and psychopathy
Wrangham explains that humans engage in two types of aggression.
Reactive aggression is a response to a threat, which is always accompanied by anger, and often a loss of control. More men than women show reactive aggression, which is associated with high levels of testosterone.
Proactive aggression is premeditated, predatory and cold. "Unlike reactive aggression, it involves a purposeful attack with an external or internal reward as a goal, rather than an effort to remove a source of fear or threat," Wrangham says.
Here's how this relates to violence towards women. Wrangham writes:
The psychologist Reid Meloy reports that the majority of spousal batterers are readily classified as either a predatory (proactive) or an impulsive (reactive) type. Predatory batterers are more violent in general, more concerned to dominate and control their partners, and more likely to be violent, particularly when the spouses talk back. In contrast, it is when spouses try to withdraw from an argument that impulsive batterers are most likely to lose control.
Aggression and the brain
I couldn't help but notice how these two descriptions of aggression relate to exploitative personality disorders: Reactive aggression aligns with antisocial personality disorder, and proactive aggression aligns with psychopathy. In fact, Wrangham quotes the work of several well-known psychopathy researchers in describing aggression and the brain.
The amygdala is a pair of small, almond-shaped structures in the brain that is associated with fearful reactions and emotional responses. It typically doesn't work very well in psychopaths. In fact, brain images often show that psychopaths have amygdalas that are undersized and sometimes deformed. Psychopaths have low fear and low empathy, which contributes to their ability to engage in proactive aggression.
Wrangham also explains that the prefrontal cortex part of the brain is involved with controlling impulses, processing rewards and planning. This part of the brain underperforms when people engage in reactive aggression — lashing out in response to threat, as antisocials are prone to do.
Humans and self-domestication
The process of self-domestication enabled humans to live in societies, which enabled our species to flourish. The key question, of course, is how did this happen? Domestic animals, such as dogs, cows and chickens, were domesticated by people. Who domesticated human beings?
Domestication means that a species becomes less reactively aggressive, and therefore able to live with humans. Over time, this becomes a genetic change. Dogs and cats can be loyal human companions. Wolves and tigers might be able to be tamed, but they never lose their wildness. People must always be cautious around them.
How are animals domesticated? Human engage in selective breeding. Animals that are not aggressive are bred, and animals that are aggressive are slaughtered for dinner.
Thousands of years ago, our ancestors did the same thing with each other. They mated with nonaggressive individuals, and eliminated aggressive ones.
The importance of reputation
So how did our ancestors learn who was nonaggressive? With the evolution of language, early humans were able to communicate about the behavior of others. Therefore, people could learn about another's reputation.
Still, how did early humans weed out those who were overly aggressive? Wrangham posits that selection against aggressiveness and in favor of greater docility came from execution of the most antisocial individuals. He cites historical evidence and research with primitive societies as support for the theory.
Again, language was crucial. Language enabled individuals within a group to talk about an overly aggressive individual, form a coalition to do something about it, and make a plan to carry it out. Language is a key feature of social control.
Right and wrong
In his book, Wrangham includes a discussion of how humans came to be concerned with right and wrong. Humans are capable of altruism, cooperation and fairness, types of behavior often referred to as "prosocial."
Our ancestors knew that they needed to be part of the group in order to survive. Therefore, it was crucial to follow group norms, as not to be cast out. Over the centuries, this evolved into a sense of morality — knowing what is, and is not, acceptable to the group.
Wrangham also discusses what happens when a group has too much power and becomes tyrannical, and in war.
This book and the evolution of personality disorders
The Goodness Paradox is not about personality disorders. It proposes that the human capabilities of both virtue and violence are rooted deep in our evolution. For me, it was a fascinating book with nuggets of information on where personality disorders came from and what to do about them. Here are some observations:
• Some experts have suggested that psychopathy and antisocial behavior are evolutionary survival strategies. In fact, some psychopaths view themselves as "evolution's next step." But according to this book, psychopaths are an evolutionary failure. They're the ones who didn't evolve with the rest of us.
• The book's discussion on reputation struck me as a key to why it's hard to escape sociopaths today — with so many people in the world, and so much transience, we simply do not know the history and reputations of others. Sociopaths can portray themselves as loyal and pro-social long enough to deceive us into a relationship.
• This book clearly illustrates the biological underpinnings of aggression — and also the possibility of subduing it. Anyone who has had a child with a sociopath needs to recognize that the child may be at risk of becoming disordered, and take steps to prevent any genetic heritage from being realized. For information on how to do this, see Dr. Liane Leedom's book, Just Like His Father?
• Finally, our ancestors dealt with overly aggressive individuals by executing them. Today, many people are opposed to capital punishment. So what do we do with antisocials and psychopaths? I think the best we can do is become aware that they exist, and then refuse to have sex with them. Maybe, after many generations, they'll start to die out. Lovefraud's guides can help you spot them:
Red Flags of Love Fraud — 10 signs you're dating a sociopath
The Basics: Love Fraud and How to Avoid It
The Goodness Paradox: The strange relationship between virtue and violence in human evolution, is available on Amazon.com.