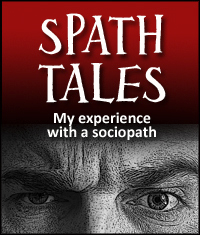 Editor's note: Lovefraud received the following story from a reader whom we'll call "Charlotte19." Names and details have been changed.
It was blind love. Yes, actual blind love. In 2016, as a widowed mom to three boys for 13 years and true empath, having run non-profits for nearly 25 years, I was ready, now that boys were young men, to explore real adult committed relationships. I'd recently ventured into online dating and even met a charming British beekeeper, who upon learning was "shockingly into polyamory," I had placed in the "friends only" category. Having just lost my 6 figure job due to non-profit board politics, I walked into that all years high school reunion at the age of 54… I'd just run-walked a half marathon for charity. In the best physical shape of my life – I was probably the opposite emotionally— the worst shape of my life.
At the urging of friends to "cheer up," I'd made the trek to up the state to the reunion. I was about to leave the event when in he walked. Tony or Anthony, as he calls himself. I'd never gone to school with him; he was in my brother's class and four years older. Yet, at the tender age of 12, I'd scooped ice cream at the local ice cream parlor where he had been a tanned, charming surfed-out waiter. I'd been smitten my whole life. Tony, who admitted he had never noticed me before, placed all his attention on me once I described my circumstances as a widow with a large 5 bedroom, 3 bath house with game room and extra garage in a gated community 10 minutes from the beach. He was in town visiting his mother for a late Mother's Day. He asked me out. I agreed, trying not to seem so eager.
Days later I met him half way at one of my favorite places. By the time the night was half-over — he had staged a romantic kiss outside the restaurant overlooking the water — I was hooked. You see his Facebook page (I later learned he has two for his different personas) had said he had been the leader of his church's marriage ministry back in Colorado and according to him, his wife had had an affair and left him taking his two youngest children. The divorce was her doing, he said, and he had only wanted a separation.
Of course that turned out to be the opposite truth. There, of course, was no affair, and when his last wife had filed for separation, asking him to get help for his anger and violent behavior while she went back to her family's support, he was the one who filed for divorce. What ensued, I later learned, was an all-out financial and emotional assault on her and her family costing hundreds of thousands in legal and other fees, not unlike my own situation.
I believed him at the time. Who would lie about such things when he knew I ran in the same circle of friends and would find out the truth? A psychopath whose every word about themselves only contain part truths and a whole lot of unnecessary fabricated lies about who he was and his past, that's who. This would be his wife who he would x out her face in family pictures with duct tape.
So then it began, what I later would learn, was "love bombing." He was in Colorado and writing me 1-2 handwritten love letters a day. A flurry of skyping, emails and texts. Just two weeks into our new relationship, he was writing about me as being "the one" and even claimed to have gone to his local courthouse to find out how we could get married now, so if we had sex wouldn't be sinning and that we would have a public church wedding. One special day for us; another for the others.
I tried putting the brakes on the relationship right away. I knew nothing about narcissism at the time and he just wore me down, always having an excuse for everything. They kept coming — tales of his heroism and life-saving efforts as a decorated Navy Corpsman. Photographs and drawings from his granddaughter to spin the story of how good he was with kids. Bragging about having played football on scholarship, until he broke his leg, of course. He'd been an actor with several movie roles and even provided me with autographed black and white photos. He found my list of qualities I wanted in a future spouse from a vision board exercise and one by one knocked them off becoming the perfect man, even growing a moustache because I like men with facial hair.
He was willing to give up his life in Colorado for me. He would move back and stay at his mother's cabin. (I later found out this was the home of his first legal wife that Tony's mother, a narcissist too, had taken over ownership of when Tony stopped paying the payments. His wife and kids eventually were kicked out of the home even though that was not the deal.)
When the beekeeper and I kept our plans to attend a community service group conference in Toronto, Canada a few months after meeting Tony, the biggest red flags were thrown down by my now ex. He went on a tirade from thousands of miles away, threatening to call my family and post things about me on FB to expose me. When I told him I wouldn't see him anymore if he didn't back off – he eventually after a few days posted the most loving thing anyone could ever have written about me. I forgave him, chalking it up to "normal" jealousy that had gotten the best of him. Yet there was nothing normal about it. I later found the real post he was going to put up which said. "I can't believe I let a skirt get the best of me. She's been with 20-25 men in the last few years since her husband died and over the entire time, heck the entire 7th fleet has been in that hole."
I agreed to fly to Colorado for his minister's daughter's wedding. What ensued was some serious love bombing which deflected me from the red flags going up everywhere. He got angry when I wasn't standing exactly where he told me to at the airport. He had made a trail of roses in mansion he took me to that hardly had furniture in it that I later learned he had another one of his girlfriends stage the home for my benefit and then kicked her out of the home the house was actually for sale and he was living elsewhere in a condo. He gave me a two pearl white gold ring that he said he had made for his daughter but wanted me to have instead. That turned out to be a ring he had given his last wife. It was odd that it was adult sized, as his daughter was only 10.
The women's dresses in the closet, oh yeah he claimed to have accidentally bought those for his daughter and of course they turned out to be left behind by the girlfriend he had just kicked out. At the minster's daughter's wedding, he had to buy a giant BBQ for the couple so that he "would have the largest present at the wedding." And, the red flags just kept falling to the ground, as I was overwhelmed and swooped up by a man portraying a god fearing Christian who loved me more than life itself. I had prayed for a handsome and charming man and I was convinced God had answered my prayers.
He played on my sympathies, stating that he was now a disabled Veteran unable to work due to diabetes, vision loss, carpel tunnel syndrome and a host of ailments he claimed to have. Yet it never added up with the home gym weights, his large muscular arms and the fact that his letters to me said he could run the 50 yard dash in incredible times. (Yes I have that letter.) He was healthy and handsome as a man could be at 57. I had no reason to doubt him, after all, he was collecting money from both social security and VA disability.
I told him I did not want to get married, as I would lose my widow's benefits that I wanted to start receiving next year at 55. He made spreadsheets to show me how being married to a Vet would be so much more financially stable. His letter to that regard said he would never leave and not certainly before the 10 years I would need to be married to get those VA spouse benefits permanently.
There is so much more to tell about the con, but in 9 ½ weeks this bright intelligent woman agreed to marry him in Vegas while at a Convention. I showed up at the Little Vegas Wedding Chapel expecting to be married by a real minister only to find out that Tony had ordered an Elvis wedding to surprise me. I should have walked out but instead walked down the aisle carrying my purse out of fear it would be stolen and not one friend or family member there. What followed was a Lifetime television movie.
His comments and language became violent. I began introducing him as "my terribly inappropriate husband Tony." I would not be held responsible for the tall tales, crass humor and violent statements. He told me he killed a man in the Philippines when he was 11, even showed me the gun he used. His second legal wife confirms she was told this too. I still thought it was preposterous. As time went on he revealed even stranger things, like punishing his children by placing their kittens in the snow and making them watch the local wildlife eat them. He stated that he and his brother had stuffed a 6 year old neighbor into a dryer at his mother's home in his teen years and had even turned it on. I started to attribute his bizarre behavior to his bad childhood, losing his dad to a heart attack at 11 and other rationalizations.
When four of his seven children from three different marriages — including the 10 year daughter — tried to take their own lives during our short marriage, I found it shocking when he would say things like they should just do it and get it over with. One comment that was particularly disturbing was that he wanted me to hand him a hammer so he could bash his son's brains in and then there really would be something wrong with his brain. At the time I was the office executive for the National Alliance on Mental Illness and I signed him up for classes, but not only did he drop out – he abused me for having sent him there.
As a believer in Jesus Christ, I felt that my marriage vows were to God and I was determined to make things work. I took us to marriage counseling and after two weeks, Tony was referred to a separate counselor to deal more serious problems that he had admitted to that I was not told why. I assumed it was anger management as the counselor had told Tony that his level of anger towards situations was way higher than it should be for most of the minor things he described.
He became abusive behind closed doors. As he became more abusive, he was even more charming, amping of the gifts, acts of service, words of affirmation and more. It was like he was the love language book by Gary Chapman on speed and alternatively Hannibal Lecter of Silence of the Lambs. He would talk about dark spirits and seeing a woman with long dark hair in the cabin that we frequented on weekends. On our first Christmas he joked that the chainsaw he had asked for and been given could be used to "cut your mother up into little pieces and bury her in my mother's unfinished basement. My adult children were not amused and later revealed that they thought someday our family was going to end up on Dateline.
I took him on fabulous trips to Paris, Texas, San Francisco, London, Arizona and more. All with my airline miles and hotel points. Each trip ruined by his explosive temper or some weird happening.
Fast forward to our first anniversary. Expecting one of his lovely romantic dinners out — that were interspersed with his tempestuous home meals – it was the most unsettling moment of us as a couple so far. (He often would state if I didn't serve him on time that I was trying to kill him due to his diabetes.) Nope not going to happen, without a fight or a problem – he had packed his things and stated he was moving permanently to the cabin in the mountains and if I wanted to stay married I'd sell my house and move with him. I contemplated what to do as I fought through tears while teaching and attending a forum on non-profits that day at my alma mater.
In one year hear he had gotten me so trauma bonded, embarrassed and defeated that I said yes and put the house on the market. His mother would put me on the mountain lease and eventually sell us the home. When that didn't happen, I believe in my heart she was in on the con, the big con I should have seen coming started. He had decided we would buy a home 0% down with his VA loan. He'd signed a quitclaim deed that all the money from the sale of my home was mine alone and I had it in my savings account waiting to be transferred to a Christian Financial company.
Ten days before the closing of the new home – he dropped the bombshell on his plan. I needed to put in $100K or she would not sign. I had nowhere to live, what he hadn't given away of my things was in a pod, the minister who built the new home was expecting to be paid and I had quit my job in San Diego and was now working the only non-profit job I could find in the mountains making just $16 hr. I cried and I shook and I didn't know what to do. He agreed he would make the payments for the next 3 years and then we would be even. Against my better judgment I went with him to the bank and sat there frozen as he instructed the banker just how he wanted the funds from my account sent.
During the time of the loan process, it had been weird. The lender found $43,000 my husband had recently been given in a settlement from one of his many VA claims of wrongdoing against him. I knew nothing of it and could not explain. Apparently he held 6 or more joint bank accounts with his mother and she, not I, was named as the beneficiary on them all. The walls were closing in.
Still I prayed to God to protect me from what I knew was probably coming. I sucked it up and tried to have the best attitude possible, determined that if I made the new home nice enough – love bombing, charming Tony would return.
He got more abusive — throwing things at me, punching walls and holding me down over a couch bruising my arms to badly the sheriffs were called. I don't know why, I still don't, and that I didn't leave right then and there. I now know it is called trauma bonding, coupled with shame that others might find out how I was conned by this man who hadn't had intimate relations with me for nearly 7 months now. I suspected there were others and I would later learn he was on match.com and other dating sites the whole time of our marriage.
We got the keys to the home and that day he announced he was having to go to the Long Beach VA to the inpatient blind center for 6 weeks of treatment. Snow and all I was supposed to unload, unpack, call the utilities and set up all the house for his return. And, then he dropped another bombshell, he was still going to rent the cabin just 5 miles away too. I now suspect so he could bring up the women he had over the time flirted with directly in front of me.
There was just one problem – never not once in 1 ½ years of marriage had he ever had any issues with his sight. He read small print for me, drove us in all kinds of weather and conditions and was even now driving himself to the blind center. I started getting suspicious. He had two sets of eyeglasses, one from the VA and one from a private doctor. The ones from the VA, which he never wore, were super strong. The ones from the private doctor I could see out of just fine. I learned that you get extra VA pay for being married (check), extra for being blind (check) and extra for a limb that doesn't work. (Well despite his terrible ED – he was on his third carpel tunnel syndrome surgery.) I was astounded as he had just built a 100 foot retaining wall all by himself in the back of the cabin. He was not disabled and he sure as heck wasn't blind.
Well he went to that program and when he returned his violent behavior was worse. He exploded at me thinking I hadn't paid an $11 water bill, which I had. He then announced that he wanted a divorce and that I better move out of his house. When I refused he said he would call the police on me if I had my family over – it was Easter weekend. I left the house that night and he followed me up the stairs, I turned around to see who was behind me and bumped him with a fabric bag of my clothes.
The next day he said he scheduled realtors to show the house and there was nothing I could do about it. By 6 p.m. that night he had called the Sherriffs and made a false report to the police. Unbeknownst to me he had also falsely told them that I had a gun, was drunk and on drugs. Nothing could have been further from the truth as I had just come from my job working with foster kids. The cop was letting me leave when I realized he had my keys and driver's license. As I reentered the house the sheriff lost his temper and arrested me on the spot. It was shift change on Good Friday and he wanted to go home. Another officer took me down to the the worst jail in state. The Department of Justice Background system wasn't working so it would be days before I could get out. I'd never known anyone who had been arrested and didn't at the time even have a traffic ticket on my record.
The rest of what happened in that jail is to horrifying to reveal. By the time I got out he had smeared me to my family who never believed him, stolen my cat, changed the locks on the houses, moved his family into my bed and was threatening to call the Sherriffs if I came home to my own home. Everything inside was mine. He had less than 20 small items in that home. I knew I had been set up.
It took me 3 months to get it straightened out but a judge threw him out, issued a restraining order and I divorced him as fast as you can, in 6 months and 6 days. Of course, I had to pay him off to go away. During that time he keystroked my electronics and obtained my bank account information and ACH transferred $55 by pretending to be me, shut off my electricity, attacked my tires with a knife and is the chief suspect in my car blowing up. You can't even make this stuff up, as you say.
He has written letters to the Dept. of Behavioral health and VA making false accusations against me. His latest accusation that he tells others is that I am impersonating a doctor. It just goes on and on.
The DA never filed charges as there was no evidence and his own testimony changed over and over. I still have that arrest on my record and am saving the $3,500 to pay a lawyer to have it removed. I'm currently trying to renew the restraining order against him for another 5 years. He's never turned in his guns, and in the small mountain community, you can't get a Sherriff to enforce your RO.
It's been a nightmare. I've learned of many of the women he had on the hook. Learned he was on match.com just 2 hours before filing his false police report and that he has had inappropriate relationships with female therapists at the VA. The women he had an affair with on his first legal wife, the one after the baby momma, told me he was into S&M and African American women — not traits of mine. She also told me he said he liked to prey on Christian women as they were more forgiving and naïve.
Much of what he told me isn't true. He isn't a retired Navy Corpsman – he never finished the training and turns out was only in the military 8 months. He never played football and didn't graduate from college, And the list of lies goes on.
We are not even sure he graduated at all from our high school, as he attended, by his own admission, less than 60 days his senior year. Which would have made him ineligible to even be at the reunion.
I've tried to make the best of a bad situation. Am working at a job down the mountain to hide where he can't find me. I have a small volunteer ministry, visiting women in that jail. I'm deeply frightened, financially drained and hyper vigilant, knowing that he is vengeful and that his stories of violence and murder are probably true. I recently turned through the pages of the court reports by social workers involved in his last marriage to re-read the reports of him drop kicking his children's dog, threatening his son with a belt and throwing a glass at his then 8 year old daughter "to get her attention." Their mother, upon meeting me, had indeed poured me a glass of wine and asked me, "do you even know what you have gotten yourself into?" He now visits his 2 teen kids and uses a white cane and Uber, saying he's is blind to his kids. Yet, here he drives up and down the mountains, in snow and ice and in the dark. Never a cane in sight.
When I think back to the night of the reunion I'd attended, I do recall another long term friend I'd known since I was 12 sitting with me most of the night. He'd said, "I don't think you should go out with Tony. He borrowed my bicycle when he was 12 and never gave it back. I don't think you should go out with him if you ask me."
Perhaps I was deaf too, and not just blind.