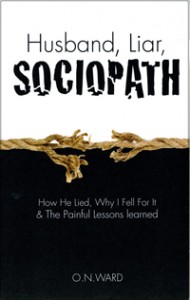 Every week, a chapter of my book, "Husband, Liar, Sociopath: How He Lied, Why I Fell For It & The Painful Lessons Learned" (available via Amazon.com, just click on the title or book cover) will be published here on Lovefraud. To read prior chapters, please see the links at the bottom of the post.
Chapter 44B: A Second Honeymoon
I looked at him. "Are you serious?"
"You've talked several times about moving to give Daniel a fresh start. Let's do it. We'll have to do it fast. We need to make sure we sell the house and have the kids there by the summer so they can meet people and be ready to start the school year. I know it sounds crazy, but how about it? Let's give us the second chance we really deserve. Let's give the kids the life you've always wanted for them."
"What about your business? My parents?" I asked. "They're getting old, and I don't want to be thousands of miles away when they need me."
"My business is doing so well now that I can manage it remotely. Jessica will be driving soon, the kids are older and more independent, and I'll make sure you can get back to see your parents four times a year, more if you want. And just think, now you can cross-country ski every day all winter."
My first response was "NOOOOOO!" I had done so much good work to get my life back on track in Connecticut that it would be crazy to derail my efforts now. I had friends, and my family was only a half-day's drive away. I had developed connections to try to get a teaching job. All the work I had done to start my life over was in Connecticut. But Paul was persuasive, using my affinity for a simpler life, our newfound connection, a more wholesome life for the kids, and a life in the mountains where I could enjoy my favorite sport and activities to convince me to go.
I agreed to think about it. While I did, Paul continued to be attentive, respectful, caring. The ice that, out of self-preservation, had encased my heart, continued to melt. Defenses built up below conscious awareness and reinforced through necessity over more than fifteen years did not dissolve instantly. Yet, as the months passed, I had started to fall in love with Paul again. Not only that, I felt hopeful and confident in the future, something I had not felt for a long time. Sociopaths can be very convincing.
To help make the decision about moving, I agreed to another trip to Utah in April. Paul planned it all. It was early spring; with snow still in the mountains yet an embracing warmth to the mountain air by midday. The tall peaks and snow tugged at my heart. For years, I had wanted desperately to give Daniel a fresh start. We spent our mornings skiing or hiking, our afternoons looking at houses, and our evenings at charming restaurants. The mood while we were there was magical, warm, even loving and exciting at times. We found a house nestled in the woods with just enough of a break in the trees to offer a spectacular view. The house resonated with me, reminding me of my childhood home in Vermont. It felt so right. At the end of the trip, I said, "Yes."
We would need to move at lightning speed to orchestrate the move by summer. (This is consistent with a sociopath's tendency to make quick, risky decisions and to convince others to come along for the ride.) Seeing as Paul would not be able to take time off from his business—our only source of income now—it was only logical that my life would have to come to a screeching halt once again to organize the move, but it seemed like a worthwhile tradeoff.
Start from the beginning:
Go to previous chapter:
Go to the next chapter:
Notes
Identifying names, places, events, characteristics, etc. that I discuss here and in my book have been altered to protect the identity of everyone involved.