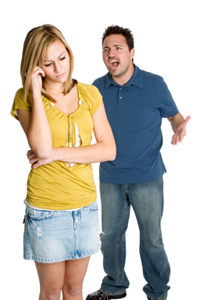 I was sitting at my kitchen table one day during my marriage to the sociopath, James Montgomery. We were arguing I don't remember what about; we argued a lot. All of a sudden, Montgomery accused me of sleeping with another man.
I was shocked.
I had been friends with the man for about 15 years before I even met Montgomery. We were good friends. But that's all friends. Still, Montgomery raged at me, "I know you had sex with him."
I denied this, vociferously. Montgomery kept accusing but eventually backed down.
The accusation came out of thin air. I hadn't even seen my friend in months. So why did Montgomery do this?
Sociopaths assume everyone cheats
First of all, most sociopaths cheat. I would say that all sociopaths cheat, but a few people have told me that the sociopaths they were with did not cheat. Maybe it's true, or maybe those sociopaths were just really good at hiding it.
Anyway, sociopaths cannot love. They do not feel empathy, loyalty or remorse. But they want sex lots of sex, with lots of variety. So even when they have a partner, sociopaths cheat, without any qualms. And since they cheat, they assume everybody else cheats also.
Asserting control
But that's not the prime reason why Montgomery accused me of sleeping with my friend. His true purpose was to assert control over me.
Had I admitted to sex with this man, Montgomery would have held it over me forever. He would have used it to prove my unworthiness and besmirch my character.
And this accusation would have been just the beginning. He would have accused me of other things as well, in an effort to tear me down mentally and emotionally. His objective? To make me more controllable.
Isolation
A sociopath may rage that you're cheating with your co-workers, neighbors, parents from your kids' sports teams. Even if you're totally innocent, and you've never even spoken to any of these people, the tirades may be almost unbearable.
So what do you do? You may try to avoid the sociopath's rage by making sure that you don't give him or her any reason to make the wild accusations. You don't talk to anyone at work. You limit contact with your neighbors or other parents.
In other words, you isolate yourself and isolation places you further under the sociopath's control.
Warning sign
So if a partner who exhibits sociopathic traits unjustifiably accuses you of cheating, recognize the accusation for what it is a tactic for asserting control over you. It's a warning sign that you should get out of the relationship as soon as you can.
Do not admit to cheating that you didn't do, just to get the sociopath to stop raging.
In fact, don't admit to cheating even if you did do it. Any admission of guilt will make the sociopath ratchet up the abuse exponentially and could make escaping the relationship more difficult.