by Quinn Pierce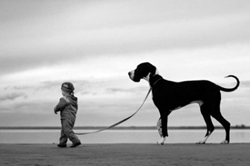 I sat on the now familiar, well worn bench outside the courtroom, and I watched the strained faces of the people around me as I waited for our name to be called. It was our fourth appearance in the family court due to my son's unexcused absences resulting from an illness the school has yet to acknowledge. The whole process has been exhausting, to say the least, but it's been made even worse by the carnival-like antics being performed by my ex-husband and his lawyer.
As usual, a situation that should solely be about supporting our child has been turned into another Look At Me, I'm the Victim one-act play. It seems that any captive audience lately has become an opportunity for him to perform.
Repeat Performance
At our last appearance, our goal should have been to explain to the judge that my son is not spending his days doing drugs and trying to get initiated in a local gang, but rather, is home recovering from a well documented illness. So, it was a surprise to many of us when my ex-husband's lawyer blurted out a well-rehearsed rampage insisting that I have been preventing my ex-husband from seeing his children and they should be placed with their father immediately.
I shouldn't really say it was a surprise; after all, this is a performance I have seen many times over the past few months, but the fact that it was inserted into the court hearing mid-sentence with no warning what-so-ever, was unnerving. Luckily, at this point in my twenty years of dealing with this man, I am well aware of my need to protect myself at all times. Even though it is very time consuming and financially draining, it is a necessity. So, my lawyer was also in the court room to ensure that these ridiculous attempts to back door a custody hearing, and whatever else my ex had up his sleeve, didn't materialize.
Contradictions
What did surprise me, however, was the fact that my ex-husband was taking both sides of the same issue. Minutes earlier, he agreed that my son was not truant and that he was suffering from complications of Lyme disease, yet, in the next breath, his lawyer was stating that if my son lived with his father, he would definitely be attending school full time.
By the furrowed brows and confused looks of the lawyers on either side of me, I could tell I was not the only one who saw this as a blatant contradiction. In my head I was asking: How can you say he is sick enough to be out of school, and then say if he lived with you, you would be able to get him to go to school? It didn't make any sense.
Taking Sides
But, when dealing with a sociopathic partner, or ex-partner, nothing makes sense. One reason may be his ever changing opinions and convictions. Usually, his stance on an issue is in direct contrast with mine. Occasionally, he will align with me if it serves his needs and puts him in a flattering light, but never for an extended amount of time.
Throughout my son's illness, my ex-husband has switched sides so many times I can only imagine he must be exhausted. What amazes me the most is his ability to portray himself as the victim even when his stance on his son's illness changes weekly. I suppose it's because the underlying message he hopes to portray is that I am the root cause of whatever is going on with my son, regardless of what any experts say.
It's a predictable pattern of accusations, blame, and outright lies about me in order to gain sympathy and attention for himself. And, as draining as it is dealing with the never ending drama he tries to create, I have to admit that I've enjoyed those moments when his lies catch up with him and even he seems to have confused himself.
Watching the Lies Unravel
I often think of the saying: No man has a good enough memory to be a successful liar. It's a tangled web he's woven, that's for sure, but he still continues to pretend he has no idea what anyone is talking about when he is called out on those lies. It's disturbing and amusing at the same time.
Even my son is tired of the games and has refused to spend time with his father over the last few months, which has outraged my ex for the sheer embarrassment of having to explain to people that his son does not want to see him. He constantly asks my son why he doesn't want to go. I have heard my son tell his father (several times) exactly why he doesn't want to visit. It has been discussed in front of health care professionals, lawyers, and family members, yet my ex insists he has no idea why my son does not want to go. Instead, it has been much more convenient for him to say that I am keeping his son from going over there.
Lead by Example
Fortunately, my son is old enough to be able to express his concerns and make the decision not to spend time with his father. He understands, however, that his voice will mean very little to his father. It's a sad reality that my children's health and well-being will always come second to their father's superficial and selfish needs.
My only consolation is that they will not spend the rest of their lives searching for acceptance and love from someone who is incapable of either. I'm very proud of my son for being able to stand up to his father. I know first-hand how difficult it is to face an emotional abuser. As important as is for me to be a strong and healthy role model for my sons, I'm discovering that they are learning quite a bit from their father's example, as well. Sometimes, it's just as important to see how not to behave.