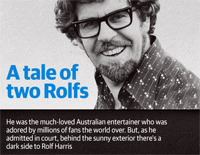 Rolf Harris— a household name in the music, art and TV entertainment industries in Australia and the UK for 50 years, has been found guilty of sexually assaulting four teenaged girls.
Harris, now 84, was found guilty after an eight-week trial in London.
Because of his age and poor health, Harris' barrister Sonia Woodley plans on requesting a reduced jail sentence.
Harris had previously received multiple awards, including royal honors such as Member of the Order of the British Empire, which will be stripped.
Rolf Harris found guilty of 12 counts of indecent assault of four girls, from News.com.au.
Link supplied by a Lovefraud reader.