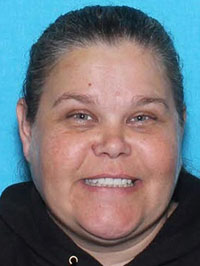 She's baaaack!!! Lovefraud first wrote about Bobbi Ann Finley almost five years ago, in September 2010.
Finley had a habit of hanging around military bases, meeting servicemen, marrying them, and wiping out their bank accounts.
When we first wrote about Finley, she'd married 14 men and had at least nine children with almost as many fathers. She was so infamous that she was profiled on ABC's 20/20.
In 2011 Finely was convicted of fraud. She was sentenced to three years in an Alabama prison.
Well, she's out, and up to her old tricks. She's married again, although Husband #15 is not military. But they're wanted for passing bad checks all over Oregon, unauthorized use of a motor vehicle and theft by deception.
The couple was detained in Alabama, but authorities let them go.
'Military Mistress' who married 14 servicemen wanted for check fraud, on People.com.
'Military Mistress' wanted in Oregon released by deputies in Alabama, on kptv.com.
Bobbi Ann Finley seduces and swindles 14 husbands, on Lovefraud.com