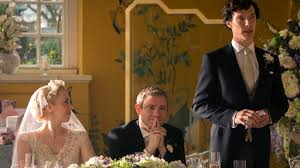 Along with the hit show Downton Abbey, PBS has recently run the series Sherlock. In this remake of the classic detective story, the gifted private investigator is working today, solving the most difficult and puzzling crimes.
In a recent episode, Sherlock's sidekick, Dr. John Watson, a veteran of the war in Afghanistan, is getting married. He asks Sherlock Holmes to be his best man. The big day arrives, and Sherlock must use his extraordinary powers of deduction to prevent a murder right at the wedding reception.
Here is more information about the show, including an episode preview:
Sherlock: Season 3, Episode 2 The Sign of Three
High-functioning sociopath?
Early in the episode, Sherlock Holmes comes out and proclaims, "I'm a high-functioning sociopath." But then his behavior in the show indicates that the brilliant Sherlock, or at least the scriptwriters who wrote the show, have absolutely no idea what a sociopath is.
First of all, Sherlock is mystified by the fact that Dr. Watson considers him to be a friend, even his best friend. He has no use for friends, and can't imagine why Watson would want him for a friend. Now, it's true that sociopaths make lousy friends, but they certainly understand the value of having other people think they are friends.
Then, Sherlock is traumatized by the idea of standing up in front of the wedding guests and giving a toast. Are you kidding me? Most sociopaths love to be on stage any stage.
Finally, when Sherlock must do his best man duty and give the toast, first he freezes, then he speaks awkwardly, and then he insults practically everyone in the room. Nothing could be further from reality. In fact, on my wedding day, James Montgomery gave a heartwarming toast that brought tears to quite a few eyes. Of course he was lying, but it sure sounded good.
If this TV show's producer and writers had done any research, they would have found sociopaths described as charismatic, charming, glib, magnetic, energetic, fun and the life of the party.
But their Sherlock Holmes is depicted as a man with no social skills. They created a character who is smart but isolated, awkward and has no interest in relationships with other people, not even to exploit them. Sometimes he is mildly manipulative, but never in a way that causes harm to other people, except, perhaps, the bad guys.
Actually, this Sherlock Holmes looks to me like he is somewhere on the autism spectrum, and people who are autistic are not sociopaths.
Character quiz
And if all of this is not misleading enough, the PBS website includes a page entitled, Which Sherlock Character Are You? It says:
What personality traits do you share with our favorite high-functioning sociopath or other key characters from Sherlock? Find out in this quiz, then share your results with others!
This is the dumbest quiz I've ever seen. I tried to take it, and for each of the 11 questions, none of the answers applied to me. I tried to pick answers that were somewhat relevant, and the result told me that I was like Mycroft, Sherlock's highly intelligent but also dysfunctional older brother. I don't think so.
Here's the quiz:
Which Sherlock Character Are You?
Misinformation from educational TV
PBS says its mission is "to create content that educates, informs and inspires." It calls itself "America's largest classroom." And usually, it is.
But on this particular issue, PBS is dispensing misinformation. The network, through the Sherlock show, is contributing to the public's dangerous lack of understanding about the predators who truly do live among us.
And the thing is, the whole problem never needed to happen.
I watched episodes of Sherlock Holmes from the first two seasons, and I don't remember him ever being described as a sociopath. Yes, he was brilliant, brusque and a loner but the word "sociopath" wasn't used.
Now, by misdiagnosing Sherlock Holmes as a sociopath, the show is making it more difficult for PBS viewers to recognize a real sociopath in their lives. And on educational TV, that's a shame.