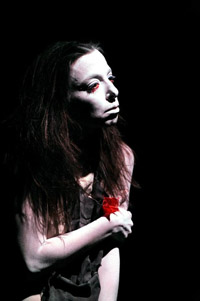 'The dance of darkness,' for the beautiful, happy and vibrant Sharon Stern, became the dance of death.
Sharon Stern, 32, of Hollywood, Florida, aspired to perfect her performance of butoh, a Japanese style of contemporary dance. Instead, she lost her sanity and committed suicide, allegedly driven to despair by her butoh master, Katsura Kan, according to a lawsuit filed by her family.
"Katsura Kan brainwashed her against her family and her life," said her heartbroken father, Tibor Stern, 65, of Hollywood, Florida.
"He made her forget everything that was happy about life, and told her she needed to experience pain and suffering, until he had full control over her."
I just wrote this tragic story for the Daily Mail. Read it here:
EXCLUSIVE: Heartbroken father claims his married daughter, 32, was 'driven to suicide' by a 'death dance cult leader' who made her his 'sex slave and plied her with mind-bending drugs'