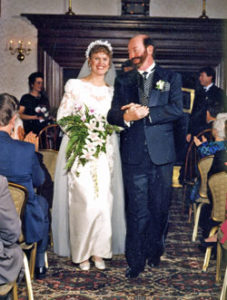 In the most recent issue of the Wall Street Journal (August 31, 2019), an essay extolls the miracle of dating apps. I read it with skepticism.
Dating apps are making marriages stronger, by Dr. Peggy Drexler, on WSJ.com.
To read the full article, you need to be a Wall Street Journal subscriber. So if you're not a subscriber, here's a summary:
Research shows, according to the author, that online dating leads to better romantic compatibility and stronger marriages.
In 2013, a University of Chicago study found that couples who met online had a higher "relationship quality" and a 25% lower rate of separation and divorce.
The study also found that anonymous online communication created greater self-disclosure, and more feelings of affection, than face-to-face communication.
A 2017 study found that marriages created online were less likely to break up in the first year than those that started offline.
Research by Tinder and Bumble found that people who dated online were more likely to commit than people who did not date online.
The Tinder and Bumble research also found that over time, "people relaxed their preferences and were more likely to give a chance to someone who wasn't exactly what they thought they were searching for."
The article contained no information about the pitfalls of online dating — such as the fact that thousands, or perhaps millions, of online profiles are fakes. Or, even when the profiles are real, people posting the ads lie about their age, appearance, income and intentions.
Many people on dating sites aren't looking for love. They're trolling for targets.
So I sent the Wall Street Journal a letter to the editor. Here it is. I hope they publish it.
The risk of online dating
Dr. Peggy Drexler's bright and sunny article, "Dating Apps Are Making Marriages Stronger" (Review, Aug. 31), fails to even mention the extreme risk associated with online dating: Thousands of people who are posting profiles on dating sites are not looking for love and companionship. They are looking for someone to exploit.
I met my first husband online. After a few weeks of correspondence, we met in person, and he was not my type. At all. But because, as Dr. Drexler explains, our preliminary communication produced self-disclosure and feelings of affection, I decided to give him a chance.
He turned out to be a con artist. This man took a quarter-million dollars from me, cheated with at least six women during our two-year marriage, had a child with one of those women, and then, 10 days after I left him, married the mother of the child. It was the second time he committed bigamy.
Because I had told him what I was looking for during our initial communications, he was able to present himself as my perfect match. That is the true danger of online dating profiles. When we reveal what we want, we provide scammers with a detailed road map for exactly how to take advantage of us.
After my disastrous marriage, I founded Lovefraud.com and collected data on exploitative romances. Three online surveys, with a total of 5,468 responses, revealed that 22 percent of respondents met their exploitative partners online. It was the most common way of encountering them.
Romance fraud, in which criminals specifically pursue romantic relationships with people in order to swindle them, is a growth industry. In February, the Federal Trade Commission reported that Americans lost $143 million in romance scams last year — up from $33 million in 2015.
Finding love via dating apps certainly can work, if both parties are honest in their communications. But no one should ever assume that his or her new online love interest is honest.
Ms. Andersen is author of Lovefraud.com and the forthcoming book, "Understanding the Sociopath: Why antisocials, narcissists and psychopaths break the rules of life."