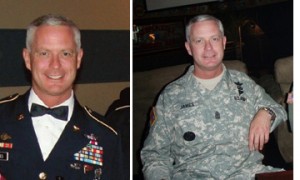 Editor's note: Lovefraud received the following story from a reader whom we'll call "Clara19."
I was contacted through Pinterest. The thumbnail picture was a military man…seemed safe enough to chat.
Went very interested in a romantic relationship too quickly. I got daily texted graphics proclaiming his love for me. This started to break my caution down.
After a few weeks he started mentioning he needed money. He was on an oil rig and ran short of funds to pay shipping costs and I should sent 12,800 dollars to him. He gave me 3 different places to sent money over the course of a week.
My bank thought it was fraudulent. I did further online research and found the scammers had even created a Facebook site for the fictional person of Daniel Oldenquist, who supposedly lived in Utah.
More research by me revealed that the picture was actually of a General Stuart James. This person has had many different names attached to his pictures by scammers. While he is now retired, the picture used in scamming is of him at a much younger age.
I was one day away from sending money to the scammer. That one last bit of research that revealed the true identity saved my money and once I chewed him out online, he disappeared.
Editor's note: The "oil rig" story that Clara19 mentions is a standard con artist ploy. Multiple women have sent Lovefraud pictures of soldier James, asking if he is real. He is real, but his identity was stolen by scammers.