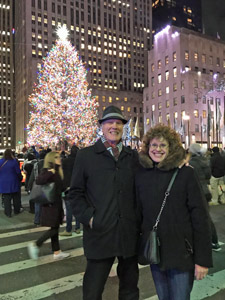 For the first time in our 17 years together, my husband, Terry Kelly, and I, visited New York City during the holiday season. It was far more magical than I anticipated.
At the Birdland jazz club, we saw David and the Bombshells, a retro, 1930s-style band with three female singers (the Bombshells). Then, at the Metropolitan Museum of Art, we saw 20-foot Christmas tree surrounded by a gorgeous, 18th-century Nativity Creche. After that, we visited the Christmas tree Rockefeller Plaza — a 72-foot tall Norway spruce decorated with thousands of LED lights.
Then came the best part — the Christmas Spectacular show at Radio City Music Hall, featuring the high-kicking Radio City Rockettes.
When Terry mentioned the show, I was lukewarm about it. I last saw the show when I was in the sixth grade, and I didn't remember being overly impressed. But Terry had never seen it, so we decided to go.
I'm very glad we did. The Christmas Spectacular was truly — spectacular.
The Rockettes, of course, were beautiful, and their precision dancing was superb. One of the dance numbers, "Parade of the Wooden Soldiers," has been in the show since its inception in 1933. The "Living Nativity" number, featuring sheep, a donkey and three camels — all live — has also been in the show for years. But now the Christmas Spectacular takes advantage of technologies that didn't exist when I saw the show in sixth grade — digital video screens, drones and projected images that brought the entire ceiling of the massive Radio City theater into the act.
Multiple times throughout the show, I literally gasped in amazement.
Just as wonderful was the heartwarming story line that ran through the show about the magic of Christmas. A nine-year-old boy who believed in Santa Claus and his skeptical 14-year-old brother met the jolly old guy — and that's when the Christmas spirit really started to shine. Quite a few times, it brought tears to my eyes.
At the end of the show, I felt happy, uplifted, and like anything was possible.
And that's why I'm writing about this experience. I'd like to suggest that if you have any opportunity to enjoy a magical Christmas experience this holiday season, do it.
Sociopaths get you down. Whatever you're experiencing because of a sociopath, from lies and manipulation to serious abuse, I'm sure you're dealing with emotional turmoil. Confusion, agitation, upset, even PTSD — when you've been targeted by a sociopath, emotions like these are virtually guaranteed. So one of the best things you can do for yourself is find a way to feel better.
Perhaps an organization in your community is putting on a holiday concert. Maybe kids in your family or neighborhood are participating in a school play. You may enjoy services at a local church, even if you aren't a member. Maybe you can reach out to friends whom you haven't seen in a long time.
Try not to think about how many holidays the sociopath has ruined, or the obstacles you face now. The objective here is to bring a bit of peace and joy into your life, and to remind you that happiness is possible.
A tiny bit of joy can go a long way. So look for some Christmas spirit, and wherever you find it, soak it in. Feeling emotionally uplifted could be the first small steps towards turning your life around.