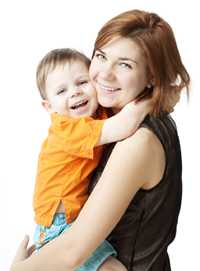 Experts now agree that sociopathy is at least partly genetic. That means any child born of a sociopathic parent may inherit a predisposition to the personality disorder.
Sometimes this predisposition can be seen in very young children who exhibit "callous-unemotional" traits. New research shows that toddlers who exhibit callous-unemotional behavior may be helped by warm, loving parenting.
Warmer parenting makes antisocial toddlers more empathetic, on PSmag.com.
This is the same advice Dr. Liane Leedom gives in her book, Just Like His Father? A guide to overcoming our child's genetic connection to antisocial behavior, addiction and ADHD.
Here's the bottom line: If you realize that you've had a child with a sociopath, the best thing you can do is be warm and loving to the child, especially during the toddler years. Harsh parenting, with an emphasis on discipline, makes at-risk children worse.