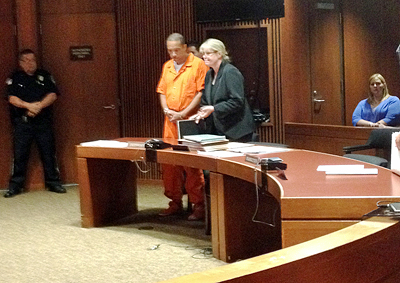 By Donna Andersen
MOUNT HOLLY, N.J. Her former fiancé was a lying, manipulative predator who had previously been convicted of fraud, bigamy, theft, possession of a weapon and molesting a child.
But as Mischele Lewis, of Florence Township, N.J., sat behind him in court yesterday, William Allen Jordan declined a plea bargain and pleaded not guilty to charges of theft by deception and impersonating a public servant or law enforcement officer.
When Jordan was arrested, he was also charged with sexual assault. However, a grand jury did not indict him on the sexual assault charge.
Last February, Mischele was devastated to discover that the man who had asked for her hand in marriage was not 'Liam Allen,' a single, childless agent for the British Ministry of Defense, as he had told her.
In reality, he was William Allen Jordan, 49, an American from nearby Cherry Hill, New Jersey, who had done time in a British prison.
Jordan had also been married three times at one point to two women simultaneously and had fathered at least 13 kids with eight different women.
Two of the children were with Mary Turner Thomson, of Edinburgh, Scotland, whom he married in 2002. At the time, Jordan was already married to another British woman, with whom he had five children.
Jordan told both women that he was a CIA agent. When they found out about each other, he convinced them both that the other relationship was merely a cover story.
Mary wrote a tell-all book about her experience, called The Bigamist The True Story of a Husband's Ultimate Betrayal. In it, she described how Jordan swindled her out of £198,000 about $333,000 and carried on numerous affairs with other women, taking money from them as well.
After learning about Mary Turner Thomson last February, Mischele Lewis contacted her, and they spent hours on the phone.
Mischele, a registered nurse and single mom to two kids, was shocked to learn the extent of Will Jordan's exploitation of women, and resolved to stop him.
'I felt passionately that this needs to end, and it needs to end with me,' she said.
Mischele strung Jordan along for two months, pretending that they could still be in a relationship. In the meantime, she reported him to the police.
Then Mischele lured Jordan to a New Jersey parking lot on April 22, 2014, where he was arrested in a police sting. The dramatic moment was captured on camera by the Daily Mail.
Jordan is still sitting in the Burlington County jail, unable to make bail, which was set at $45,000.
"I was really hoping he'd take the plea deal," Mischele Lewis said. "I don't know what he thinks he is going to defend against. He may not realize the evidence I have."
While they were dating, Jordan kept telling Mischele to delete their communications. Instead, she backed them up.
Mischele was bitterly disappointed when the sexual assault charges against Jordan were dropped.
Then Burlington County Family Court Judge John Tomasello dismissed the temporary restraining order that she had against Jordan, saying that sexual deception was not a crime.
Mischele believes the law needs to be changed.
'I'm absolutely going to advocate to change the terminology for a case like this, because right now nothing exists.'
Mischele believes that what she experienced should be a crime called 'rape by deception.'