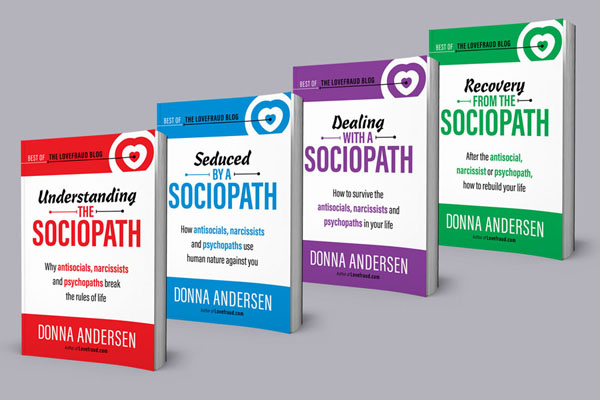 Understanding the Sociopath explains, in plain language, the 12% of the population who do not play by the same rules of life as the rest of us. These master manipulators, who have antisocial, narcissistic, borderline, histrionic or psychopathic personality disorders, seem normal at first, but their objective is to use and exploit us.
Seduced by a Sociopath explains how millions of people pursuing romantic relationships are charming, affectionate, passionate — and fake. These deceptive sociopaths pursue romantic relationships not for love, but for exploitation. Learn how they convince you to fall for them, so you can spot the charade and escape.
Dealing with a Sociopath explains how to interact with someone who lies, cheats, manipulates and exploits. Sociopaths only care about what they want — what you want or need is irrelevant. If you have no choice but to engage with them, learn how to protect yourself.
Recovery from a Sociopath helps you understand why you feel so shattered by a confusing and abusive relationship, and guides you on how to heal your life. Sociopaths cannot love you; they can only use you. The experience is so devastating that you may wonder if it's even possible to recover. Yes, it is.
Ebooks are $7.99 and printed books are $16.95. When you buy the collection, you get one book FREE. Learn more about the Best of the Lovefraud Blog books