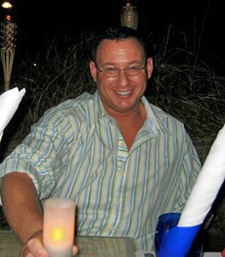 By Donna Andersen
Lisa and Joe Sorrentino were happily married for 25 years. They worked together every day in Joe's hair salon in Cherry Hill, New Jersey. They enjoyed their family. But life changed in October 2008, when Joe was diagnosed with lung cancer.
Lisa Sorrentino had been working part time in the business, but as Joe weakened, she put in more hours and covered more of his clients.
Joe died in October 2009, and Sorrentino was heartbroken to lose her husband and best friend. But she didn't have time to slow down and grieve, because now the salon was hers, and she was working 65 hours a week.
One of her clients was Gary Aronson. Her husband had been cutting his hair since Gary was 18 years old almost 20 years. About six months after Joe's death, Sorrentino and Aronson started dating.
Aronson seemed caring and easygoing, Sorrentino said. He didn't put any pressure on her.
"I was honest," Sorrentino said. "I never wanted to get married again. I wanted a companion. I didn't need a man to take care of me. I can take care of myself and my daughter.
Aronson had previously been married. He told Sorrentino that he was in the mortgage business, licensed in Michigan and Florida. This was true one of Sorrentino's other customers checked him out. So when Sorrentino refinanced her house to lower her payments, Aronson helped with the paperwork.
Offering support
In January 2012, after they had been dating for a year and a half, Sorrentino moved into a new home, and soon Aronson moved in with her. He offered not only companionship, but support. Since he was working from home as a mortgage broker, he was able to look after Sorrentino's mother, who suffered from dementia, while Sorrentino was at the salon.
Sorrentino had legal papers drawn up to protect her assets. "If we broke up, what was his, was his, and what was mine, was mine," she said. They agreed that Aronson would pay the property taxes and the cable bill.
Aronson also helped Sorrentino with day-to-day errands. She gave him cash and he went to the grocery store. Sometimes he ran to the bank for her, depositing the checks and cash she received at the salon. Sorrentino appreciated his help.
And Aronson was there for her when tragedy struck.
On July 21, 2012, Sorrentino's stepson suffered bleeding in his brain. He had a stroke, he was paralyzed on his right side, and eventually it was discovered that he had a brain tumor.
Aronson came to the rescue. He helped Sorrentino's daughter-in-law and grandson. He took Sorrentino's stepson to radiation and chemotherapy. But the young man couldn't handle his illness, and on January 31, 2013, Sorrentino's stepson committed suicide.
Gary Aronson did everything he could to support Sorrentino and her family through the terrible ordeal.
Amex calls
A few months after her stepson's death, on April 23, 2013, Sorrentino was at work when she received a call from a collection agency. They wanted to know when she was going to pay her American Express card the outstanding balance totaled $13,852.
Sorrentino told the man that she didn't have an American Express card.
Sorrentino immediately called her attorney. She also called Aronson, who speculated that someone might have gotten into his computer and found her social security number.
"Why do you have my social security number on your computer?" Sorrentino asked.
By Friday morning, Sorrentino's lawyer called her payments had been made on the American Express card. "Who did you tell about this?" he asked.
Sorrentino had told no one except her daughter and Gary Aronson.
Starting to feel sick to her stomach, Sorrentino called the collection agency back. That's when she found out that six more credit cards had been taken out in her name, and the total balance on them was nearly $78,000.
He answers the phone
Sorrentino and her employee, Lisa DelGiorno, started calling all the cards and shutting them down. They discovered that many of the cards were associated with a particular address and phone number that they didn't recognize.
Sorrentino called the number and Gary Aronson answered the phone.
"I went home and all hell broke loose," Sorrentino said. "We fought until 2 a.m. I was going to get him to tell me what happened."
Aronson kept denying that he had anything to do with her stolen identity.
Sorrentino tried to go to sleep, but her brain was still churning. Then it came to her one of the charges on the American Express account was from Nieman Marcus. Aronson had given her a David Yurman ring from Nieman Marcus for Christmas.
"I jumped out of bed and yelled, 'You did it,'" Sorrentino said. Yet Aronson continued to deny any wrongdoing, saying he bought the ring online.
Sorrentino had to be at work at 6:30 a.m. "I told him that I wanted to hear it come out of his mouth. I asked if he had a gambling problem. He kept denying and had an answer for everything."
Sorrentino called Aronson again from work. "That's when he finally admitted it to me. He said he had lost all his money in stocks and bad investments. He was robbing Peter to pay Paul. Technically he had no money. He was using my name. That's how he was paying for everything."
Sorrentino threw Aronson out of her house.