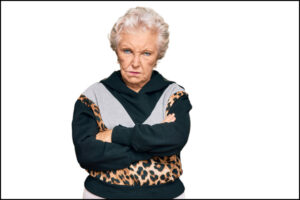 Parental alienation, according to Joan Kloth-Zanard, founder of PAS-Intervention.org, is one parent deliberately impeding the relationship between children and their other parent. It's a form of psychological abuse, Kloth-Zanard says. In fact, she describes parental alienation as domestic violence by proxy.
This usually occurs within the context of divorce and child custody battles. Alienating behaviors include teaching the child to fear, hate or be angry with the other parent, deliberately blocking visitation, and filing false claims of abuse or neglect. When this happens, the targeted parent may have no choice but to go to court to fight the charges and reclaim their relationship with their children. Joan is presenting a terrific webinar for Lovefraud Continuing Education called, Proving parental alienation in court.
It's not just natural parents who do this. Sometimes grandparents engage in parental alienation as well.
I came across two examples of this while researching my latest book, Senior Sociopaths – How to recognize and escape lifelong abusers. These survey respondents reported that their own parents were trying to pry their minor children away.
Here are their stories, taken from the Lovefraud Senior Sociopath Survey. Names are changed.
Amy's father files for custody of her child
Amy's father, George, was age 67 and remarried. George treated both Amy and her child, Lisa, who was under the age of 13, badly, to say the least. Yet he wanted to take Lisa away from Amy. She wrote:
(He) has taken his only bio child (Amy) to court for contact and guardianship of only bio grandchild after bio child went no contact due to emotional/verbal/physical abuse of both bio child and bio grandchild over course of their lives. Will not stop litigation after pleas by adult child. Has flipped things adult child said about them back on to adult child. Has threatened police involvement. Has lied on court docs. Hired very aggressive lawyer. Allowed stepmother to emotionally/verbally abuse adult child over the years since age 50.
At one point, Amy did ask her father and his wife to care for Lisa. They demanded guardianship paperwork in order to do it. It did not go well. Amy wrote:
He hit grandchild. told grandchild lies about mother. Refused grandchild to contact mother. Lied to grandchild about course of events when they hit them. Called mother names in front of grandchild. Threatened police involvement in front of grandchild. Did not feed grandchild proper diet. Did not have concern for grandchild allergy symptoms. Argue with mother in front of grandchild.
Eventually, Lisa went back to live with Amy. George and his wife agreed to return guardianship to Amy. But then, after Amy asked them not to undermine her parenting, they got angry and threatened to take Lisa away via the legal system. Here's how it affected Amy:
I've lost weight, become very anxious. Show signs of c-ptsd. My child is stressed. I lost my job due to stress. They've had their lawyer bully me. I may lose my/child's home if I don't qualify for unemployment benefits. I worry about having enough food for my child. I get chest tightness daily/worry about heart attack. Had a friend of my father harass me via text. My father continues to abuse via the court system.
Lisa, in the meantime, was stressed about the grandfather's name-calling and physical violence, and suffered from cognitive dissonance. Amy couldn't afford to sign Lisa up for extra-curricular activities because she lost her job and all her money was going to the legal battle.
The Lovefraud Senior Sociopath Survey asked respondents to rate the individual's traits of antisocial personality disorder/psychopathy. Amy rated George high on the scale — 24 out of a possible 27.
Barbara fights a custody battle against her mother
Barbara was injured and was on disability. Her daughter, Chloe, was under 13. Her mother, Virginia, was 67 and trying to take Chloe away. Barbara wrote:
Grandparent in current custody battle, supervising and recording child's interactions with parent, coaching child's responses during phone visitation, force-feeding allergic foods and punishing for refusals, telling child the parent is "mental."
Virginia stalked and physically abused Barbara, calling the violence "love taps." Although no formal charges were filed with the police, Child Protective Services (CPS) substantiated the abuse. Virginia also abused Chloe. When Barbara filled out the survey, that case was still open.
Virginia also lied to and manipulated Barbara, Chloe and other family members. Barbara wrote:
Playing grandchild against adult child, telling grandchild "your mother is mental," serving alcohol to grandchild behind adult child's back, telling other family members she is the victim of the adult child, refusing to give medication or legal documents to adult child then telling others adult child refused the items.
At one point, Barbara attempted to flee with Chloe. With the support of Child Protective Services, she filed for emergency custody. Although the judge granted her request, litigation continued.
Virginia interfered with Barbara's disability payments while continuing to cause legal fees and medical expenses for injuries. "I am homeless and in hiding while I try to rescue my child," Barbara wrote. Chloe, in the meantime, was depressed, anxious and afraid. Her grades were suffering and she was made to fear the police.
Barbara also rated her mother according to antisocial personality disorder/psychopathy criteria. Virginia scored 20 out of a possible 27.
Grandparents engage in parental alienation
Both Amy and Barbara were dealing with parental alienation perpetrated not by a spouse or ex-partner, but by their parents.
Neither Amy nor Barbara provided any information about why their parents were fighting child custody battles over their grandchildren, but from what they said, I can venture a few guesses.
The grandparents exhibited the traits of sociopaths, and sociopaths always want power and control. Sociopaths frequently consider partners and family members to be their property, so that may be how George and Virginia viewed their grandchildren.
Or, this may just come down to money. The U.S. federal government and many state governments offer various financial assistance programs to grandparents who are caring for their grandchildren. George and Virginia may have simply wanted to cash in.
Fighting parental alienation
I never learned how Amy or Barbara made out in their custody battles against their parents. But anyone who wants to prove parental alienation in court needs to understand what judges are looking for and provide thorough documentation of the alienating behaviors. This is exactly what Joan Kloth-Zanard teaches in her webinar. If you're in this situation, I recommend that you educate yourself.
Learn more: Proving parental alienation in court
Read more: Senior Sociopaths – How to recognize and escape lifelong abuse