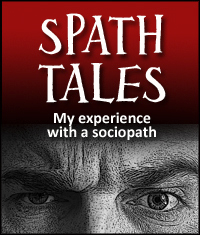 Editor's Note: This SPATH Tale was submitted by the Lovefraud reader who posts by the name "stronginthecity."
I am currently in a relationship with a sociopath. I've been with him since June 2013. I was with him before. That relationship ended in 2006, leaving me jobless and depressed because he left the relationship abruptly and literally disappeared.
I am a medical professional, so I am the typical target I guess.
He resurfaced last year proclaiming his love for me and how much he missed me — giving three or four reasons, explanations why he left. I kept tabs on him through the years from time to time and found out he was in prison in 2009 for drug charges.
He is a constant liar and manipulator and we had a "chance" meeting in a drugstore parking lot where I had never been before in February 2013.
Again he disappeared then reappeared around May 2013. I saw him drive past my house many times. He never tried to contact me until June of 2013 when he got my phone number from a mutual friend.
I had just started dating again and was on a first date with a man when he called me. The calls were blocked and I didn't listen to the messages until the next day.
He said that he was at a street festival and "why don't you answer your phone" and "you should meet me". I didn't even know it was him. I had an idea but wasn't sure.
A few weeks later, exactly the time I was leaving for work, he called again from a blocked number and I answered. It was him telling me he was working in my state, when he was really 2,000 miles away with his wife and children, saying he wanted to meet me for dinner. I agreed to meet him and before I knew it I was in deep again.
He actually did get divorced from his wife, but now the wife has moved to my area and things are again in the crazy stage. I have caught him in numerous lies and am certain he has cheated multiple times but I never actually caught him.
I have been back and forth trying to establish no contact but somehow I always end up back with him as he makes me believe the lies and sucks me into the drama. He loves me. I am the only one yet other women, who he claims are friends call his phone.
I also believe he has made copies of my house keys and comes into my house when I am at work.
He has not held down any steady job since June 2013, thank goodness I am full time employed but he knows my work schedule and keeps tabs on me. He tells me I am crazy when I question the nonsense. He lies about his whereabouts and actually gives me "clues" just to make me jealous. I am at wits end right now as he is trying to wiggle his way back into my life.
The last time I saw him was Halloween weekend, after an argument again about his whereabouts.
I need help to maintain no contact as he is texting me with the, "I'm a good guy story, I miss you" again. Of course we have an incredible sexual relationship and he swears he does not want anyone else, and has not been with another woman since June 2013.
My gut is telling me he is lying and I know I am right.
Unfortunately, I had a setback and saw him last weekend and during this week. Thank goodness he had a trip planned during our no contact and I am glad he is gone as I found myself making life plans with this man again.
He has been on his best behavior since I agreed to see him Saturday night. He spent the night Saturday and Sunday. He went to work Monday and Tuesday night and came over again making me dinner, flowers, my favorite wine and worked on my house. The whole nine yards. He left Thursday morning because he wanted to see his kids that he has not seen in over a year.
I am glad he is there as I need this time to regroup and make sense, crazy sense of this entire situation. I will continue to post and read on your Lovefraud because it's so helpful to me. I know that I need to stay away from this man "¦ he was talking about getting married again. He said lets write up a prenup and get married because he loves me, blah blah blah.
I DON'T TRUST HIM.
I left him alone in my home again. I need to end this once and for all.