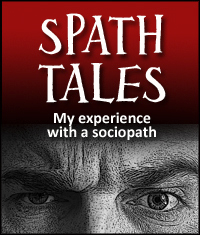 Editor's note: The following story was submitted by a Lovefraud reader whom we'll call "Laverne."
I feel that my life has been basically ruined (and is still being ruined) by the father of my children who is a truly vicious sociopath. He stalks the background of my life like the Grim Reaper feeding off the misery he causes.
For anyone who has not had this type of experience it is very hard to explain, as sociopaths, such as my ex partner, appear so 'normal' to others, whilst making you, the victim, seem like the 'mad' one.
As we have children together I feel like I am trapped and the only way out is if he were to die. My whole existence is one of nervous terror – waiting for the next outburst – which you never know is coming. Literally anything can trigger it off – such as me talking in the wrong tone of voice or with the wrong expression on my face.
Apart from the effect this has on my children – which I do try to shield them from, the stress and trauma to me will probably take years off the end of my life.
What doesn't help is other people thinking I am 'making it up' or 'attention seeking' whenever I am highly traumatized and unable to contain my emotions. I truly feel even my close friends and family don't realise how bad the situation is, so I have nowhere to turn really.
People saying 'try to get along for the sake of the children' doesn't help – because it is simply impossible. I have felt, many times, that the only way to be taken seriously would be to commit suicide – which I would never do because of my children and, of course, that would play into his hands and prove that I was as 'mad' as he says I am! He would probably (definitely) enjoy the fact that he had pushed me over the edge too.
The truth is that I am not, and never have been mad – just stressed and traumatized because of him. I am scared of him and walk around on eggshells all the time – and this seeps into every aspect of my life whether he is actually there or not.
I am very nervy now and cry very easily. Whenever I have tried to get help I have felt the authorities have 'turned' on me and taken his side, as he is very manipulative, calm and collected, whereas I tend to go to pieces under pressure.
For that reason I just take the abuse rather than (for example) call the police, as they will then refer me to Social Services, who last time said I was an unfit mother and my children could be taken from me.
All this based on 'his word against mine' during a half hour session – when the truth is that I am a great Mum and have nothing in my life except my kids – and they really are everything to me! I never went back for 'help' after that.
The hurt and frustration I feel every day is immeasurable – and then I feel guilty when I see the news and people in the world who are worse off than me.
Basically my life, my thoughts and emotions, are consumed by someone who is never happier than when I am upset.
Why someone wants to hurt the only people in their lives who ever cared about them is beyond me. Horrible, awful experience, which I wouldn't wish on anyone else and which isn't going to go away any day soon for me because he is their Father "¦ and my tormentor "¦ and that's how he likes it.