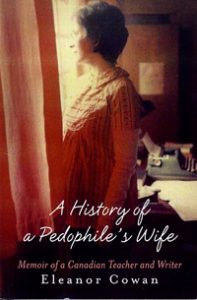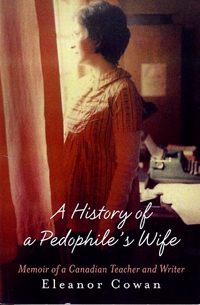 By Eleanor Cowan
I awaken this first day of 2018 to a winter world of snow. Outside my window, sunshine brightens a yellow bus full of passengers lumbering over a mile-long overpass. Even though layers of heavy slush still cover its roof, it's plowing along. The bridge, dripping with glistening icicles, allows the access to town that otherwise would require a long overland trip.
Thanks to hard-working night time crews, the road is clear.
It's been twenty-eight years since I awakened from a freezing burrow of long-term disassociation and managed, with wonderful help, to escape the pedophile I married — a confused, disturbed exploiter who hid behind the respected academic letters stuck to the end of his name.
The time lapse between then and now does nothing to change the facts. History is not erased. My children were molested by him in their very early lives. A forever grief marks my life.
Over the last decades, I've analyzed my early grooming to a high tolerance for craziness, irrationality, and drama. I've accepted the brutal, grueling fact that if, at the outset, at the time I first met my husband, I'd been a healthy, confident person of high self-esteem, this devastation would never have occurred. I'd have read the many clues I ignored even before we were married. I'd have listened to my instincts, and I'd have escaped. That's not what happened.
In my former support group for Parents of Sexually Abused Children, I wondered why a much older woman, a widow and an amputee, continued to attend, meeting after meeting. After all, it had been over two decades since she'd discovered that her trusted brother had abused her son, David. One day, when the group questioned Ruth, she pointed to her prosthesis, a metal appendage invisible to us under her cashmere slacks, "There's no day I'll leap out of bed without first attaching my little friend here", she explained, and then, pointing to her forehead, she added, "And here too. It helps me to be here with you once a week."
On the worst night of her life, Ruth found David hanging from the rafters in her basement. Five years after she'd legally charged her brother for the sexual abuse, and gotten help for both David and herself, the distressed young man still took his own life. Months before he died, he'd begun to blame his mother. She was the one who'd left him with his favorite uncle during the stressful time of her bar exams, studies she wanted to pursue to support her son, and to honor her own aspirations. Despite the sudden death of her husband, Ruth felt she had good reason to carry on, complete her law degree and be a good provider for David.
Even though David later joined a born-again religion and claimed to be a brand-new person, his unaddressed, episodic rancor towards Ruth erupted regularly. Increasingly anxious, he learned new vocabulary to direct at the mother he blamed repeatedly. When Ruth refused to fund new habits she suspected David had, he called her names such as cruel, vengeful, and merciless.
Ruth had a lot to look back on, even though she'd done nothing wrong.
I have stinging memories too. Regularly, especially as I'm going off to sleep, sharp memories jolt me wide awake. Critical thoughts of instances that could have been so different, thwart my rest time. I turn on the lamp and reach for a special book of quotations and find comfort. Or, I open my laptop and read a Lovefraud article that reminds me that I'm not alone, reading that acts like an overpass. Reassured, I can sleep at last. And quite often, first thing in the morning, especially if I don't have a plan or feel vulnerable, toxic sludge-like feelings continue to impact me. Like Ruth, I too need a prosthesis – mine is not metal though. It's mental. And it's also for all my life.
Still, I celebrate my progress – and Ruth's. A bunch of us from the group attended her final graduation from law school and enjoyed a grand dinner afterward. Today, despite the loss of her beloved son, despite the destruction of her happiest dreams for their small family, Ruth continues to work as a legal advocate for sexually abused and trafficked youth. She has good friends, good health and work she loves.
I returned to school too, became a teacher, and enjoyed twenty-five years of a rich professional life. I've supported my children through their many aftermaths, volunteer widely, and love to write. As Ruth advised at one of our last group meetings, "There's relief when you become part of the solution."
So yes, a bridge stretching from one side of an impasse to the other side is an encouraging symbol to see outside my living room window. And Ruth's finger pointing to her artificial leg is another realistic reminder to me. I'm always looking for new signs to interpret.
Without any judgment of the personal process of others, I know what I need to do every morning – and I do it. I'm grateful for my very own gentle morning routine, one that rolls my little yellow bus onto the sunny bridge every day.
Eleanor Cowan is author of "A History of a Pedophile's Wife," which is available on Amazon.com. Visit her at eleanorcowan.ca