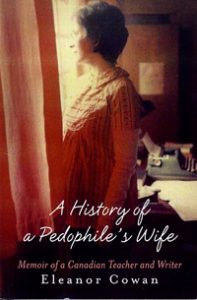 By Eleanor Cowan
My throat, arms, and legs felt swollen. Not for the first time, the thought occurred: "Death would be an instant relief." I could hardly walk. Heavy with grief, a searing acidic ache in my stomach, I arrived at the weekend retreat held by a support group for those affected by the addictions of a loved one. Assigned to a tiny room the size of a storage cupboard in the small community college, I dropped the worn backpack I'd hastily stuffed with an old nightie, soap, and toothbrush. I chose a seminar among those offered on the agenda lying on the desk and stumbled to it.
What was going on for me? I'd met someone. It had been five years since I'd left my sex-addict pedophile husband. I'd learned so much in my support group for Parents of Sexually Abused Children. I'd gone back to school, upgraded my teaching certification and landed work I loved. I was attending to both of my children and their painful fallout around their father. I'd felt better than I ever had.
Then, one day, I realized I was falling in love. It all happened so quickly. I could hardly believe my intense attraction to a woman who, as it turned out, lied to me from the get-go about her distinguished academic credentials, her artistic capacities, her musical talent as a guitarist – and her gratitude that at long, long last she'd met someone as wonderful, talented, deep and dear as me.
Stunned at her incredible attentiveness, her fabulous good humor and her knowledge about feminist activism, I began to look forward to our time together more and more. I began to question, as I thought of her incessantly, in "Am I gay? Am I falling in love with a woman?" After several months, I shared my new feelings with my children, both of whom encouraged me to be happy.
One day though, I got to see a completely different side of Sandy – and learned all about the concealed mental illness for which she'd stopped taking medication, her history of alcohol and drug abuse, her several suicide attempts and her chronic lies. She hadn't finished high school and couldn't play a note.
Suddenly, over a minor dispute, Sandy flew into a rage, threw a glass across the kitchen where it smashed into a thousand shards and stormed out. That was it. We broke up. I'd never see her again. When Sandy threatened suicide a week later, we got together. Then broke up. Then got together. Then broke up again. Finally, Sandy's criticism of my daughter, my diagnosis of endometriosis, the threat of skin cancer, and thoughts of early death at yet another unbelievably crazy and screwed-up relationship – all led me to this retreat.
During that first seminar, I sat in the back row and, comforted by the presence of many others on a mission of healing. I wept as I listened to an older woman named Emily, the guest speaker, talk about the violence of her father from which her mother had rescued her, followed less than a year later by the sexual abuse of her new stepfather. She shared about her divorce from an alcoholic who'd successfully hidden his sex addiction behind his claim of being a recovering alcoholic drug-addict. Claiming to be a person of faith just as my ex-husband had, he believed that God would solve his secret, private problem without the aid of less compassionate human beings.
I felt a hand on my shoulder. I looked up into Emily's peaceful face.
"Come," she said. "Let's get some food into you."
This kind woman ushered me to a seat in the crowded cafeteria and soon returned with a bowl of vegetarian chili, a glass of water and a bowl of fresh sliced pears. As I ate my meal under her watchful eye, she said she'd heard me speak on another occasion and knew the story of my marriage to a sex addict who molested our children. She knew how grateful I was for all the expert support I'd experienced since my divorce. I replied that I was shocked to find myself in this terrible turmoil – so far from the peace I thought I'd accomplished.
"But you did accomplish that peace. You did grow. You did heal. All of your hard work was indeed successfully completed," she said. "You're not recoiling. You're not mad or insane. You're not retreating or falling backward, Eleanor. You've simply graduated. You're now qualified for a much deeper clearing out at a much deeper level. Again, you're not going backward. You've earned the capacity to go forward. This is all part of that process."
I finished the chili. I ate the fresh fruit and drank the water. I listened, alert and grateful to an older woman in her early seventies, for generously sharing her insights with me, a forty-five-year-old.
That night, for the first time in weeks, I slept soundly. I dreamed of descending into a gray cellar where I approached an old, dusty, locked door. I'd placed my hand on the handle and was turning it when I awakened. Finding Emily in the cafeteria, she invited me to join her. Smiling, she pushed a tiny package towards me, a gift she purchased at the student tuck-shop. Wrapped in thick layers of Kleenex – a tiny pin of a graduation hat! Emily invited me to spend the day with her and I gratefully accepted.
That day, weeping into the soft tissue Emily had provided, I listened as she shared that she'd been an actor specializing in understudy work. For decades, she replaced lead actors who could no longer be present to perform.
"Over the years," Emily explained, "it dawned on me that since I'd not done my healing work around my two violent fathers, because I just rampaged into the "get married, have children, start fresh" script, I sensed I'd just found a likely candidate to fill in for the missing hurtful people I'd never healed from. I learned many, many hard lessons until, finally, I figured out my own role.
Emily asked, "How long have you known Sandy?"
"Six months," I replied.
"I wonder then," she gently suggested, "If the giant grief I'm witnessing is not about Sandy at all? You only met half a year ago? I'm wondering if Sandy is your replacement understudy, your fill-in person for someone in your earlier history? Basement grief you haven't yet dealt with?"
That afternoon, I thought about my mother, a parent with whom I'd never bonded or even liked, although I cared about her. I'd wanted to love her. I thought about her erratic mood swings, her harsh forms of communication – shouting and screaming, her throwing things, her sudden cruel criticisms, calling me a brainless idiot, and her wielding of a Mexican horsewhip when she was depressed or angry at me or one of her many unwanted children, kids required of her by her predatory religion. Unhealed from her own unresolved history, my mother ended her life at 52, in an alcoholic fall from her seventh-floor balcony.
At supper time, Emily explained to me her theory that if there's cruelty from which we haven't recovered, somehow, in a natural attempt to deal and heal, we'll unconsciously attract an understudy into our lives, someone resembling the first abuser.
"In this way, we re-set the old stage. If we rewrite the script properly, we can leave the theatre at the end of the drama, instead of suffering rehearsal after horrible rehearsal."
I thought about Emily's idea, but one thing bothered me. Later that final evening, I shared with her that I hadn't cried when my mother died. Nor had I cried when my Dad died. I never got to know my parents, two distant, humorless and depressed people. I admitted to Emily that I'd never felt the kind of grief that I saw in other grievers."
"That's true," said Emily, "Nor have you ever experienced genuine love with your ex-husband Stan, or with Sandy. You know, it's possible to deeply grieve what you never had. It's possible to mourn the love, affection, warmth and rich history you never knew. People can grieve what they missed, you know."
"I see," I said, as we walked in the evening dusk to the riverside. "I never knew that."
I never saw Emily again, but have always treasured our two days together, rich hours of education that remind me over and over to honor myself. I stay away from harsh or cruel individuals. I speak up to protect myself and others. I no longer tolerate abuse.
As our bus sped home, I realized I'd left my old backpack in my room – and suddenly felt lighter. I thought about getting a new purse and wallet. I knew that this time, Sandy and I were finished. We never met up again. Instead, when I arrived home, my daughter and I prepared a delicious supper and talked about her fall studies. Nell said she had only two courses left to graduate which in turn would qualify her for more advanced studies. I nodded. I smiled. I got it.
Emily taught me that what appears to be a step back may, in fact, be an invitation to heal a deeper layer of unresolved personal grief. She taught me not to judge my process, but to approach it with a spirit of inquiry and kindness.
I'm writing a wonderful new script in my life today. I have the lead role!
Eleanor Cowan is author of "A History of a Pedophile's Wife," which is available on Amazon.com. Visit her at eleanorcowan.ca