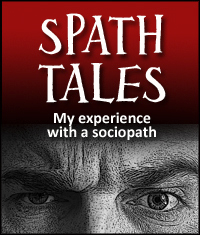 Editor's note: Here's a story submitted by a Lovefraud reader. Not only was the man she married cheating on her, but he was engaged in theft, embezzlement and laundering money.
We met in an AOL IM chatroom in 2005, for people in their 40's. He lived more than 600 miles away from me. Two months after meeting online, we met in a public setting. He told me he was getting divorced when I first met him online: lie #1. He was still married; however, his wife at about that same time had found out about other affairs he had had locally, and left him the weekend he drove out here to meet me in person.
Prostate cancer
He found out he had prostate cancer 6 months after meeting me, had his prostate removed in January 2006. THIS played a very significant role in the relationship dynamic. The ongoing chant from him: oh yeah, who'd wanna f*ck limp dick here?, whenever I'd get those feelings that something was going on.
He would go months without touching me, I thought he was just having trouble dealing with the whole idea of losing his prostate – equating that with the loss of his manliness, masculinity. Which, I believe he did.
But as I found out in 2017, he'd been cheating on me long before he even moved out here in 2006 – he was already sleeping with his X-wife (they had divorced) and trying to reconcile with her. She finally dumped him at which point, he told me, I'm ready to move out to be with you. As though the divorce was on HIS terms.
Moved to be with me
He moved out here in May 2006, with hundreds of thousands of dollars in debt. I went to buy $100 worth of groceries when he first got here, with his credit card, and the card was denied. THAT is how broke he was.
I, on the other hand, was then 48, had 7 acres and a beautiful home that was long ago paid off, in fact, I'd never had a mortgage. I owned my car outright, paid cash for it, a brand new $34,000 Mitsubishi Eclipse Spyder convertible. I had money in the bank. I owned stock, bonds. I had an excellent job. My life, financially, was set.
He had nothing but debt. I FINALLY divorced him, it was final.
Since kicking him out, of course he was trying to manipulate his way back in here — yeah, he missed living rent and mortgage free. He missed the free maid service, the brand new Mercedes I bought, the nice home, the 7 rolling acres, all mine.
Cheating all along
We had done upgrades on the house over the 16 years he lived here (for free), he made noises over the years about getting his name on the house/land title/deed — I refused and never did that. THANK GOD.
I found out in 2017 that he was cheating on me. Then I found out he'd cheated before, and before, and before – and now I've realized he's been cheating ALL ALONG.
He is a narcissist, a pathological liar, a cheat, con and FRAUD – there is not one. single. thing. about this POS man that is REAL. NOTHING. He has no conscience, if he lies and gets away with it – IT NEVER HAPPENED (in his warped mind).
He blamed ME for his inability to get an erection – yeah, was MY fault. He said THAT is why he had to sleep with all these other women — to check to see whether it really WAS me (=my fault). I asked him, soooo, what was the conclusion lover boy? Oh, he had FINALLY realized, it wasn't me. So how did you do with all these other women lover boy? Oh, the blue pill- righhhht. Viagra. So ya need viagra to get a hard on with all your dozens of girlfriends over the years, wouldn't testing with just oh,, I dunno, one or two, prove the point, that it wasn't MY fault you are impotent ???? Blank stare outta him.
Embezzlement
The money thing – he stole. He stole. Yes. He is a project manager for a construction company and I found out during covid and him conducting some work from home, that he's been involved in bid-rigging, padding sub-contractor invoices, basically embezzling money from his companies since he moved out here in 2006.
For a period of time, at the time I found out about his thieving, he would come home the 3rd Thursday of every month with a green cardboard file folder, with 40 100-dollar bills in it. And that's only what I saw — there was more. And one scheme with a sub would collapse and go sour, threats to him, I mean SOUR, and he'd already be starting another one.
Read more: In crimes of fraud, you may never see justice
What I realized, is that all the work we had done in this house, or much of it, he was using his subs to perform it all. He would have me write him a check for half of the work, most recently a 6k dollar new ac/heat unit – work that I actually gave him 4k for – he wanted ME to write HIM the check for my half, telling me he wanted to write the check in full from HIS ACCOUNT, ya know, be the BIG MAN and all.
Bid-rigging
Now I know my checks went straight into his account, and he would walk outside to his subs with a wink and a nod, and tell them, hey Jason, you know that next big X-building job with that HUGE HVAC requirement- yeah man, that's yours. And. We'll work together getting the proposal for my company together, pad it, inflate it, and we'll split that money between us. Nice deal huh?
He converts my 4k to his own, doesn't pay a penny to Jason or his guys, makes promises of future work from his company to Jason and his guys, AND will split bid-rigged profits with Jason in the near future.
Laundering money
I don't know how many checks I've written him over the years, but the real reaping of money came from him moving here, knowing this would be a free place to live, so multiply what rent or mortgage WOULD have been, maybe $2,000 a month, his half? Multiply that by 16 years? $384,000 thousand dollars right there. I bought most of his vehicles for him, he did pay me back over time – what I realize now, he was using these "loans" for laundering money.
I paid off his house when he finally sold it, he lost about 40k. I paid that, again, he paid me back over time. I repaid a loan to his 401k, for I think 25k? Again, paid me back over time. All funneling his stolen dirty money through me – I was laundering money and HAD NO CLUE.
Always crying poorhouse. He was making about $110,000 a year when I kicked him out in 2021 – far from poorhouse.
More schemes
But. What I now know, he is bankrolling his youngest daughter back home – funneling his dirty money through this house renovation scheme she has going – buying old houses and rebuilding them into rental apartments, whether she knows she's laundering money – I don't know. I suspect she knows. He is also bankrolling his first wife, I don't know that scheme, but I found a FB message, which I still have, that I know is about money. He has also lent money to his administration person in his office — never learned don't sh*t where you eat apparently.
On that note, the woman he was seeing summer 2017, was his admin contact at the HQ office of his company, started out as sexting, then they were meeting in person. What a POS he really is — he's using his own family to help him cover his embezzlements.
And he's not out of 1 that is collapsing and he's already starting another.
The man I "loved" never existed
Sociopath barely covers him. What I have realized, and continue to realize, every day I am away from him, is that the man I "loved," never, ever existed. He is a complete con and FRAUD. Every word out of his mouth is a manipulation and lie. He is a MASTER gaslighter, OMG, I could go on for years about the things he has done, the pathological lying, cheating over and over and every single time, blaming ME for HIS cheating.
Oh well yes, remember, he had to find out whether it really WAS me, huh, 16 years later he's still checking. And cheating.
The ONLY reason he moved out here was bc he had no job at home, his small business had collapsed, he was heavily in debt, divorcing – and I was a free room and board, and piece of ass – when he wasn't cheating, which was let's see – NEVER.
I SO BADLY want to out him laundering money to his company, to the IRS, to his kids, 1st wife, I want to nail him – but he is so shady, so manipulative and such a convincing liar, I do fear for my safety. I knew one of his co-conspirators, mistakenly thinking he was actually a friend, and he threatened my then husband and it got ugly, and he became ugly to me – and I just don't trust any of the bastards.
Learn more: How to report your abuser's crimes so the police take you seriously