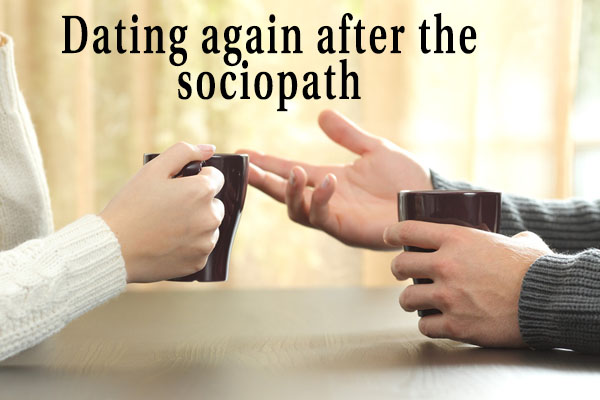 When you're thinking about starting to date after a narcissist, sociopath or other exploiter, the last thing you need to hear is some so-called expert telling you to fix your low self-esteem.
I just read an article on PsychCentral, and the author says the reason you attracted a narcissist in the first place is because you lack confidence.
Hello?? I, for one, was not lacking in self-esteem when my sociopathic ex waltzed into my life. I've heard from plenty of successful, accomplished men and women who also found themselves in relationships with disordered individuals. Self-esteem is not the issue.
So what is the issue? Actually there are three:
Lack of awareness
We fall for sociopaths (Lovefraud's umbrella term for antisocials, narcissists, borderlines, histrionics and psychopaths) because we don't know to protect ourselves from them.
No one warns us that 30 million sociopaths live among us. They look like us and they act like us — at least until we're hooked. Then they go from Dr. Jekyll to Mr. Hyde.
In fact, we are discouraged from protecting ourselves. We're told that everyone is created equal, we all have our problems and we should always give the benefit of the doubt. So when we start to feel uncomfortable about someone, like perhaps something is wrong, we ignore our instincts, stay with the person — and get in trouble.
Vulnerability
Sociopaths hook us by targeting our vulnerabilities. Vulnerability is not the same as low self-esteem.
If you want something, you are vulnerable around that issue. So if you don't have a partner but want one, that's a weak point for you. Sociopaths specialize in capitalizing on your weak points.
Everyone has vulnerabilities. It is not a flaw — it's human nature.
Deception
No one intentionally falls in love with a sociopath. We fall in love with someone pretending to be normal, who is eventually revealed to be abusive. We are deceived.
We are also psychologically manipulated, and our natural bonding instincts are used against us. But because our disordered partner continuously proclaims love while doing this — and/or blaming us for any problems — we do not understand what is happening until we are damaged
Low self-esteem as the result of damage
Narcissists, antisocials and psychopaths often enjoy inflicting psychological damage, but no one tells us that either. So, while you still believe you've met your soul mate, they start chipping away at your confidence. Many formerly self-assured individuals have told me that they felt like they lost themselves.
Then, when you finally learn the truth — that your partner has a serious personality disorder, and was lying all along — you are angry with yourself. Why didn't you see it coming? Why did you believe the lies?
So yes, after the relationship, and because of your partner's actions, you may have low self-esteem. But it's a result of psychological injuries — not because you were deficient to begin with.
How to date after a narcissist or other exploiter
A relationship with a sociopath can leave you feeling shattered, but recovery is possible. In fact, I urge you to focus on your emotional recovery. Do not spend the rest of your life alone and suffering because of the sociopath.
Eventually, you can date after a narcissist — with awareness that predators are out there, and knowing to protect yourself from them. In next week's webinar, I explain how to start dating again — safely.
Click for more information: