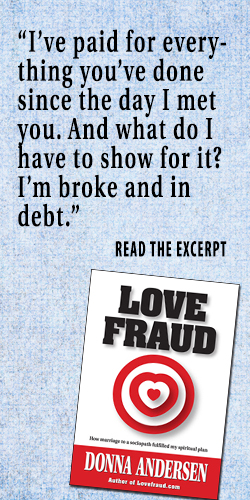 Finally, my husband, James Montgomery, found a project that might actually become reality — a Titanic Exhibition. He and a partner had secured investors, we'd assembled a collection of artifacts, I was planning the show — and then it all fell apart.
By Donna Andersen
On Thanksgiving morning, as usual, James got up long before me and went down to his office in the basement, even though he just flew in from Las Vegas the day before. I was in the kitchen, getting ready to prepare my contribution to the day's feast—a casserole of carrots and apples—when he came upstairs, wearing his bathrobe.
"We should leave around one o'clock for my uncle's house," I said.
"All right," James replied.
"I've been looking for apartments in Orlando," I continued. "I still haven't found one that will take the dog. But it looks like the rent will be about $1,000 to $1,200."
No reply.
"I also reserved a 14-foot U-Haul truck. That's the minimum size needed to tow a car trailer. A five-day rental is going to cost about $1,300. And, I've put the Titanic stories into production. They'll be printed out, mounted and laminated. The shop quoted more than $2,000 for the job."
"All right."
"Well, James, I don't have the money to pay for all this. Do you?"
"I talked to Johnny Stuart about investing in the show."
"Is he going to do it?"
"Yes."
"When?"
"I should know within a few days. He thinks the show will do great. He's going to have someone clear out the exhibit room."
"James, you want to leave for Florida on December first. That's four days from now."
"I know that."
"Well, when are you going to find out about the money? How are we going to pay for the move?"
"Don't worry about it," James said. "You just get ready to go to Florida."
"That's what I'm trying to do," I replied, with barely contained frustration. "I need money to get the exhibit ready. Besides producing the stories, I have to know what we can do to cover those log walls. And we need to rent a temporary building for the lifeboats."
"First of all, forget about the walls. People won't care what they look like."
"Forget about the walls?" I asked, incredulous.
"The draw is Titanic. People will be there to see the artifacts and listen to our speakers."
"You don't think they will notice that the logs look a little odd?"
"They won't figure it out until after they've bought their tickets. Anyway, when they hear our Celine Dion look-alike, they'll be happy."
With that statement, I realized James was perfectly willing to take people's money and give them a crappy experience. I stared at him in disbelief for a few seconds.
"Well, we have another problem, James," I said, trying to hold on to my composure. "I don't have money to pay the mortgage."
"Donna, I am well aware of our financial situation," James harshly replied. "Why do you think I'm trying to get this show going? Do you think I want to live the way we're living? Do you think I like working out of a cellar?"
"When I built the office for you—with my money—you liked it. So what's the problem now?"
"I suppose that because you paid for it I have no right to my opinion."
"Well, I've paid for everything you've done practically from the day I met you. And what do I have to show for it? I'm broke and in debt. You, in the meantime, come up with grandiose plans and don't give a shit about what they cost me."
"You were very happy to participate in the Titanic plan when we had investors. It's not my fault that they backed out."
"But it is your fault that we have no money. If you hadn't blown through everything I had, and all my credit, we might be able to get somewhere."
"We are getting somewhere. We're opening the show in Orlando."
"If we can afford to make the move."
"You just focus on packing. I'll take care of the money."
"And how are you going to do that?"
"Well, I'm not going to get hysterical like you. Perhaps if you learned to control yourself you'd realize the situation isn't that bad. The Titanic show is going to open on February 1. All we have to do is make it until then. So why don't you stop complaining?"
So now I was the problem.
"Are you through?" James demanded. "I came up to take a shower." Not waiting for an answer, he stomped out of the kitchen.
The carrots and apples for my casserole lay expectantly on the kitchen counter. I picked up a knife to slice them; I was lucky that I didn't cut off my finger, because I had no feeling. Somehow I got the casserole in the oven. Then I dressed and put on my makeup.
At one o'clock, I got in the car with James for the hour-and-a-half trip to Thanksgiving dinner with my relatives. He drove; neither of us spoke. But as the numbness began to lift, my mind started racing.
I was on the verge of losing my home and everything I'd worked for, and my husband didn't care. To make matters worse, I was in business with him, and I hated the way he did business. He had no pride in his work and no standards. Schlock was just fine with him.
James had embarrassed me before, and it looked like he'd embarrass me again. Unfortunately, at the moment I was stuck. I couldn't walk away now, not when there was a chance to get my money back. But once the Titanic show opened in February, we'd finally start earning some cash. When my financial situation stabilized, I could get a divorce.
My own thoughts surprised me. For the first time, I was seriously considering divorce.
At my uncle's house, I pushed all the internal dialog aside to engage in small talk with my relatives. I casually mentioned that we were going to Florida, without a hint of the trauma involved.
Next week: Stuck in Florida with no deal and no money