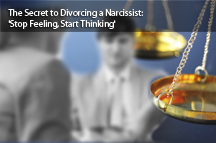 Divorce coach and founder of The Inspired Divorce, Lindsey Ellison, says that "divorcing a narcissist may be the toughest fight of your life."
While doing her research for her blog:  Secret to Engaging a Narcissist, Ellison came upon Robert Farzad, president of Farzad Family Law in Orange County, California, who believes that those divorcing a narcissist "lose" their case because they never have a strategy and end up surrendering.
Farzad says that "all of your emotions and what you feel are irrelevant. The minute you react to that person, you are already losing the battle." Farzad  suggests if you're divorcing a narcissist, "stop feeling and start thinking."
The Secret to Divorcing a Narcissist: 'Stop Feeling, Start Thinking', from HuffingtonPost.com. (Link supplied by a Lovefraud reader.)
Did you divorce a narcissist? If so, what worked, and what didn't? Please share your thoughts with other Lovefraud readers.