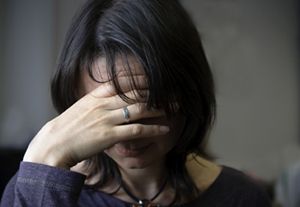 Editor's note: Lovefraud received the following letter from a reader whom we'll call "Catherine18." Other names have been changed.
I am writing this after a pretty hard day. I have them a lot these days. I've made it a habit to tell people that I'm fine or ok. Before that, before everyone knew what happened, I just smiled, laughed and was a pretend version of myself so that I wouldn't let on what I was suffering. I learned to protect the person hurting me from my mother's abuse of me. I am 42, and I have never not been abused. Ever. I'm now being honest. I am saying I'm not ok. People don't help you when you finally get honest. I have been betrayed, abandoned, pitied and had people talk behind my back because I'm being honest.
I am in court and dealing with legal and civil cases with my second ex husband. It is torture. In 6 years I have been through devastation and loss so extreme that I am not sure how I even survived. This man, Ed, has been around for 5 years in some capacity. However, within me every day since we met. Our next court date is the 5th anniversary of our first date. It is also the 1 year anniversary of my first husband's death. He died in prison. I put him there.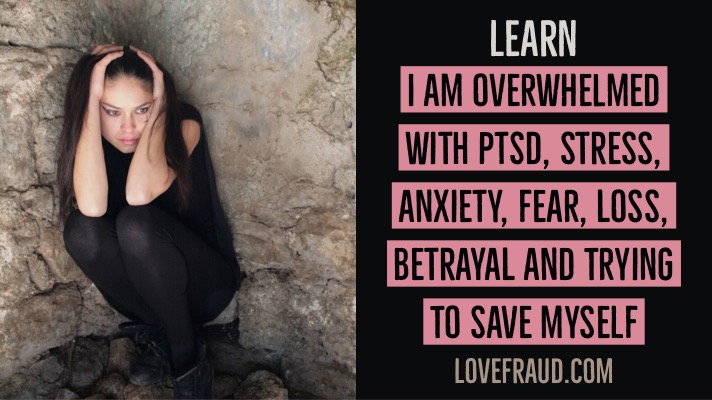 I am overwhelmed with PTSD, stress, anxiety, fear, loss, betrayal and trying to save myself. My body and spirit are giving up. I had an appointment with my Doctor this morning because of an issue I have with my knee. This coupled with my other lower extremity injuries are preventing me walking and functioning. We were simply speaking and she said something a certain way while she leaned in to comfort me. I started crying and essentially have not stopped all day. I am not ok. I want to be the fair skinned, happy young girl spending the summer at her grandmother's house. Swinging on the back porch swing. Singing and laughing. Wearing a pretty dress and having her grandmother calling her Cathy. I don't want to be the broken person with the fragile heart that has lost everything she ever worked for and is alone most of the time.
My mother abused me
I don't want anyone to understand. If they do that means they too must know the unspeakable pain that comes when someone creates an entire persona around your deepest dreams of love and happiness, only to use you for their own entertainment. My mother abused me from the time I had my own voice. I have a memory that recalls not only events happening, but also very specific details in a sensory fashion. For example, if I were to recollect a memory of watching a car accident I could give details of the accident — like sounds, colors and time of day. I could also recollect the temperature, how I felt, my breathing, minute details from the day. I feel a memory, not just recollect.
I remember when my mother began to abuse me. I saw her behavior when spending time with my children and reconciled that she loves you when you are her toy. Once you have free will she will never love you again and you become what she sets out to destroy.
I remember the last days that she loved me. I remember the sun on my face looking out the window in the back seat of the car driving from errands back to the house. I was asking questions about what kindergarten was going to be like. I had loved preschool, however, I moved to a different preschool closer to home and I did not like it. I asked her if I was going to like kindergarten. I remember her sweetly answering my questions and reassuring me.
The first day of kindergarten I wanted to wear a particular dress and pair of shoes. Each day I wanted to select my own dress and shoes. I can't tell you a timeframe for the abrupt change. I can only tell you she stopped loving me. She would involve others in her sudden hatred of me — a neighbor, my teacher, a family member. All of a sudden she would speak badly about me, in front of to others. In first grade she took me to the office at school and tried to get me into a recourse class because I was "defiant." As I write this I want to defend myself, assure you I was not a bad kid. Funny how abuse makes you defend the ridiculous things your sociopath creates about you in their own fictional scenarios.
From threatening my friends, to keeping me from anyone that loved me, my mother abused me daily. My sister was the favorite, I the hated. I would come home from school to it every day. She would accuse me of the strangest things. Sometimes I did not even know what she was talking about because she would accuse me of things I was unfamiliar with. I remember her breaking into the bathroom while I was using it. She forced me to stand up and she told me to show her my rectum and vagina so she could find the drugs I was hiding. This, after she searched my clothing and body. I was 10. I was not on drugs.
She would throw me in the corner of my room, get in my face and rail on me for hours — her eyes bulging and spamming, her spit flying all over my face. She would hit me where marks would not show. Railing my head where hair would hide bruising. My ribs, thighs, and squeeze my shoulders tightly. She would push me into the wall. She would pinch tiny bits of skin on my under arms or thighs. Often my sister would stand in the doorway and watch, never helping me. She would tell my sister how horrible I was and continue to hurt me. I learned to leave my body. I learned to cope by dissociating. I learned not to show my pain because that would let her know how to hurt me more. I would have to agree with her. I would have to apologize for whatever she thought I did.
Please know that I worked the day I turned 16. I got excellent grades. I got in zero trouble at school. I didn't drink, party, smoke or rebel in any way. I graduated early. I went to high school and college classes during high school. My sister was loved because she was my mother's toy. I was hated because I was my own person. My father was oblivious to all. Further, he did his own things to make my child rearing beyond dysfunctional.
A clean-cut young man
I was working a full time job at 18 years old. I had intended to move out, but my mother, suddenly remorseful, begged me to stay and even reduced her abuse for a while so I would. One day, a clean-cut young man wearing a blazer and holding a briefcase, John, walked in and applied to work at the call center I worked at. This was very out of the ordinary, as most people showed up to work at this job looking like they just rolled out of bed. I too dressed up and cared about presenting a professional appearance. Soon we spoke and I determined him to be a jerk, so I left him alone. Then one day we were speaking and something came over me. We went out and that began the love bombing phase that left me 19 and pregnant. The moment John found out I was pregnant, he loved me and the baby even more. He got me a ring and told anyone who would listen how much he loved us.— until he didn't.
We were at an outdoor concert. It was cold. I had terrible morning sickness. A few people near us began smoking. I told him it was making me sick. Instead of moving us, leaving or asking them to stop, he leaned over and told me I was an ugly fat cow and not worth his time. He said, look around at all of the beautiful girls that he could be with instead of me. Told me that he was disgusted that he had to be with me. Told me I should abort my bastard because he didn't want either of us. Grabbed my hand and took back my engagement ring. Slid to the further side of the blanket and socialized with those around us, ignoring me, my sickness, my being very cold and my tears the entire night. When the concert ended he stood up, leaving me and the blanket behind. I collected it and essentially chased after him. Down the hill, through the crowds, through uneven gravel parking. We arrived at the car. When I would buckle myself he would unbuckle me. Over and over. Then he barreled down the canyon highway. He said, bitch if you touch that buckle again I will slam on my breaks and spread you and your bastard all over the road. He dropped me at the curb at my house and sped away. He later came back and begged forgiveness.
Over and over this was life until we married (me 4 months pregnant). After that an apology was never made again. I endured 18 married years of hell. Every day. Name calling, physical abuse, sexual abuse. You name it, I got it. I tried to leave. I called the police. I filed charges. I did everything I could. Every single attempt ended up getting me more hurt, threatened by his parents, unsupported by my parents. I was in a victim's advocate domestic abuse meeting one night. I had two babies with this man. One woman asked another, why do you stay? She said, when I stay he just hurts me. When I leave he hurts the kids to hurt me. I decided that moment that no matter what he did to me I was staying. I was making his life the best it could be so my kids would be safe. Faked a smile. Covered the bruises. Lied about how I got injured. Over and over and over.
One Thursday in 2013, I saw John for the last time outside of a criminal court room. He was standing in the doorway of my office watching me. We were fighting all week. He had escalated his abuse to be visible to a few neighbors and I was sure he was going to kill me. He had been acting so strangely. Two nights before, he had pushed our oldest daughter against the range and hit her. I flew across the room and grabbed him off of her. I told him if he ever laid a hand on my kids again I would have him rot in jail. He smashed in the door of the pantry and locked me out of our room. The children and I had been walking on eggshells all week.
I saw him in the doorway and asked what he wanted. He asked if I wanted to go to lunch. I said no, asshole, I do not. He left and I went about my day. I was planning a raised bed garden. I was saving pictures and playing around online, dreaming of cute fencing and lighting. I received a text from my middle child. She said, we missed the bus, come get us please. I replied and finished the sketch I was working on. I then went down to leave.
My oldest wasn't home
My oldest was certainly already home, I stood at the top of the basement stairs and hollered her nickname. No reply. Again, no reply. I went down to her room and discovered she was not home. I called her number, phone was off. I called John, I said she didn't come home. He said, what's wrong with this person. He said he would find her. I set off to get the other kids. The phone rang, it was the middle child. She asked where I was. I told her that her sister hadn't come home and that I was on my way.
As I left the driveway my father-in-law called. I answered. He asked if I was alone, told me he had the kids and to meet him at the junior high and not tell John. As I drove I had the biggest smile. I thought he was going to help. I thought my daughter must have told him that I needed help and he was finally going to help. I had asked for help for years. I pulled into the parking lot. Two of my kids were in his backseat crying. He approached my car. The words he spoke made no sense.
John has been hurting Amber. What does that mean? I have spoken to Bob (his brother and former police officer), he has some ideas and solutions. I need you to be calm and not do anything stupid. Amber is outside the police station waiting for you. She wants to talk to you before we decide, as a group what to do. I drive, now confused and unsure what is happening. John is calling, over and over. I'm not allowed to not answer my phone. I don't answer. I get to the station. I get out. My daughter and I speak. She says a few words.
I walk into the police station and report my husband. I don't even know for what. I think maybe I'm about to get her in trouble. I think she must have made this up. No way this is real. I think maybe she asked for help and he wouldn't, so maybe she made up some other things to get us help. John drives by and sees my vehicle at the station and flees. We try to get his father to reach him and lure him somewhere where he can be arrested. He tells his father he knows we are with the police. He asks to speak to me, I say did you do this he says he is sick and he is sorry. I'm confused, I'm in shock, I'm a suspect too.
After the detective speaks to my oldest I sit with him. He questions me. He tells me things that my daughter said to him that sound like the sexual abuse I'm going through with my husband. I think she must have read my journal, overheard us. Then he walks me to sketch the basic floor plan for the basement of our last home and the house we lived in before that, when the kids were very small or babies. I ask why, he says so he can determine when the grooming occurred. I asked what that meant. He stated that he groomed them and then be slowly began molesting and then raping them. I say, they were little, very little when we lived there. He says, yes, they were 3 and 4 when it began. As a mother i will never recover from this. The next hours, days, weeks, months are the worst of my life.
Ed was everything
Then I met a man, Ed. He was everything and oh how he loved me. He spent time with my kids. Listened to my middle daughter, didn't treat my oldest like a victim, did man stuff with my son. We all were happy with him. He made me feel safe. We were all a family. You know where this is going. He preyed upon a struggling single mother. He thought I had money. He was still with his youngest daughter's mom. He was still with all of the girlfriends and baby moms. He had a criminal background. He lied about everything. He quickly proposed and married me in the courthouse one day. His "crazy idea"…I was all too happy to agree. Said we should keep it a secret so we could surprise everyone at our big fancy wedding. Ten days before our wedding it was my birthday. He wrecked our car going down the canyon. We rolled down a ravine and nearly died. He asked me to postpone our wedding because he was shuffling with injuries. He unfriended me on Facebook on what should have been our wedding night.
He moved out a few days later. He had signed a lease two days before the accident. Translation: He intended to have an accident to get out of the wedding, so all the girlfriends wouldn't know he was married. He moved another woman into the new place 10 days later. Told my children and I "on his fathers grave" that he had not moved anyone in. In 5 years I've been in and out of it with him. Lost possessions to him, been mercilessly used and played with. The list goes on and on. He is the worst human being I know. I've lost my home, moved 6 times, filed bankruptcy, lost myself. My son died, he used that to get attention and control me. The things he has done are unbelievable.
Currently I'm in court for a temporary protective order. He slanders me and destroys me in court every time, the commissioner extends and I have to face him again. He has criminal charges for posting my nude photos. He was arrested for less that a day on the 5th when he appeared at his first court appearance. I won small claims for a measly $11,000; about $200,000 less than my approximate losses. He is playing games with the collection agency I hired.
Ed is presently using a widow. She purchased them a home for $570,000 — 2 months into knowing him. All new furniture, an attorney to rep him in custody battles with another ex, a work truck, hot tub, who knows what else. I was in a group chat with 22 women he was sleeping with, saying he's engaged to and such at the same time. He has 22 guns, a restricted person not legally allowed to have guns. I swear he has multiple personalities. He drinks, takes Adderall and Xanax. He is capable of anything.
Images I cannot erase
I've lost a child, my only son. I had to perform CPR on him. I have trauma images I cannot erase. I sat at his side for days and took him off life support. When a patient isn't brain dead the next of kin must pronounce death and unplug the machine. I had to lay on my child's chest and tell them when he had died. They then sped him out of the room for organ donation.
I've had to rebuild with my daughters. Our memories are different. They were keeping secrets and I didn't know they were being hurt. The first ex changed the beneficiary on the life insurance we had paid into from the time we were in our 20s, giving his death benefit to his father. I have no retirement, savings, ruined credit, broken spirit and broken body. I'm self employed and worry constantly about money. Everyday is hard.
I did nothing but take care of sick sociopaths and try to have a family and love.