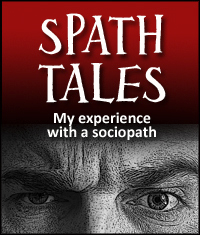 Editor's note: Lovefraud received the following story from a reader who posts as "msescue."
I was married to a narcissist for 10 years and we had one daughter together. He was 4 years younger than me, had never been married and was a cute nervous wreck when we went out. It made me feel beautiful and empowered that at nearly 30 years old, I was able to attract a younger man who was NERVOUS to meet me.
Our relationship moved quickly. We became pregnant after dating for only 8 weeks. But he was ecstatic about it and he was amazing throughout my entire pregnancy and our daughter's infancy. He treated me like a queen and it felt so good to finally feel like I had found someone who loved me for me, appreciated me and made sure that I knew I was loved. (When we first met, I was going through a divorce from my first husband who was physically and emotionally abusive and was also a chronic cheater.).
A year after meeting, we were married. The first time I realized that I may have been "tricked" was THREE days after we said our vows.
We went out to celebrate alone and he proceeded to get very intoxicated (He was a drinker when we met, however, his drinking became out of control more and more as the years went on), and after returning to our table after speaking to some old high school friends, I turned to say something to him and the look in his eyes was scary.
I asked him what was wrong and he said to me, "I never should have married you, I knew I should have dumped you a long time ago but you trapped me by getting pregnant, I want a fucking divorce, you are the biggest mistake of my life." I was shocked because I had NO idea where that came from.
We proceeded to go home, me in tears, and him berating me the entire drive home and for hours after arriving home. I KNEW then that I had made a terrible mistake, but I was determined to "fix" it and remind him all of the reasons he loved me, reasons that he himself had told me.
Fast forward 7 years, a lot of tears, a lot of alcohol on his part, and now we enter the actual gates of hell …
The last three years of our marriage were a living hell for me. His drinking was out of control and the verbal and mental abuse was constant. NOTHING I did was right, good enough, stupid, etc … I was ugly, fat, lazy, worthless, waste of space, everyone hated me, I wasn't funny, everyone hated being around me, everyone tells him he should leave me, I'm a horrible mother, he never loved me, he never even cared for me, how could I be dumb enough to actually believe he loved me, and on and on and on …
By the time I finally gained enough courage to make him leave, I didn't even recognize myself anymore. I had no self-esteem, I had started taking painkillers as a way to numb myself to his abuse, I stopped taking care of myself, I started cutting my arm to shreds with a razor blade when the pain became too much (oddly, it helped release some of the emotional pain and gave me something else to focus on), I stopped going to family events and out with our friends for fear that he was right and they all did in fact hate my presence.
My best friend was a good novel and a nice cold fountain pop. With my books, I could lose myself in worlds that were so different from mine and I would finally find a little bit of peace. Until, at the very end, my love of reading and fountain beverages became a weapon he would attempt to use against me … he would say to me, "You're so f*cking pathetic and worthless, why don't you go read your f*cking books and drink your pop." Admittedly, that "insult" never got to me because it was just ignorance at its finest.
I never said anything to him about it, because I knew better. It would only fuel his fire and it would turn into hours and hours of belittling me. So, I would do exactly what he said…read a book and enjoy my pop. The last time he ever said it to me, during our divorce, I finally told him how ignorant that insult sounded, "You do realize that you are trying to put me down for gaining knowledge, expanding my mind, using my imagination and keeping my mind fresh, correct?" He has not said it to me since.
To finish what has been a very hard, much shortened version of my hell, I will end with what I call "The moment I knew I was done."
He had gone to a work event at a local baseball game (mind you, at this point, he was already cheating on me with his co-worker and now girlfriend), and we were trying to "work on things" … so he PROMISED, on our daughter's life, that he would not over do it with the alcohol and that he would be home as soon as the game ended. Fast forward many hours and many unanswered texts and calls to him later, and I finally get a call from him. He was at his mother's house with his brothers and some friends, and he was completely and totally intoxicated.
I started crying and asking him "Why? Why did you drink so much, you promised you wouldn't! You swore on our daughter. You promised you would be home after the game and that ended 4 hours ago. Where have you been?" His response was to name call and insult me, the usual.
I cried to him "Please get sober, you promised me you would, I just want you sober." I begged and cried and pleaded with him to get sober. His next response and actions is what sealed the last rusty nail in the coffin… He started laughing, told his buddies "You guys gotta hear this pathetic bitch!" and he put me on speaker phone for everyone to hear my sobs and pleads for him to get help.
His own mother, my mother in law, did nothing. No one did. They all sat and listened to me break down and him repeatedly tell me how worthless and pathetic I was and how everyone listening in that room right now was laughing right along with him … I finally just hung up the phone, locked all the doors and went to bed. And that was that. I knew it was over.
Little did I know that it was only the beginning to my own personal hell. I had no idea that soon after finally letting him go, I would start to see the aftermath of what I had allowed him to do to me.
I had no idea who I was anymore and I HATED the person I had become. Whoever she was. I started seeing the damage he inflicted and how much of my spirit he had slowly siphoned from me over the years. There was not one shred of the old me left. I was an empty shell, a dried up husk of a human being. And here I sit today, trying to figure out how to get all of the pieces back and struggling to remember what I was like before he decimated me.
And that is part of my story.