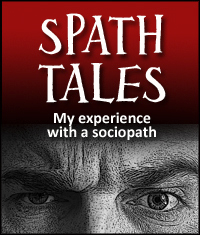 Editor's note: Here's a letter Lovefraud received from a reader whom we'll call Irene20. She missed the red flags of a sociopath.
I met my "soul mate" on a dating website called Zoosk. The first date I went out with him I found him physically attractive but he was distracted and I felt he was rude so I shortened the date and left. He then asked me out to lunch and I thought, I'll give him another chance, and that was a much better experience. It wasn't until the third date that we really connected.
The third date he was charming, attentive, complimentary, and romantic. I had a little too much to drink by accident because I had gone on the date with a headache and it went straight to my head. I spent the night at his place innocently and the next morning I woke up he had breakfast and coffee made for me. From that moment on we were inseparable.
The relationship moved very quickly. I remember him insisting on coming over to my place that he had something to share with me. He came over and asked for alcohol and confessed some very personal information and revealed that he thinks he's in love with me and wanted to be transparent about this information. I found it very endearing.

He said that he had been married 3 times before and when I asked him did he learn his lesson and take his responsibility for his part in the failed relationship he said yes. He said that he's been trying to do things his way his entire life and he was lacking in communication and being transparent. I said what is going to change with us, I don't want to be number 4 failed. He said, I want to do things God's way I'm tired of failed relationships. I commit to working on my communication skills and being more transparent.
At this point I really thought he was a Christian, he'd pray with me, go to church with me, have quiet times with me. I was lured in and hooked. He talked about the future and getting married and within a few months he asked me to move into his home, I accepted.
Moving to California
From there, his brothers, mother and sister were out in CA. His mother had dementia and the brother was struggling to care for her being recently married and trying to run his own general contracting business. He said he's considering moving out there from FL temporarily to help with his mom and asked if I'd be willing to go with him. I thought about it and prayed about it and thought yes, I'd like an adventure.
So off to CA we went. His son moved with us because he wanted to go and was having some trouble with direction and a plan in his life, his father offered to pay for college. We moved out there and within a matter of weeks, things started to go down hill.
I noticed that he as being less attentive, more moody and I asked him if everything was ok. He said yes.
Read more: 13 very early warning signs that your partner may be a controller
A few more weeks went by and it was over the Christmas and New Years Holiday and he started a fight with me and was rude to me on New Years Eve. I was very tempted to leave his brother's house because I don't like public embarrassment and it was completely unprovoked and he was acting cruel, I had never seen him like that.
Within a few days I started being more aware of his behavior. I went outside a few days later and found him on the phone and he looked guilty. When I asked him who it was he lied and said a coworker. That made me suspicious so I checked his Facebook messenger when he wasn't looking because I was looking for answers.
There was the answer in his Facebook messenger. It was a beautiful woman and the conversation said I keep thinking about our kiss and I dreamt about you. And they had plans to meet up in Colorado — him on business and her on a ski holiday. I confronted him with this and actually befriended the woman on my Facebook and when she accepted because she didn't know about me either, I had a conversation and she told me the whole thing.
Once confirmed with her, I confronted him so he couldn't deny. He had no remorse.
She unfriended him and blocked everything from him. I found out that she was his Brazilian house cleaner (it was her business) and he orchestrated our last day in FL. where I would take his truck and pick up his brother and sister in law at the airport while he was at the house with the house cleaner getting it ready to rent. He planned it so that he could kiss her. So he started a relationship with her that day.
"I'm a sociopath"
I was completely devastated and shocked. I remember sitting in a restaurant dumbfounded thinking I just moved out of my apartment, got rid of my car, because he said why have 2 when you can drive my car, all of my furniture and belongings were out in CA and at this point I hadn't even found a job yet.
He was sitting next to me in the restaurant and he looked like he just didn't know what to do or say while I was processing. He said and I'll never forget it, "I don't know how to love, I'm a sociopath." Because of the despair and state of mind I was in, it went right over my head and I didn't remember that he had said that until months later.
He apologized and bought me all of these gifts. I decided since I'm out there and it was only a kiss, maybe he was confused between us and to give him the benefit of the doubt that I'd forgive him since I'm a Christian. Looking back now I understand why he asked me to move my bathroom items in his guest bathroom instead of his main bathroom so that the maid didn't know I was living there and he could have 2 women.
Anyway, back to the CA story. Within a month or so he started acting funny again. So I looked in his work phone and found a suspicious conversation and called. It was an Asian woman in WA. state, who said, "He my boyfriend, we're very in love and happy, we've been together for a year and a half." He had recently returned from a business trip to WA, which I felt in the pit of my stomach something was off.
I confronted him and he denied it and lied about it and blamed the woman saying that he used to date her and she wanted to marry him etc. I didn't believe him but it was his word against hers. At that point, I knew this wasn't going to stop. So I went behind his back found a room to rent and decided to stick it out until December until I got my bonus and return back to FL to reestablish myself.
Learn more: The Basics — Love fraud and how to avoid it
The thought of returning to FL with no car, job, apartment, furniture and live with my parents was unacceptable and unappealing. So when I had secured an apartment, I told him I was moving out, at the same time he was saying to me that we have to talk, he was getting ready to break up with me to be with her, but I beat him to the punch.
When it was time for me to move out, he of course asked me to stay and to please not move out. So unfortunately for me I thought well at least he's paying the rent and everything and I can save lots of money to return home. So I stuck it out.
There were lots of confusing times ahead for me, times where he was moody and started to berate me, and act like I was the child. He would rage at me for no reason and give me the silent treatment and refuse to communicate on anything.
By July, he had bought me an engagement ring, and asked me to marry him. At this point things had settled down again and I thought to myself well maybe he does love me and has finally settled down so I accepted. That delusional joy was temporary.
Googling the silent treatment
He kept up his abuse although at the time I was uncomfortable and didn't know what it was. I had forgotten he called himself a sociopath. So I started Googling silent treatment, stonewalling, fits of rage, moodiness etc. It said narcissistic abuse. So his mother is diagnosed as a narcissist and had sexually abused all three sons. Very sick woman. So I thought maybe he has some narcissistic tendencies.
What kept me moving forward was thinking of my bonus and getting back to FL. where my friends and family were. It was brutal and I stuck it out.
We finally were on our way back to FL and my intention was to break it off. We had gotten a place together in FL. and I was just trying to get myself situated. I thought to myself let me see how he does here in FL if it's any better.
One night in March/April 2020 he said to me, "Do you still want to marry me and I said yes, and I asked him and he said absolutely without a doubt 100%." Then things just went down hill from there and the abuse worsened.
I started to see a trauma counselor after researching and I then remembered he called himself a sociopath. So I started researching sociopath and low and behold, there was the very definition and experience of what I was coming out of. I confronted him and asked him to go to counseling and he refused. He said if he can't control me and continue to be in a one sided relationship then he wasn't interested and moved out after I had initiated and gave the ring back.
It wasn't until after he was gone that all of the clarity of the situation that I was just in hit me. I experienced CPTSD, panic attacks, trauma bond, depression and was locked away with Covid by myself which didn't help. This just happened a few months ago and I'm still working through things and he's still yet to apologize, make amends or take responsibility for any of it.
I'm just happy that God rescued me from that. I didn't realize the depth of abuse I just went through and the level of denial I kept myself in out of survival.
I just want to share my story in the hopes of helping someone else who might be in a similar situation and offer some guidance or support. This was the most horrific thing to go through. His son was also a narcissist and so were many of his family members so not only was I abused by him and publicly humiliated at times but they abused me as well.
I missed the red flags of a sociopath, and it was an awful life changing experience. One that I wouldn't wish on anyone. Looking back there were so many red flags that I overlooked. Now I can see toxic people a mile away.