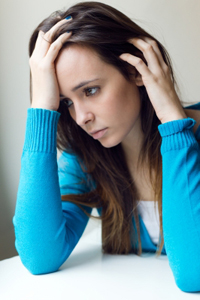 The best way to escape a controlling or abusive relationship is to get out before you are emotionally hooked. But how can you tell when a new romantic interest may turn into a problem partner?
Here are 13 very early warning signs that may precede later abusive behavior.
Your new partner monopolizes your time
You are spending all your free time with your partner — perhaps even seeing him or her every day. If you spend any time with someone else, your partner seems hurt, annoyed or even angry.
Your new partner calls or texts constantly
You may get calls and texts 24/7 — even if you are also spending a lot of time with this person. If you don't respond immediately and your partner demands to know why — well, consider this a serious warning.
Your new partner plays for your sympathy
Your new partner may talk about an abusive childhood, scheming boss or treacherous previous love interest. This warning sign is especially relevant if he or she tells you that a previous partner was cheating, abusive or mentally unbalanced (very common accusations for abusers).
Your partner overreacts to a trivial or nonexistent slight
He or she becomes angry or sullen over nothing at all, or accuses you of saying or doing something that simply didn't happen.
Your partner is worked up, and says it's your fault.
During debate, discussion or argument, your partner is combative and says, "You made me say it," or "You made me do it," or, "You made me crazy," or something like that. If your partner blames you for his or her behavior, this is a classic controller technique.
Early on, your partner buys you extravagant gifts
You've only been dating a short time, but he or she buys you an expensive gift like jewelry or electronics or offers you money, and it just feels inappropriate. This may be an attempt to make you feel indebted.
You see a sudden flash of nastiness that seems out of character
Maybe it's not directed towards you — perhaps your partner is rude to a waiter. If your partner has been treating you like gold, and suddenly you see a mean streak, well perhaps the person's mask has slipped, and revealed what's behind it.
"Where did that come from?"
Your partner says or does something negative, and your immediate reaction is, "Huh? Where did that come from?"  If you are shocked for any reason, do not overlook the incident.
All your interactions are on the your partner's terms
You spend time at your partner's house, with your partner's friends and family, doing what your partner wants to do. You never seem to get to what you want to do. If your partner does finally agree to what you want, he or she makes the experience so miserable that you never ask again.
Your partner is starting to criticize you
In the beginning your partner continuously told you how wonderful you are. Now, he or she is finding things about you to criticize, although the criticisms may be presented in the context of "helping" or "for your own good." Remember, romantic partners are supposed to be supportive.
Your partner physically assaults you, even if it doesn't hurt
This is major, major, major. If your partner shoves, hits, scratches or chokes you, even lightly, you should assume that he or she is testing you. Your partner may claim it was an accident, he or she didn't mean it, it will never happen again. Actually, your partner may be taking the first steps towards training you to tolerate physical abuse.
Your partner pushes your sexual boundaries
Your partner may make suggestions or demands that you find just uncomfortable, all for more "fantasy" or "excitement." Well, it may be just the beginning of uncomfortable demands, and the depravity of the demands may escalate.
You feel drained
Perhaps your partner is being demanding, although the demands are hidden in the context of wanting to spend so much time with you. Perhaps you feel like you are constantly defending yourself. Whatever the reason, this relationship leaves you feeling drained. Keep in mind that controllers suck the life out of you.
What should you think? What should you do?
You may be inclined to interpret overly attentive behaviors to mean that your new partner is really smitten with you. Or if you see some nastiness, you may feel like you should cut the person some slack, because we all bad days, and we have wounds and baggage.
So how do you know if one of these episodes is an aberration, or a warning?
Listen to your instincts. If you have a nagging intuition or a bad feeling that there is something wrong with this person or the involvement, and you also see these behaviors, consider yourself warned.
More importantly, act on the warning and end your involvement. The sooner you get out, the safer you will be.
Do you know more warning signs?
If you've experienced a controlling partner, did you notice any behaviors that, looking back, you now realize were warning signs? Please share your insights with Lovefraud readers by posting a comment.