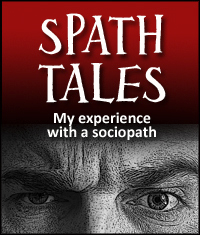 Editor's Note: This SPATH Tale was submitted by the Lovefraud reader who goes by the name "two is enough."
I have been involved with not one, but two, sociopaths, just over a decade apart.
I encountered the first when I was 19 years old — young, naive, and utterly ignorant to the existence of personality disorders. The damage I incurred was mind-bogglingly devastating — I died emotionally, and, quite literally almost physically, from his abuse.
In time though, I learned to be kind to myself over becoming a victim, because I truly didn't see it coming.
Once in the throes of a disordered relationship with him, I lacked the experience to tell me that this wasn't normal or healthy.
In retrospect, he was a much lesser-developed (maybe just less experienced in wielding his "black magic" upon women) sociopath than I would experience later in life, because, honestly, again in retrospect, all the "classic" signs were there, loud and clear.
If only I'd had the slightest bit of awareness or healthy relationship experience to draw upon, I could've seen his pathology coming from a hundred miles away! But, being young, naive, and idealistic, I did not. I leapt happily into his web of deceit and destruction without the slightest inkling of danger.
I was chewed up and spit out (idealized/devalued/discarded) in a "classic" manner and at record speed.
The entire "relationship" (such as it was) lasted a mere 10 months, but the aftermath nearly killed me, and full recovery took me a full 10 years.
The ensuing decade was filled with therapy, schooling (I changed my major to psychology as a result of this relationship), as well as two long-term relationships with exceptionably loving and patient "healthy" (non-disordered) men, to help me overcome the trauma my young psyche had experienced at the hands of this sociopath.
The sociopath had been my first "love" and was my first sexual partner, so given those factors alone, he would have been significant enough of a player in the history of my life — and the breakup/recovery painful enough — WITHOUT the added "˜benefit' of the full-on destruction that his pathology inflicted upon me
With the second and most recent encounter of the disordered kind, however, I cannot claim the excuse of young innocence or ignorance. No, this most recent time I was targeted and successfully victimized. I was mature, experienced in life and love, successful and professional, well-educated (in the field of psychology, no less), and far from naïve.
This time, I SAW the signs, I knew the facts, I almost foresaw my ruin at his hands before his hands had even touched my body. Yet, I STILL became his willing victim.
For three years, I existed in a trance-like state, hopelessly addicted to the sexual element of our relationship, and insanely attached to the vision of the "perfect family/perfect future" that I fantasized we would share together (due to his master manipulations).
Every time I was able to detach *just* enough to do a quick fact-check, I chose to ignore what I knew and what I observed, and the uneasiness that I felt in my initial intuitions towards this man, because, well, he — and the highs I felt from my addiction to him — was just THAT good.
Where my first sociopath was a younger college guy who was a fairly reckless and "green" sociopath just starting out (I believe I was one of his first true victims), this second sociopath was the real deal … a true professional, mature, very experienced (read: hard to detect), and, now I realize, absolutely terrifying.
I was definitely "not his first rodeo."
My suspicion now is that he has single-handedly left dozens of women's lives in utter ruin. And this time, in the brutal aftermath following his discard of me, it is not just me whose life has been devastated and turned (maybe irreparably) upside down. This time, there is a child's life that is in jeopardy — MY child, and, unfortunately, also HIS biological child.
This time, I'm seeing the "black magic" that a sociopath can so easily wield over even intelligent, strong women is just as easily wielded over the Family Court system, to the detriment of their own flesh and blood.
My Sociopath Number Two is using an innocent child (just 13 months old) as a pawn in his sick game now.
Nightmare doesn't even begin to describe it.