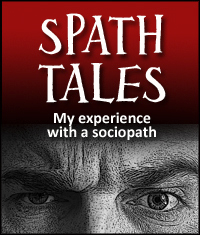 Editor's Note: This SPATH Tale was submitted by the Lovefraud reader whom we'll call "Ms Love Bombed."
My involvement with a sociopath lasted five years.
I didn't know anything about sociopaths until my therapist told me to look up the definition. That is when I realized I was involved with one.
My spath love bombed me the minute we officially met. I had known him only from going to my husband's softball games.
The first few years, it was only sex with him. He was living with another woman (which I didn't know for the longest time and he lied to me, saying they were just roommates).
I always said I was his whore. He called me names and verbally, emotionally, and mentally abused me. The physical abuse didn't come until later.
He kept me from my friends and even my family.
He checked my phone and accused me of cheating on him when in fact, HE was the one cheating. When I would try to break it off, he would call me 50-60 times within an hour and then would show up at either my house or my job. And of course, he love bombed me into coming back and saying everything that I wanted to hear.
Everyone told me I was crazy for staying with him, but I "loved" him and couldn't see myself without him.
Before I moved 2000 miles away, he had gotten worse if I didn't answer my phone, account for a bruise on my body, if I wasn't at his parent's house at five every day.
I was a nervous wreck. I couldn't relax and had to justify every move.
I kept a log over the years of all the times he called me. I had pictures from the bruises and all the nasty voicemails he left me. I told my therapist where I kept all of this information just in case I wound up dead.
He told me I was fat, so I lost 24 pounds and almost ended up in an eating disorder clinic. Then he told me I looked like a crack whore.
Again, no winning.
Even after I left, he continued to contact me in any possible way he could and he would say the things he KNEW would trigger me and that I would never be able to get past. To this day, I can hear those words in my ears.
I was diagnosed with PTSD. I have gone through domestic violence counseling, domestic violence group, EMDR therapy, and I am on antidepressants. This is just a glimpse of my life with this spath. I could go on for days with stories, but I think this gives a pretty good glimpse of how my life was for five years and the couple of years after I left him.
I changed my phone number, but he got my number for my job. I have since changed jobs and he has no contact with me.
I ran into him in May when I was visiting and he yelled over to me, WHAT! No hug for me? As if he never did anything to me and we were the best of friends.
The sad part is, I longed for him to hold me.
I am now back to square one trying to put him behind me again. I don't know if I will ever be the same.