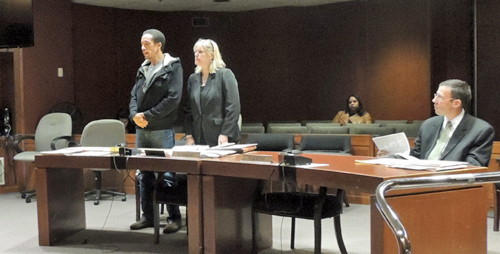 MT. HOLLY, NEW JERSEY William Allen Jordan, 49, of Cherry Hill, New Jersey, pleaded guilty to theft by deception Monday, admitting that he pretended to be an official from the U.K. to convince a woman to give him money.
In a plea bargain, Jordan admitted that he took $4,383 from Mischele Lewis, 36, of Florence Township, New Jersey.
Jordan accepted a sentence of three years in a New Jersey state prison. He was ordered to pay Mischele restitution of $4,383. He agreed to have no contact with Mischele or her family. He waived his right to appeal the case.
Sentencing was set for February 6, 2015.
Fake identity
When Jordan and Mischele met online in January 2013, he told her, in a British accent, that his name was "Guillaume Allen," and he worked for the British Ministry of Defense. He also said that because of his military service, he'd never married and had no children. He was born in America, but sent to live in England as a child.
Everything was a lie, but Mischele didn't know it at the time.
Their involvement grew, and a few months later, Jordan said that if they wanted to be together, Mischele would have to get a security clearance. This would require a costly background investigation, which was one of the ways in which he got her to give him money.
They dated for a year, although Michele said Jordan sometimes disappeared for days at a time, and his stories didn't always add up. He proposed to her on Dec. 8, 2013, but then didn't show up for Christmas. By January 2014, Mischele was becoming disenchanted.
Then she discovered Jordan's real identity. He was an American con man who had done prison time in the UK for molesting a child under the age of 13, bigamy, obtaining funds by deception, failing to register as a sex offender and illegal possession of a stun gun. He actually had 13 children with eight different women. One of his victims, Mary Turner Thomson, had written a book about her experience with him called The Bigamist.
Mischele was heartbroken and angry. Determined to bring Jordan to justice, she strung him along for two months, while police investigated. Finally, on April 22, 2014, Mischele lured him into a sting, and Jordan was arrested. The Daily Mail published a photo of the moment, along with an account of Jordan's nefarious con.
EXCLUSIVE: Moment heartbroken woman conned by globally infamous fraudster, bigamist and fake CIA agent turned the tables on him in a New Jersey parking lot police sting, on DailyMail.co.uk.
Jordan was charged with sexual assault, theft by deception, and impersonating law enforcement. However, the grand jury did not indict Jordan on the sexual assault charge, so it was dropped.
Admitting the truth
On Monday, Jordan acknowledged the truth of his actions as part of the plea deal.
In court, his public defender, Karen Thek, asked him a series of questions. He answered in an American accent:
Thek: From May 2013 to April 2014, did you have interactions with Mischele Lewis?

Jordan: Yes.

Thek: Did you take money from her?

Jordan: Yes.

Thek: Did you do it intentionally?

Jordan: Yes.

Thek: Did you pretend to be someone who you weren't?

Jordan: Yes.

Thek: Did you pretend to be an official from the United Kingdom?

Jordan: Yes.

Thek: Under this pretense, did she give you money?

Jordan: Yes.
"It felt so good to hear him admit what he did," Mischele said after the hearing. "It was great to hear him say, 'Yes, I did this. Yes, I did this.'
"I'm so relieved," Mischele said. "I'm so glad that I can close this chapter for myself. The date has been set for him to go to jail, which will get him off the street."
Cherry Hill man pleads guilty to theft in romance fraud, on Burlington County Times.com.
Meeting another victim
Jordan spent several months in the Burlington County jail after his arrest. But when the charge of sexual assault was dismissed, his bail was lowered, and he got out of jail on August 29, 2014.
Eighteen days later, on September 16, 2014, Jordan met a woman at a bowling alley. To protect her identity, Lovefraud is referring to her as "Nellie."
"We started talking," Nellie said. "We hit it off. He was super friendly, super sweet."
Speaking in a British accent, Jordan introduced himself as "Gee Jones Jordan." He told her his age which was close to hers. He said he had two kids aged 26 and 28 which was close to the ages of her own children.
They had so much in common. "Everything is like he's a mirror," Nellie said.
Now, however, Nellie realizes that Jordan was on his computer the entire time they were speaking at the bowling alley. He had asked her what dating sites she was on. "I think he was looking up information about me," she said.
But that first night, he was "super friendly, gentlemanly," she said. After Nellie left the bowling alley, Jordan sent her text messages.
"This has never happened to me," he texted. "I'm falling so hard. When can I see you again?"
"Is tomorrow too soon?" Nellie replied.
"Now would not be too soon," Jordan texted back.
Worrisome issues
Jordan and Nellie went on a few dates. They went to the movies. He came to her home and cooked her dinner.
Recycling some of his previous stories, Jordan said he was born in New Jersey but because his mother was mentally unstable, he was sent to England when he was five to live with distant relatives.
Jordan said he owned an information technology consulting business. Nellie thought it was odd that he claimed to be a successful IT consultant, yet he was living with his parents and didn't own a car.
Jordan explained this by saying he'd sold his big, beautiful house in Cherry Hill to pay his mother's medical bills. And he used his parents' car, or rented one when he needed it.
This didn't sit well with Nellie. But she chided herself, "Why are you being so hard on a man who is helping his parents?"
Jordan was also helpful to Nellie. He fixed things around her house. She bought a new washing machine, which was scheduled for delivery when she was working. So she gave Jordan the key to her house. He met the delivery truck and then hooked up the washing machine.
They had four dates, and each time Jordan was a perfect gentleman. "There was no sex," Nellie said. "I did not offer and he didn't ask. He would hug you, kiss you, stroke the top of my head when we watched a movie together, but he was never pushy."
In the news again
But then, on October 6, 2014, Will Jordan was in the news again. The Burlington County times published a story and photos about his new plea deal:
Love fraudster accused of scamming Florence woman gets new plea offer, on BurlingtonCountyTimes.com.
A friend of Nellie's saw the article and told her about it. Nellie went online and read everything she could find about William Allen Jordan. What was her reaction?
"Holy sh*t," she said.
A couple of days later, Nellie received a text from Jordan. He said he didn't go to the bowling alley the previous evening because he had to take care of his mother, to give his father a break.
Nellie texted back: "I read the article. I don't want anything to do with you. Please don't contact me again."
She hasn't heard from Will Jordan since.
Changing the law
After reading about Mischele's saga in the news, New Jersey Assemblyman Troy Singleton contacted her and offered to introduce a law to make sexual assault by fraud a crime. They've been working together on the law, and it will be introduced to the New Jersey Legislature on November 13, 2014.
"It's very exciting," Mischele said. "I'm super glad that something good is coming out of this. It will make it easier not only for Jordan's future victims, but any future victims who fall in the same situation (as me) but have no recourse.
Although the sexual assault charge against Jordan was dropped, Mischele was still able to get him prosecuted for theft by deception. If the new law is passed, people who consent to sexual relations with someone who falsifies his or her identity will be able to press charges, even if there are no financial losses.
"It will teach the offenders out there that this is not okay to do," Mischele said.
Will Jordan is also profiled on True Lovefraud Stories.