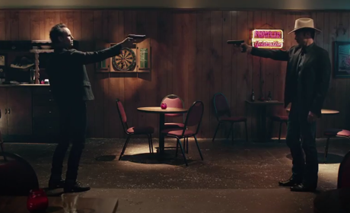 One of my favorite television shows ever, Justified, just came to an end. After six seasons, the series finale of this smart, sophisticated crime drama, set in redneck Kentucky, aired on Tuesday, April 14, 2015.
That morning, the Philadelphia Inquirer ran an article by Tirdad Derakhshani previewing the grand finale.
Derakhshani wrote that the main character, U.S. Marshall Raylan Givens (played by Timothy Olyphant), had "the best lawman swagger since John Wayne." I agree.
Here's how Derakhshani described the marshall:
"A latter-day cowboy who inhabits a strange, surreal version of Harlan County, Ky., Raylan is a gunslinger for the ages. One who kills. Again. And again. He's more of a sociopath than a hero."
The author noted the shocking level of murder and mayhem in the show in the first five seasons, there were 147 violent deaths, with Raylan Givens responsible for 23 of them.
But Raylan Givens is not a sociopath.
FX's 'Justified' swaggers off into the sunset, on Philly.com.
Articles about Justified
I did a Google search to find out if more articles were referring to the characters in Justified as sociopaths and psychopaths, and I found them.
For example, in the Los Angeles Times, Hugh Hart wrote:
'Justified's' psychopaths are never at a loss for words, on LATimes.com.
The article was about the incredible dialog in the show honestly, it was like Shakespeare with a hillbilly accent. And he described the bad guy, Boyd Crowder (played by Walton Goggins), as "the most loquacious psychopath in prime time."
Except Boyd Crowder wasn't a psychopath.
Then there was this story in the Michigan Daily after the premiere of Season Three:
'Justified' recap: Psychopaths and frying pans, on michigandaily.com.
These critics did not describe either Raylan Givens or Boyd Crowder as a psychopath, but did call one of the other bad guys, Robert Quarles, a mobster from Detroit, a psychopath. I think they got it right.
Killers and psychopaths
Here's the bottom line: Not all killers are sociopaths / psychopaths.
Psychopathic killers take the lives of others in cold blood, without remorse, and sometimes without reason. These people will kill when other there are other ways to solve a problem, perhaps like getting a divorce. They have no empathy, no remorse and no ability to love.
Killers who are not psychopaths may include members of crime families or gangs who are willing to kill to protect their territory or business, or take out a rival, but legitimately love and protect their own families.
That's what I saw on Justified. Yes, I would classify some of the minor bad guys as sociopaths / psychopaths, such as the last person to die in the series finale, Boon (played by Jonathan Tucker). He was a gunslinger with no redeeming qualities.
But the season's main characters, Raylan, Boyd, Boyd's fiancée Ava Crowder (Joelle Carter) and another bad guy, Avery Markham (Sam Elliott), were all capable of love and compassion.
Avery Markham was heartbroken at the death of his fiancée. Ava tried to protect her uncle. Raylan showed mercy to Ava. Boyd cried (real tears) at the news that Ava was dead. She wasn't, but Raylan told Boyd that in order to protect her.
In the end, Justified was a study of the continuum between good and evil, with the characters sliding along the continuum, depending on what they needed to do, and what was truly in their hearts.