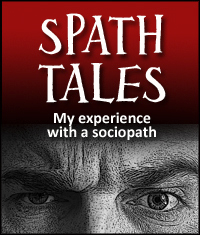 Editor's note: The following story was submitted by a Lovefraud reader whom we'll call, "Caroline20."
I'm a 53-year old divorced woman diagnosed with complex PTSD as a result of four years of ongoing abuse by my ex-husband.
I had known him for fifteen years and though he had some substance abuse problems, which resulted in our divorce in 2003, his abusive behavior did not truly come out until our reconciliation in 2011.
When we got back together he had four years of sobriety and I was thrilled that we would have another chance to be together because I had never gotten over him. It turned into a four-year nightmare within less than a month. He choked me unconscious over a minor disagreement.
I did many things to get away from him, but he was able to manipulate and intimidate me into letting him come back to my place multiple times. He used his diabetes to manipulate me and wouldn't take his insulin for several days, then would show up in ketoacidosis asking for help knowing I couldn't turn him away because I'm so tender hearted. He broke into my place and the police wouldn't do anything because he told them he was living there even though he had moved out.
The worst was when I asked him to leave and he forcibly took one of my dogs on two occasions. I applied for a protective order once was told I didn't have evidence because I didn't have police reports. He would intentionally hold onto my phone and my car keys and took my phone away on several occasions when he assaulted me.
I was finally able to escape and call the police and he was arrested. I again applied for an ex parte protective order, which granted. He evaded service by leaving the state (I believe he was recording my calls or video taping me) and entered a treatment program because he had relapses with drugs. He convinced me that he had bipolar disorder and that medication and treatment would end the abuse. Like a fool, I wanted to believe him and let him come back. He quit taking his medication within a couple days.
I should mention that he did not contribute to any household expenses and worked for less than two weeks during a four-year period. I was working on a mobile crisis outreach team and as the executive director of a small peer run nonprofit I founded, often working 80-hour weeks.
I could go on for pages about all the horrible things he did. He truly was not the person I thought I knew and loved all the years I had known him. He was a monster. He stole or damaged approximately $30,000 of my property including family heirloom jewelry.
I finally escaped when he assaulted and kidnapped me in November 2015. He was charged with aggravated kidnapping (which was pleaded down to kidnapping) among other things. He also hurt my beloved dog that tried to protect me. I was able to send my mom a message on Facebook Messenger from my kindle and we were pulled over when leaving my condominium complex. I jumped from the car and he took off with my car and three dogs. Fortunately, I was able to track down my vehicle and dogs at his mom's house several hours later.
He just got out of prison after four years this week. I have not made much progress in recovering because I developed agoraphobia with the complex PTSD and rarely leave home so I wasn't able to stick with counseling. I also have not worked since prior to the kidnapping because my health is poor, partly because of the trauma.
I may not have social contact, besides with my mom and occasionally, my dad, but I have my pets and I have peace and tranquility.