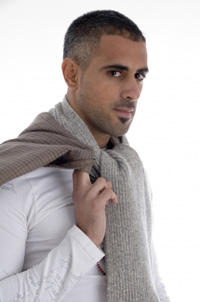 Editor's note: Lovefraud received the following email from a man whom we'll call "Miran."
It is very shocking to me to come to know that these people do exist in Life. I always lived in a world with good people around me, and never faced any emotional traumas in my life (I am 34 BTW).
I met this girl, she is 22, cute, intelligent, amazing smile, not over pretty but something charming in her I could not understand. We started chatting and texting for a period of 4 months (on and off) and she always made me feel confused, even though we met more than once (not as dates) and we exchanged kisses more than once (she initiated).
The whole scenario kept me confused, and I always felt reluctant to ask her out on a date, or tell her that I like her cause my guts were aching from all the awkwardness they had. I sent her some cookies, got her things that really matter to her, and she always pretended that she is over the moon cause she said I am so thoughtful and she can't believe I exist.
Set a date
One day, she calls me and asks me if she can come over as she got me a bday gift. She came over got me a gift and confessed that she likes me and wants us to try a relationship. Off course I agreed cause this girl was awesome and we know a lot about each other from the past 4 months of texting and random meetings (Naive I know).
We set a date, I pick her up, treat her like a queen, and spend nice couple of hours together. Next day she calls me and tells me she is scared of commitment and she wants to stop. So I agreed as nothing has happened and asked her to forget what happened. Well she did not, she kept on texting me and calling me, so to my good nature I thought she is reluctant cause of age difference and stuff.
So we went out on another date and she tells me that we are just friends. I got pissed and told her that is not a game, and she is out. Again same pattern, she kept on stalking me and coming to my office (we kinda work together) and weeping that she wants me to give her another chance. I did unfortunately cause she has a way with words that she could make anyone fall.
The victim
The relationship started, and it's like a nervous meltdown for me, yet I hanged on because she told me that she is a victim of child molestation (more than one incident) which I found very awkward. She told me stuff about her that made me feel sorry for her.
She sold me an image that she is a bad person and I am her light and guidance and she cant live without me.  She started reading books about love and spirituality cause she knows I like this stuff, she used to like everything I like, and read about it and intrigue me with her knowledge I am that type of Guy, a woman's brain is what I look for. So to me she was the one.
I know a bit about her background (lying, multiple partners, promiscuous sexuality), and several people warned me, yet we live in a closed society and people tend to judge and talk about women, so I decided to believe in her and forget what I heard. She always said that people talk about her, and she gives different versions of the story to many people.
Making excuses
She played a game of not being available cause she has a curfew from her parents (we live in the Middle East) and she can not see me all the time, and she has to lie to her parents to see me. I could not buy her lame excuses as we work in the same bldg, so I decided that this relationship needs to end cause of the lying.
I ended it, but again the same scenario happened and she said that she will make things work, and she will put more effort. She was literally doing no effort, I changed my gym classes, I changed many things for her, and yet she kept using her curfew as an excuse even though she traveled to Thailand alone (yea right). I kept raising this issue and she always claimed that she trying her best, and she wants me to stay with her and promised me the moon and the stars.
Misses me
I decided to take a vacation to clear my mind, and guess what she showed me the greatest love ever by calling me and crying that she misses me, and that she is scared that I hurt her, and she can't stop thinking about me. Me being naive again though that things are going smooth, went back home and saw the best 2 weeks of my life, sexually (only foreplay cause she said she is a virgin) and spiritually.
Then she dumps me cause I caught her lying again, wonderful. And then comes to my place crying she wants me back, as she was travelling for work. I AGREED AS USUAL cause I felt so sorry for her, cause she made me feel like I am the only person on earth that can save her. She travels and gives the cold shoulder after me agreeing on us to get back together, and guess what, she meets someone there and make out and flirt based on my intel from people who were with her. She comes back, dumps me and I did not have a clue what happened until later.
When I knew she was playing me, I confronted her and she just walked away. She told some of my friends that I am crazy and she does not give a damn about what I think of her. We work together, she got some balls literally.
"Mission accomplished"
This issue is almost a month old, and I can't get over the fact that I was manipulated, I still cannot believe that she is a psychopath, and when things clear up, you dot the i's and voila you have a perfect picture of her plans and lies. I feel so dumb, naive, stupid and angry. I feel violated, she was the only one I opened up to and talked about my real feelings towards her and I still remember well when I said that she replied "mission accomplished" and hugged me.
She used to make me feel guilty, she pushed me to justify her acts, and she always won in confrontation. Take into consideration am a senior management with lots of confidence and logic. She did not have any logic, and her logic is so distorted that she makes you doubt yourself.
I decided to do more digging, and found that she has been seeing other guys, she is very active sexually (not with me / I only get the foreplay) and she has all the time in the world to do whatever she wants.
Spell on me
Her lies are so clear, yet I believed her, is that normal? She literally put a spell on me. She is not a great Liar, and they have flaws, what did she expect? What did she want from me?
I feel lost, can't focus, depressed, and hateful. Yet I always think that the time will come and I will forgive her.
We tend to bump into each other quite often cause we work in the same facility, do you think I should make peace with her to avoid any retaliation?  How can I overcome this feeling?
Do you think I should make peace with her after some time? I hate holding grudges, and I love to forgive cause it's freeing.
What do you suggest?