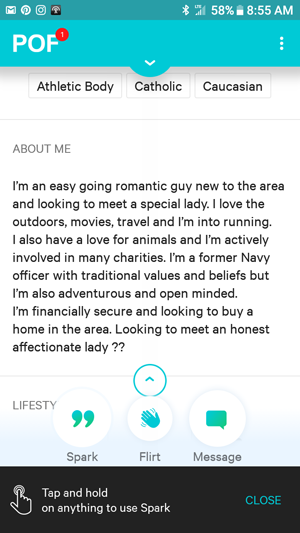 Lovefraud received the following email from a reader who gives her pseudonym as "Erica."
I've been in love with a sociopath for 5 and a half years. He lives in Portland and I live here in Vegas so that has been a great thing, however he still haunts me and I'm trying to move on so I'm enclosing a profile from an online dating site and I'd like to get your opinion of the things that he says. I'm scared to move forward because I'm scared that I'll attract another one. I seem to be surrounded by narcissism and sociopathy and I'm tired and I'm scared and I lack trust to move forward. Donna please share my email on lovefraud.com so that I can get some feedback from other members.
Erica sent a screenshot of an ad from the Plenty of Fish dating site — I assume she is considering responding to it. I'll address the ad later, but first I want to focus on the main issue of the email:
Erica, if you are scared to move forward and scared to attract another sociopath, then you are not ready to date.
Calculated seduction
Involvements with sociopaths are always emotionally and psychologically damaging, and often destructive to your finances, career, social relationships and more.
With past breakups, perhaps you suffered some heartbreak and your pride was wounded, but you were able to pick yourself up, dust yourself off, and jump back into the dating pool.
Relationships with sociopaths are not normal, so neither are the breakups.
Sociopaths engage in calculated seduction. In the beginning they love bomb you, want to be with you 24/7, make glittering promises about the future. The sex is usually unbelievable. The effect of this extraordinary attention is that you fall, and fall hard.
The attention and affection continue until the sociopath either feels that you are truly hooked, or loses interest. Then the devalue and discard begins. You were once the most important person in the world to your partner, and suddenly you are nothing. Your fall from the sociopath's pedestal is brutal, and you honestly don't know what happened.
You may think that you should be able to put the person behind you and move as you may have done in the past. The truth is that, when you were involved with a sociopath, it's not that easy.
Work on your recovery
If you've had a devastating encounter with a sociopath, your top priority must be your personal recovery. Most likely, you have suffered not only heartbreak, but betrayal. Betrayal is very, very painful. Not only your feelings, but your sense of right and wrong has been violated.
In order to move forward, you need to process the pain of the experience. This means allowing yourself to feel the pain however it presents to you — crying, groaning, pacing, putting your fist into a punching bag. We have lots of information on Lovefraud here to help you, both in the blog and in our webinars.
As you work through the pain of your involvement with the sociopath, you may find that it brings to mind other pain that you endured in the past. If this happens, it's good. Sociopaths hook us by latching onto internal pain from the past that we may not even be aware of. So if the sociopath rips the scab off of past traumas or betrayals, process them as well. The more you can get out of your system, the more prepared you will be to truly move forward.
Trying again
So how do you know if you are ready to date again? You'll feel reasonably centered. You are able to enjoy yourself. You have family and friends who care about you. Maybe your life isn't yet perfect, but it's moving in the right direction.
If you feel fearful or desperate about finding a partner, then you have more work to do.
The online ad
About the ad you found on Plenty of Fish — the guy sounds great. But is he telling the truth? When it comes to online ads, anyone can post anything; therefore, all dating profiles must be regarded with skepticism.
Let's analyze this ad. The guy says he's
Athletic body
Easy going
Romantic
Loves outdoors, movies, travel
Into running
Loves animals
Active in many charities
Former Navy officer
Traditional values
Adventurous and open-minded
Financially secure
Looking to buy a home
Is it possible for someone to be like this? Yes. Is it possible that he is too good to be true? Yes. Is it possible that the ad was posted by a professional con man from Nigeria? Yes.
Maybe when you're feeling stronger, you'll be able to communicate with this person and evaluate whether he is what he says he is.
But Erica, you should not even be looking at online dating ads right now. Please first focus on your personal recovery.