EXCLUSIVE: 'She stabbed him to death and kept his chopped up remains in plastic containers for 7 years, enjoying her life.' Brother of victim whose wife is charged with murder reveals she dragged the remains along each time she moved
Daniel Burroughs, 66, of Mays Landing N.J. was missing for almost seven years
Loretta Doyle Burroughs, the 63-year-old grandmother who allegedly stabbed her husband to death has appeared in court on Tuesday
She refused a plea deal 
Daniel's distraught brother Ray Wantorcik says when he visited his sister-in law he found a huge mound of mothballs behind the shed
Loretta told people her husband got into a Hummer with Florida plates with a younger woman and was never seen again
Ray handed a flyer with a Photoshopped image of Loretta, bloody and wielding a knife, to her sister outside of court
By DONNA ANDERSEN
Originally published by the Daily Mail on November 21, 2014. Reposted by permission.
Almost seven years after he disappeared, Daniel Burroughs, 66, was found — dismembered and packed into plastic containers that were stashed in his wife's closet.
Loretta Doyle Burroughs, 63, formerly of Ventnor, N.J., is charged with stabbing her husband to death and on Tuesday the round, gray-haired grandmother cried as she shuffled into an Atlantic County, N.J. courtroom  wearing an orange jumpsuit, handcuffs and leg irons.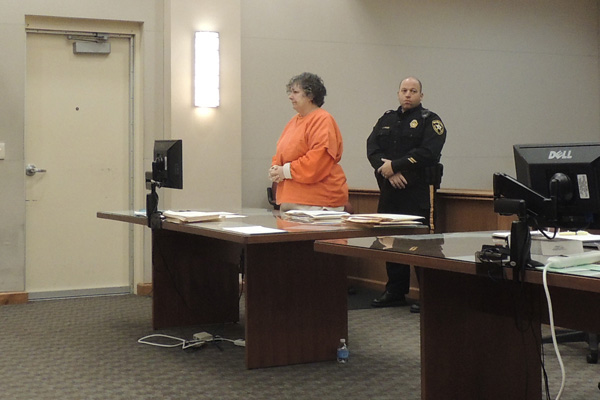 She rejected any plea bargains and Criminal Presiding Judge Michael Donio ordered her to stand trial next March, when a forensic anthropologist.will testify, due to the condition of the victim's remains.
That is exactly what causes nightmares for the victim's grief-stricken half-brother, Raymond Wantorcik III, 56, of Glenolden, PA.
'Twenty-four seven, my mind is wrapped around what happened to my brother,' he tells MailOnline in an exclusive interview, struggling to contain his emotions.
Because of his turmoil, Ray has been unable to work for five years.
In fact, before Tuesday's hearing began, Ray gave in to his pain and frustration. He handed a flyer with a Photoshopped image of Loretta, bloody and wielding a knife, to the accused's sister.
The grisly image expressed the nightmares that he suffers every day.
Danny Burroughs was last seen in August 2007. He was riding his lawnmower at his home on Leipzig Avenue in Mays Landing, N.J.
Danny had recently had rotator cuff surgery, so his arm was in a sling.
Ray called his older brother to find out how he was feeling after the surgery. That's when his world was turned upside down.
Loretta told Ray that her husband and 'upped and left her for another woman'.
She said Danny climbed into a yellow Hummer with Florida tags and a younger woman inside.
'As soon as she told me my brother up and left I knew something was wrong,' Ray said. 'My brother and I were tight. We saw each other every weekend.'
Danny lived on a two-acre property in Mays Landing, N.J., 15 miles outside of Atlantic City. He had a large garage behind the house and several sheds, where did custom auto work and refurbished roulette wheels for casinos.
Danny shared the home with Loretta. They were high school sweethearts who had dated in the 1960s. In fact, their families were close, and when Ray was a young boy, Loretta was his babysitter.
After high school, Danny and Loretta went their separate ways. They reconnected in the mid-1990s.
A day after Loretta told him that Danny left for Florida, Ray went to his brother's home to talk to her.
'Five times I was in that house listening to her lies — and my brother could have been in the next room in a container rotting,' he shuddered.
Ray said Loretta comes off as 'a mix of Martha Stewart and Julia Child', but he considers her to be a 'diabolical person'.
Loretta changed the keypad code on the house so Ray couldn't get in, he said. And behind the shed was a huge mound of mothballs. When he asked Loretta about them, she said a groundhog got killed out there.
Loretta quickly began selling and giving away her husband's belongings.
One of the victim's friends said Loretta asked him if he wanted to buy anything, according to a video recorded by the Press of Atlantic City. The friend refused, and asked Loretta what she would do when Danny came back.
'She said he's not coming back,' the friend stated on the video.
Robert Valiente Jr., another friend, said on the video that Danny was talking about selling the home and retiring to Florida. Loretta didn't agree. 'Behind his back, she was saying, "Oh no, we're not. No we're not. I'm not going," Valiente said.
Two weeks after Danny disappeared, on Labor Day Weekend of 2007, Ray and Bob Valiente Sr. filed a missing person report with the police in Hamilton Township, New Jersey.
Ray repeatedly asked police to investigate Loretta. After all, she already had a criminal record.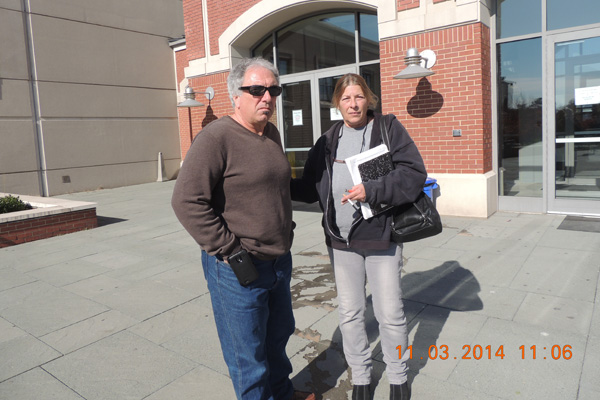 In March 1996, Loretta was sentenced to 15 months in federal prison for embezzling more than $480,000 from her employer, according to Philly.com. She was also ordered to pay $10,000 in restitution.
Loretta worked for PLC Inc. in Yeadon, PA, for more than eight years. She began stealing from the company 'almost immediately after being hired,' Assistant U.S. Attorney Robert A. Zauzmer said at the time.
Loretta forged the partners' signatures on checks and stole payments sent to the company. She stole an average of one check a week, ranging from $500 to $5,000, according to Philly.com.
But the fact that Loretta was being prosecuted in Pennsylvania didn't change her behavior in New Jersey.
Loretta was arrested by Hamilton Township, N.J., police and charged her with stealing money multiple times from her employer, Precision Auto Mall in Mays Landing, N.J. The crimes took place from May through December, 1995.
According to court records, she pleaded guilty on March 20, 1996 — the day after she was sentenced in Pennsylvania. Loretta was ordered to pay $36,580 in restitution.
So Ray begged the police to investigate Loretta, whom his brother had married after she got out of prison.
'For the first three years, the first detective said, 'Just because she's a liar doesn't mean she's a murderer," Ray said.
Kathy Heinisch, a friend of Ray's from Folsom, N.J., described Loretta Burroughs as 'very convincing.' But, she said, 'The Loretta that most people meet is not the Loretta that truly is.'
In February 2013, Ray again asked police to investigate. 'I was told that they couldn't give me the details, and just try to be patient,' Ray said.
On May 17, 2013, police searched Loretta's new home, where they found Danny's remains in a closet.
Loretta had moved at least twice, dragging the remains around with her. According to the Atlantic County Prosecutor, following her husband's disappearance, Loretta moved from Mays Landing to Ventnor. She was relocating again, to Villas in Cape May County, when she was arrested and charged with murder.
'She would not risk having the remains out of her line of sight,' Ray's friend, Kathy Heinisch, said. 'As long as there was no body, she could go on.'
'Nobody would listen to me,' Ray lamented. 'Nobody would believe me.'
Still, he was shocked and horrified when his brother's remains were found.
'I did not believe for an instant that my brother was on the property,' Ray said. 'I though he would have been in a landfill or a dump. I never thought he was in the house — and he was.'
Now, Ray can't wait for his older brother's case to go to trial.
'I want a jury to see pictures of him,' Ray said. 'If the life sentence in New Jersey is 30 to 60 years, I want 60. I don't think it's too much to ask. For seven years, I've been kicking and fighting for him.'
'We were as tight as any brothers could be,' Ray continued. 'I spent every weekend with him. I lived in Philadelphia. When I would leave, I'd say, 'Okay, Dan, I'll see you next weekend."
'Dan would reply like it was chiseled in granite, 'I'll see you tomorrow."
Dan's family and friends were finally able to have a memorial service for him last May, almost a year after his remains were discovered.
'Danny was a personality that many indeed loved and enjoyed being around,' his obituary stated. 'His animated, funny sense of humor and most of all, his willingness to 'stop what he was doing to help someone in need' seemed unparalleled. Dan was gifted and had the ability to fix or make just about anything … Dan and his younger brother shared many of the same interest, hobbies and were as close and loving as any two brothers could ever hope to be.'
'I'll never have closure,' Ray said. 'But I know what I need to hear from this court system.'
Next: Loretta Burroughs trial — Victim's half-brother and best friend testify about their suspicions