In honor of Valentine's Day, I'm telling the beginning of my love story — finding real, authentic love after the betrayal by my sociopathic ex-husband. My healing journey is recorded in my book, Love Fraud — How marriage to a sociopath fulfilled my spiritual plan. For now, I invite you to read: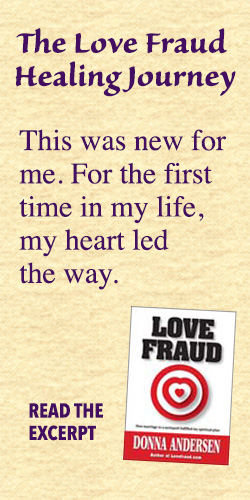 By Donna Andersen
I made one last attempt to get my money back from my ex-husband by blackmailing him. My intuition told me that I created a lot of problems for him in his latest scam, but I received nothing. The battle was over.
At least my love life was moving forward. After our wonderful date at the blues festival—and the romance that followed—Terry Kelly started calling almost every day. Every weekend, he drove to Atlantic City to wine and dine me—and take me to bed. I enjoyed him immensely.
Terry was what I called a "live wire." He was energetic, extraverted and funny. In fact, we made a great team—he cracked jokes and I laughed at them. Still, he read social situations accurately; he knew when to make wisecracks and when to use discretion. On June 16, 2001, Terry accompanied me to a family party. He was personable. He smoked cigars with my male relatives and made a good impression. I didn't have to worry about him fitting in.
The next afternoon, we were sitting on my back deck. I had a bottle of deep burgundy nail polish, and I flirtatiously asked him to apply it to my nails. Terry was game, and did a reasonably good job.
"What else can you do?" I asked him.
"What do you mean?"
"Can you fix anything? Take care of a lawn?"
Terry hesitated. Then he said, "Well, yeah."
"So what can you do?"
"Oh—plumbing. Electrical work."
"That's good to know."
"I was afraid you'd say that. There's a little guy sitting on my shoulder, saying, 'Don't tell her! Don't tell her what you can do!'"
I laughed. "Too late. Now I know."
Even though mechanical skills were a big plus, what I truly treasured about Terry was how sweet and caring he was with me. He grew orchids, and brought me a few blooming plants. Although I tried not to talk too much about my dismal financial situation, when I did, he listened compassionately, then did his best to distract me from my worries. In fact, within two weeks of us becoming lovers, Terry asked me to go away on vacation with him—his treat. We started planning a weeklong visit Quebec, Canada in July.
I was happy. I was thrilled. I was ecstatic.
Terry enjoyed the finer things of life, and wanted to share them with me. We went to nice restaurants and drank good wine. He was fun and easy to talk to— we spent a lot of time laughing. Our physical loving was fabulous—the more time we spent with each other, the more fulfilling it felt. Sometimes we indulged in sex toys. With my ex-husband, such accessories were repugnant. With Terry, they were fun.
I was falling for him—emotionally. This was new for me. For the first time in my life, my heart lead the way. But it was easy, because my new beau was genuinely romantic. On June 24, 2001, after another weekend of enjoying each other's company and passion, we lay in the afterglow of our lovemaking.
"See what happens when you meet a crazy guy in a bar?" Terry asked.
"You looked like fun," I replied.
"This is more than having fun, isn't it?" he asked, hesitantly.
"Yes, it is."
"There are so many unhappy people out there. I'm so happy."
"So am I."
We were quiet for a few moments. Then Terry said, "I'm melting."
I caught my breath, touched by his honesty. "That's not a bad thing, is it?" I asked.
"No, but it's scary. You're not going to take advantage of me, are you?"
"Do you want me to take advantage of you?" I teased.
"Yes," he replied, getting the joke. "But sometimes I'm too generous. People tell me I'm too generous. But you appreciate it. You give back."
"I do appreciate it. You treat me very well."
"It's my pleasure."
"You brought me all those pretty orchids. I do appreciate it. They're beautiful."
"Well, I don't know what's going to happen. But I'm not going to put a stop to it."
"I guess we'll see," I said tenderly.
Valentine's Day Announcements
Get an autographed copy of my original printed Love Fraud book for the very low price of $4.99, plus shipping. Enjoy! And be inspired! Buy now.
I'll be talking about Love Fraud on the Coast to Coast radio show, featuring George Noory on Feb. 6 at 3 am ET. If you're up, be sure to listen!
For my Lovefraud Live! Youtube show on Tuesday, February 14,

I'll have a special guest — my husband, Terry. Be sure to join us! Sign up for a Youtube reminder.