Love Fraud is a story of triumph. Yes, my sociopathic ex-husband betrayed me — you can read a series of excerpts that relay how he did it starting here. But the most important part of my story is the healing journey. I want you to know that it is possible to pass through the devastation to a new life that is happier than you ever imagined. Over the next few weeks, I'll share some of my journey.
In a Valentine's Day special, I'm offering you an autographed copy of the original printed book for the very low price of $4.99, plus shipping. Enjoy! And be inspired! Buy now. 
Also, I'll be talking about Love Fraud on the Coast to Coast radio show, featuring George Noory on Feb. 6 at 3 am ET. If you're up, be sure to listen!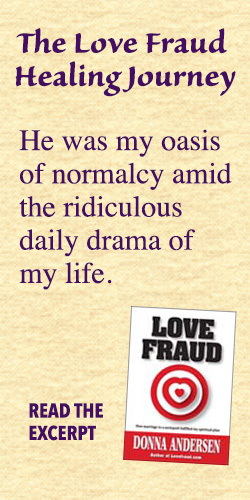 By Donna Andersen
Seven months after I left James Montgomery, I met a new man, John. He was younger than me, enthusiastic and funny — just what I needed as I was going through my divorce. He owned a dek hockey rink, which was like ice hockey without the ice. We lived one hour and forty-five minutes apart, so we saw each other on weekends.
At least there was one bright spot—my new weekend lover, John. Sometimes he came to Atlantic City; sometimes I went to Royersford. I wasn't sure if John had long-term potential—I thought I'd have more in common with an executive-type guy. Still, John was loving, entertaining and physically comforting. He was my oasis of normalcy amid the ridiculous daily drama of my life. And he still sent me clever e-mails:
From: Dekhd
Subj: Gutter Speak
Dearest Donna,
I'm sure after this weekend you will not have to be reminded of my affinity for Gutter Speak. You may see me in a new light, albeit a blue one. Although, I promise to be on my best behavior until Saturday night, or whenever else you choose for me not to be. ; )~
Please refrain from typing in French, granted I have no way of judging your spelling or grammar, I still would be inclined to kiss and lick my monitor screen; a truly disgusting thought considering how dirty it is.
My salty one, you think Beau licks you for salt. HA!
As always you have all my moral support as you grease the frying pan for James' frying. As the saying goes: too much is almost not enough!
Until I read your words,
I bid you, my salty one, adieu,
John
Not only am I in your heart, I'm on your delete key; I know where I stand ; )~
I asked John if I could join his family for Thanksgiving. Although things were fairly patched up with my family, I'd learned that it was best not to talk to them about the odyssey of my divorce. So I went with John to his parents' home, where I enjoyed a delicious turkey dinner and easy, non-judgmental conversation.
Afterwards, John and I returned to his condo. He wanted me to hear one of his CDs—Christmas Eve and Other Stories by the Trans-Siberian Orchestra. The band was part progressive rock, part classical and part heavy metal. The album was a Christmas story, sprinkled with strains of traditional carols, in a rock opera style. The band's first-ever live performance was scheduled for the Tower Theater in Philadelphia, and John got us tickets.
He put the CD on his stereo, cranked up the volume, and sat on the sofa beside me. The music started with piano chords, soon joined by a deep, operatic male vocalist, singing of an angel on a mission from God. Then came a heavy electric guitar riff, followed by more piano, more vocals, and more electric guitar, incorporating strains of Silent Night. I was transfixed.
John pulled me close, then closer. Halfway through the album, he pulled me to the floor, and we made wonderful love to the magical music.
***
For three Christmas seasons I pretended to be a happily married woman in love with my husband, while trying to figure out how to pay the enormous bills incurred by said husband. By Christmas 1999, I was still struggling financially, but at least I was truly in love.
John and I settled into a nice, comfortable romance. Every morning during the week, we exchanged cleverly written e-mails sprinkled with lusty innuendo.
On weekends we were together, enjoying animated conversations and indulging our lust.
Especially on Sunday mornings, when we'd sleep late, make love and shower together. It was like being on vacation—all we needed was a cabana boy to bring us towels. We started calling these leisurely mornings "Cabana Sundays." John named himself "Raul" and volunteered for the job of cabana boy. I'd never experienced someone who seemed so thrilled to be with me. My love life was delightful, and for the first time ever, I looked forward to the Christmas holidays.
John's family exchanged gifts on Christmas Eve—attendance, he said, was "mandatory." I dropped Beau off at Dad's house the evening of December 23, 1999, then drove up to John's. All week, he'd been telling me about his Christmas decorations, although they did not include a Christmas tree. I had a spare tree—the small artificial one that I'd brought to Florida the year before. I arrived at his condo about 10 p.m. with the tree, decorations and gifts.
"Hello, love!" John greeted me at the door. "Merry Christmas!"
Holiday music was playing on the stereo. I looked around for his decorations, and saw garlands and a few candles—it was a good thing that I brought the tree. I set it on a low table in the living room and decorated it, which took all of 15 minutes. Finally, I was ready to relax. John was always good at helping me unwind. He led me into the bedroom. The lights went out and the passion started.
"I have a surprise for you," John said.
Suddenly the room was bathed in soft, multicolored glow. John had lined the wall unit surrounding his waterbed in tiny Christmas lights. Music drifted in from the stereo. The effect was enchanting.
"Do you like it?" he asked.
"It's beautiful!"
Our passion continued, with new tenderness and new energy. The ecstasy overcame us. Then we fell asleep, our bodies caressed by the glow of Christmas lights.
For a limited time: Get your printed copy of Love Fraud, autographed by Donna Andersen, for only $4.99 plus shipping!
Next: The beginning of true love