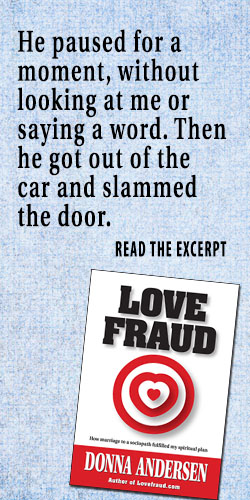 My husband, James Montgomery, convinced me to move to Florida by saying he had a deal to launch our new Titanic Exhibition. He lied. I was broke. Now what were we going to do?
By Donna Andersen
By the first week of February 1999, James had been in Orlando for more than two months. I'd been there for six weeks. I was still working on plans for the exhibition at Wild Bill's, and needed more information about the facility's dimensions. I called the dinner theater's office.
"We have the Titanic exhibition that's going into Wild Bill's," I said to the manager who answered the phone. "I'd like to stop by and take some more measurements."
"The Titanic exhibition!" exclaimed the manager. "I haven't heard anything about that in ages!"
James' negotiations with Johnny Stuart, I concluded, were not going well.
Even James seemed to believe that the prospects for our show were fading. But we still owned an impressive collection of Titanic artifacts. A year after James Cameron's movie became a blockbuster, public interest in anything Titanic was still high. If we sold the collection, we could clear up our debts and stabilize our financial situation.
To me, that sounded like a great idea.
James told me that he contacted SFX Entertainment, the world's largest producer of live entertainment events. He'd heard that the company was planning a Titanic exhibition. SFX was based in New York City, and James said he could get a meeting with the company, and possibly sell our collection.
I quickly agreed to the plan. "Good," I said. "Go. Let's sell the stuff and call it quits."
"Probably the easiest and cheapest way for me to go would be to fly to Atlantic City," he said. "Then I'll get up to New York."
"Okay."
"Can you book a flight for me?"
All my credit cards were close to being maxed out. But if James went to New York and cut a deal, it would solve our financial problems. Then I could get out of the marriage. I checked the balances and found enough room on my Citibank card to book a $255 flight on Spirit Air. I bought him a ticket to Atlantic City for February 9, 1999, returning February 12, 1999.
A couple of days later, I ran into my neighbor from across the hall as we were both at our front doors. She was an attractive woman, blond, probably in her late 40s. We chatted a bit, and I learned that she was recently divorced. The woman was friendly, and I needed a friend, so knowing James would be leaving for business on February 9, a Tuesday, I invited her over for dinner. She accepted.
On Tuesday morning, James wanted me to drive him to the Orlando airport. We lived less than 20 miles from the airport, so it wasn't a long ride. But it was long enough for a fight.
"When you get to New York, James, I think you should take whatever deal they offer you," I said.
"Our artifacts are worth several hundred thousand dollars," James replied. "If they're not willing to pay that much, then we shouldn't sell."
"The artifacts aren't worth anything if we can't afford to put a show together."
"We'll get investors."
"Are you kidding me? You've been looking for investors for six months."
"They want the show in Australia."
"We already moved to Florida without a deal. Now you want to go to Australia? How the hell are we going to pay for that?"
"Why are you so negative, Donna? We'll get money. We've survived this long."
"Yeah, on my money and my credit. And I'm running out of that. And do you hear that noise in the wheel? This car is dying—but how am I going to get a new one when soon I won't be able to buy groceries?"
"Your complaining doesn't help."
"And your spending doesn't help either. By the way, where are my rings?"
"Why?"
"I want to take them to a pawn shop."
"They're in the lock box in my office."
The rest of the trip passed in silence until we pulled up in front of the terminal. "Take whatever they offer you," I repeated as James opened the passenger side door. He paused for a moment, without looking at me or saying a word. Then he got out of the car and slammed the door.
I watched in the rear-view mirror as James pulled his luggage and briefcase—containing many of our expensive Titanic artifacts—out of the trunk. He slammed the trunk shut. I drove away.
Next: My marriage to the sociopath was over
Start from the series Introduction
Now, hardcover Love Fraud book is only $9.99
This is the conclusion of the excerpt series. If you want to know how I discovered the shocking truth about James Montgomery, how I dealt with it and the story's happy ending, pick up a copy of the book.
Love Fraud: How marriage to a sociopath fulfilled my spiritual plan, is available in the Lovefraud Store. For a limited time, the original, hardcover edition, autographed by the author, is on sale for only $9.99. Buy now.
FREE Online Book Discussion • Wed., March 13, 8 pm ET
Donna Andersen will lead a discussion of the ideas in Love Fraud — that the profound betrayal of a sociopath may be a catalyst for our personal growth. This is an online video conference call, although you can choose to participate anonymously. You'll get your invitation with your purchase, or you can register for the discussion here.